About Our Excellence in Kindergarten and Early Literacy Award
Celebrating Teaching Excellence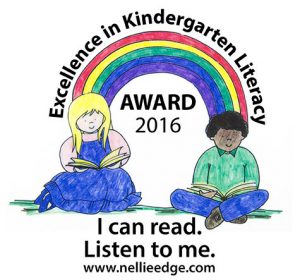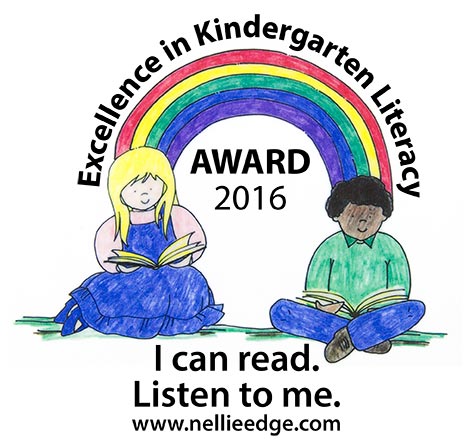 Awarded to the most inspiring examples of excellence, this annual honor is bestowed only upon a small number of kindergarten and early literacy educators each year. We have honored a celebrated group of less than thirty teachers since 1986, adding amazing website teachers to our yearly awards in 2003.
For your information:
The award logo was originally designed by my oldest daughter, Elissa, and was taken from the last page of my Read and Sing Big Book™, I Can Read Colors, which I wrote for our youngest daughter, Gina, when she was five years old and wanted to learn to read.  The little blonde girl represents both of our Swedish daughters in the denim prairie jumpers they so often wore.  The Hispanic boy is symbolic of my first kindergarten class in Albuquerque, New Mexico, where I immersed myself in beautiful Hispanic folk songs and first discovered the power of music and movement to accelerate language acquisition and all literacy skills.
May this award bring a smile from my heart to yours!
Nellie Edge
This award is our way of recognizing kindergarten teachers who…
Bond with their children and hold the larger picture of kindergarten as a "child's garden," nurturing the development of responsible, caring young people.
Create a joyful community of readers and writers in their kindergarten, with challenging but achievable expectations for each child; provide differentiated literacy instruction.
Demonstrate that all kindergartners love to draw, write, and make their own books and that daily "kid writing" is THE most powerful way to systematically develop phonics skills; have high expectations and provide the scaffolding every child needs to build on success.
Create "celebrations of language" in which children memorize, recite, and perform songs, poems, and rhymes; connect children's pleasure in using oral language to successful experiences with print.
Choose the most joyful brain-friendly literacy™ strategies to skillfully weave phonemic awareness, phonics skills, vocabulary, and fluency instruction into engaging and authentic learning experiences; provide joyful accelerated literacy.
Build comprehension skills and foster love of reading through quality fiction and nonfiction; engage children in "grand conversations," story retellings, visualizations, drama, movement, and dance; build reading enthusiasm, independence, and stamina!
Demonstrate the power of music and Sign Language to accelerate language and literacy; close the achievement gap by taking advantage of how the brain learns best.
Engage "Parents as Partners" in each child's literacy development. Ernest Boyer speaks of a "covenant" that says, "We jointly share responsibility for teaching your child."
Design curriculum that allows children to make choices and take active involvement in meaningful projects to learn about their world and develop the social-emotional intelligence necessary for success in school…and in life.
Articulate the research base that underlies curriculum choices; blend "best practices" research from the fields of early literacy, child development, cognitive psychology, neuroscience, and language acquisition theory into their own proven "wisdom of practice."
Use the educational arts to enrich curriculum; provide students with multiple avenues for learning that celebrate childhood and are respectful of different learning styles.
Engage students in an ongoing authentic assessment process that culminates in year-end, student-led parent conferences where learning is celebrated and children share pride and ownership of their learning accomplishments.
Demonstrate exemplary teaching skills and professionalism that inspire other teachers to examine their beliefs about teaching and learning; serve as mentors in the educational community.
Create in their students a strong work ethic — a belief that they can achieve their goals through diligent effort; encourage self-discipline and responsibility; foster optimism, resilience, and the capacity for children to talk about their experiences and feelings.
Create aesthetically beautiful learning environments that facilitate social interaction and independent learning, providing playful spaces that honor childhood.
Receive Our Weekly Focus Kindergarten Blog
High-Impact Strategies to Inspire Your Practice. Free Downloads!