Children Love to Write and Draw and Voice Their Opinion!
Page references are from Kindergarten Writing and the Common Core: Joyful Pathways to Accelerated Literacy! 2015, Nellie Edge
Opinion Writing: W.K.1. Use a combination of drawing, dictating, and writing to compose opinion pieces in which they tell a reader the topic or the name of the book they are writing about and state an opinion or preference about the topic or book (e.g., My favorite book is…).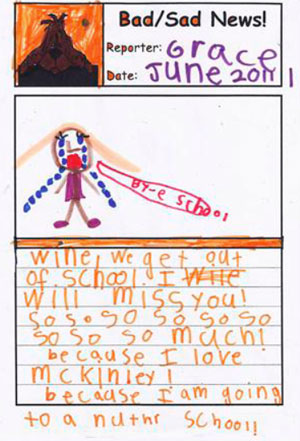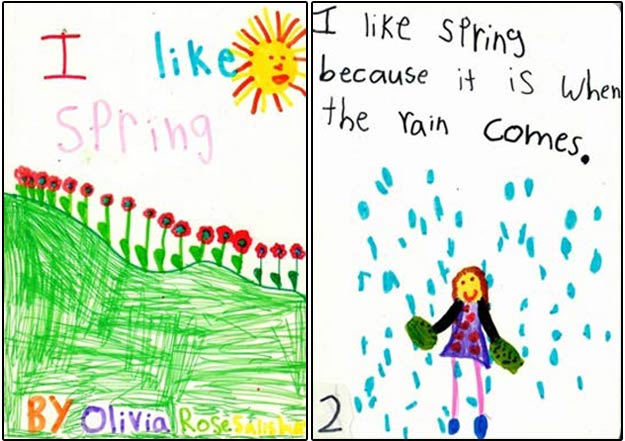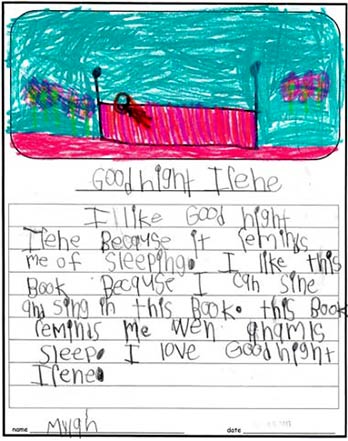 In kindergarten we create a safe and caring community of friends and learners. Children become book lovers who engage in author studies and deep science investigations. We dance and sing, talk, and play, and we write. A lot! We value each other's ideas and opinions.
Children Use Name Tickets to Express Opinions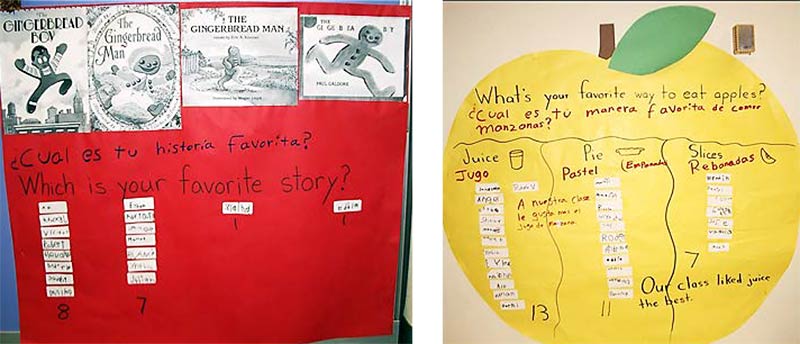 Name Tickets are used for opinion graphs: Which is your favorite version of The Gingerbread Man? What is your favorite way to eat apples? (72, 249) Children use their best Name Ticket writing to express their opinion. This provides an authentic reason to learn good handwriting, and is the beginning of documenting opinions.
"Heart Word" Sentences Develop Fluency and Writing Stamina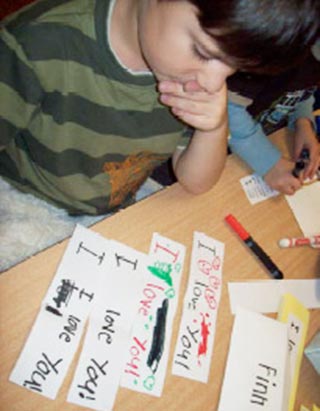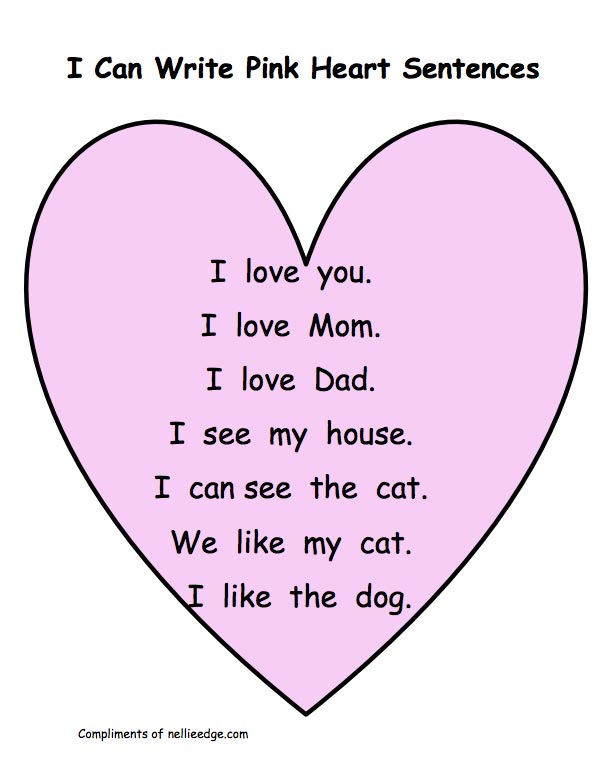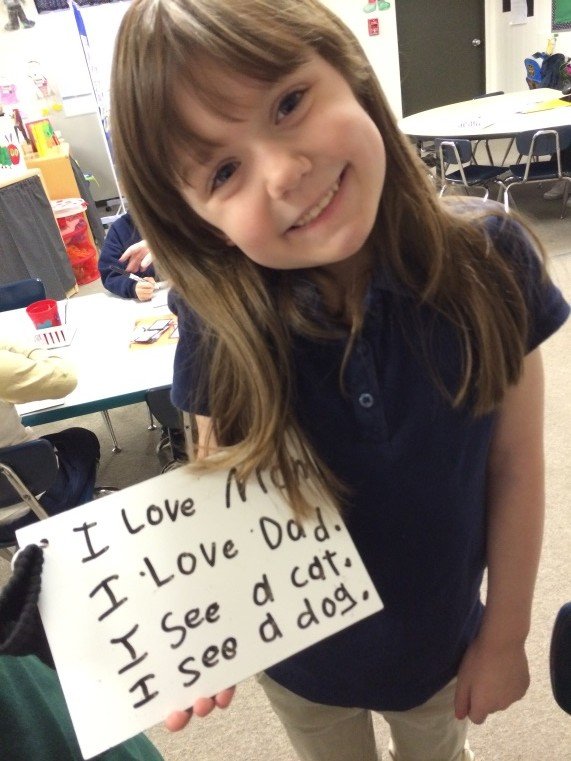 We build writing fluency with high-frequency "heart word" sentences: "I love you." "I see the…" "I like my…" Soon we teach the word "because." (250)
Learn How a Comprehensive Writing Workshop Model Helps ALL Children Build Writing Proficiency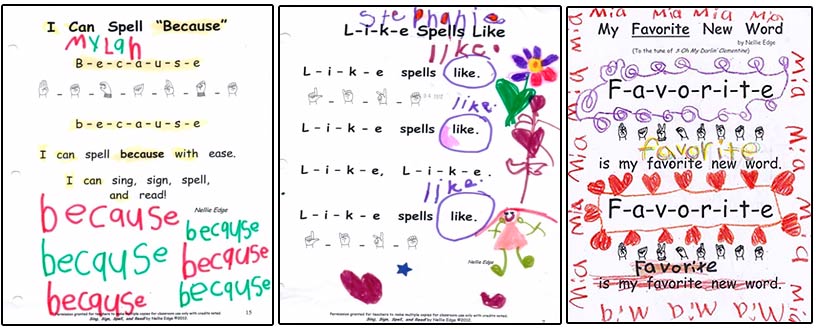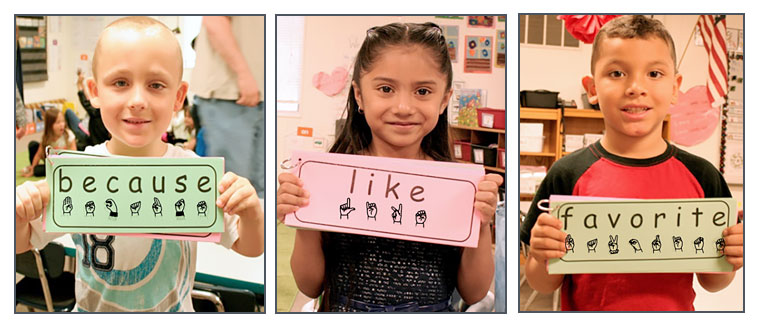 In our Comprehensive Writing Workshop Model, we build stamina for the craft of being a writer. We learn to write important opinion words "by heart"—like, because, favorite—using Sing, Sign, Spell, and Read! strategies. We do "quick writes" of opinion words to build fluency. More proficient writers begin using the word "because" early in the year. (313a, 152, 126)

Grow Your Kindergarten Writers
Notice the Changing Seasons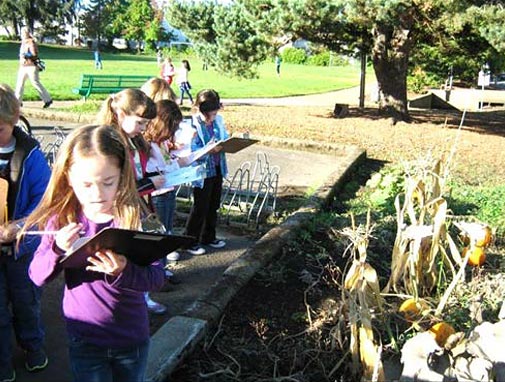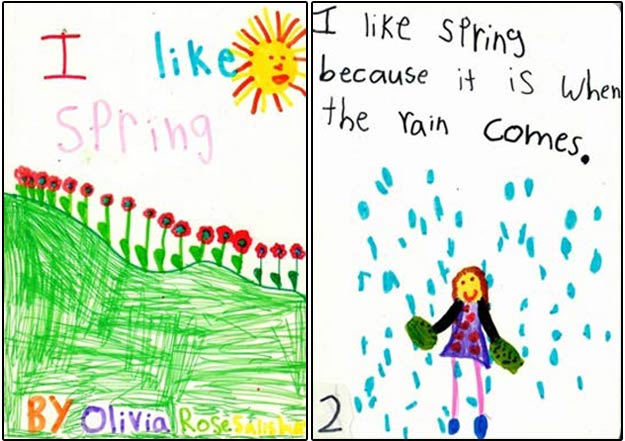 Children take "writerly/scientific walks" and notice the changing seasons. Connections to nature inspire thinking, talking, drawing, and writing. We sing "Fall is coming, fall is coming, how do you think I know?" song (and later "winter…spring...summer is coming…") and talk about what we like about each season and why. Children are challenged to use the word "because" to extend their writing. (177a)
Discover How Independent Writing Centers Differentiate Word Work
Write Your Favorite ABC Words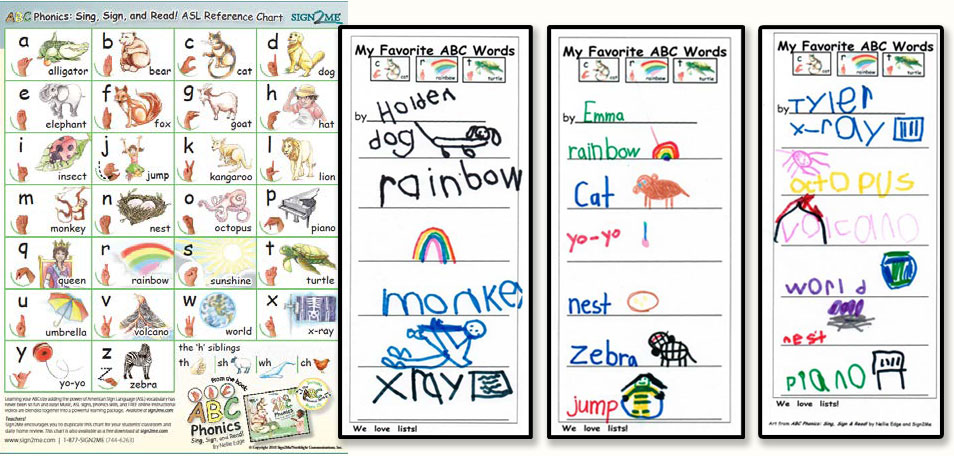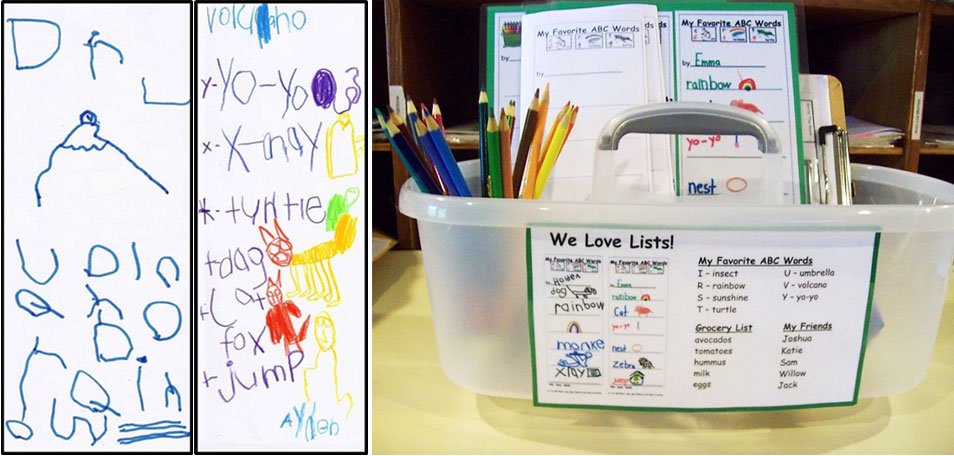 We provide less-experienced learners with the scaffolding needed to feel successful as writers and voice their preferences! (My favorite ABC word is volcano because I like erupting hot lava!) Independent Writing and Drawing (Word Work) totes naturally differentiate learning. (199)
Children Have Unique Literature Responses to Stories, Poems, and Songs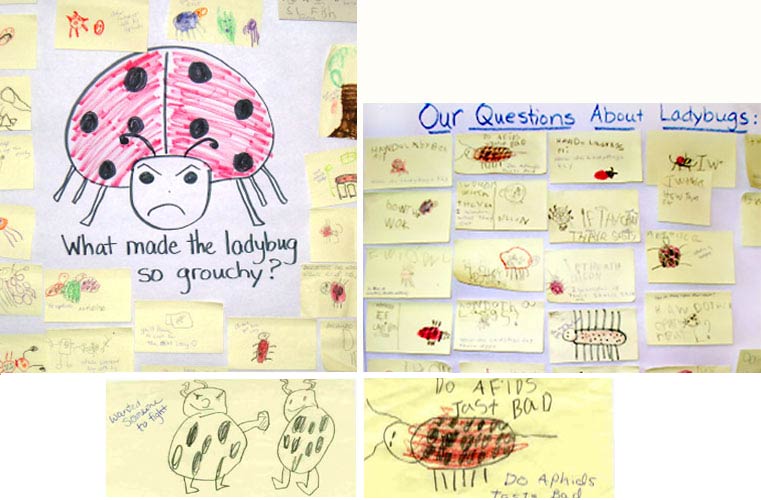 He wanted someone to fight.          Do aphids taste bad?
Children have unique literature responses to stories, poems, and songs: What Made the Ladybug Grouchy? was a response to Eric Carle's book, the Grouchy Ladybug. Children write thoughts and questions on Post-It notes.

Learn Proven High-Impact Strategies that Support a Comprehensive Writing Workshop Model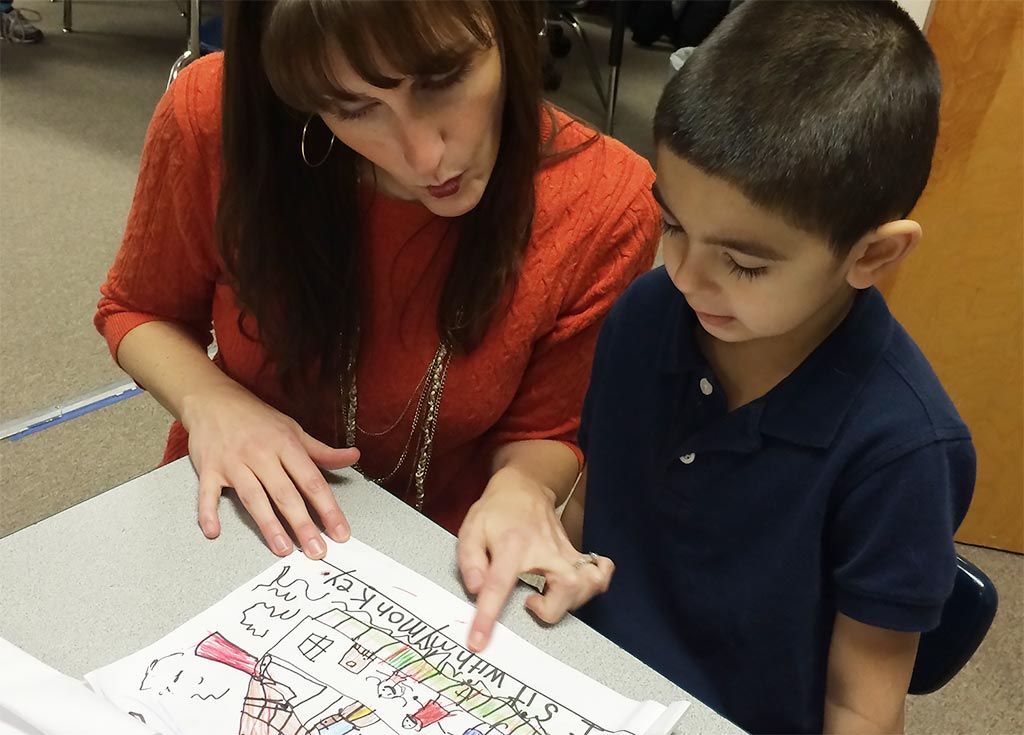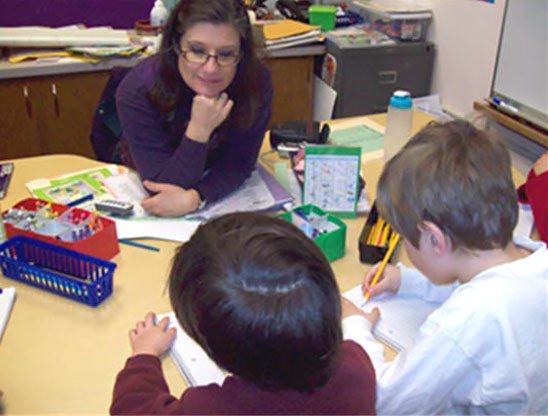 Writing Workshop is where children do the hard work of becoming proficient writers: They are thinkers and storytellers using their growing collection of high-frequency "heart words" and their developing phonics-based spelling. The teacher coaches into the writing process.
Kindergarten friends, your pictures and words
tell a story.
ASL Comprehension Cards Support the Writing/Thinking Process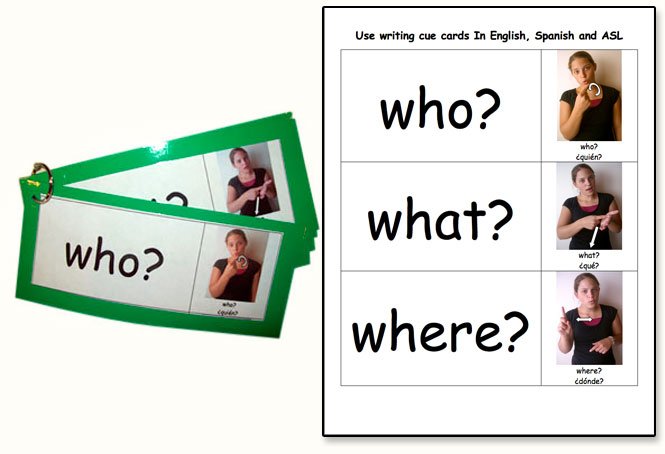 Learning to ask and respond to questions builds detail in our drawing and writing. We sing, sign, and memorize comprehension questions: Who? What? Where? When? Why? and How?
Reporters Make Choices, Write Stories and State Opinions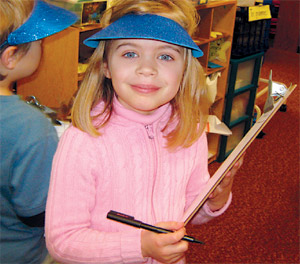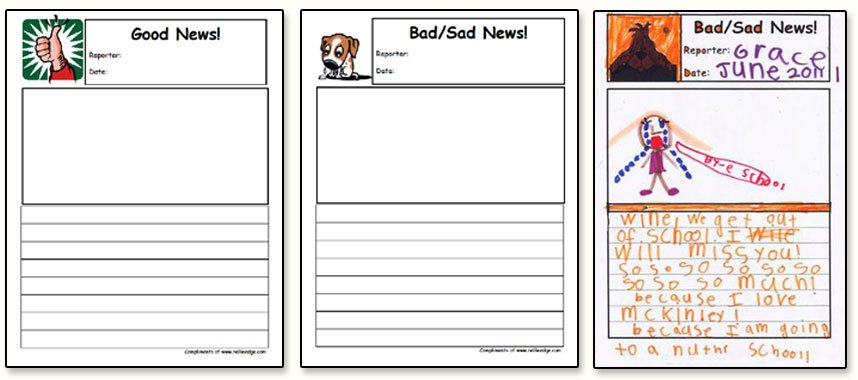 The children as newspaper reporters write stories and state opinions: They can choose "Good News" or "Bad/Sad News." Work is often shared with the class and displayed. (204)
This is My Favorite Book Because...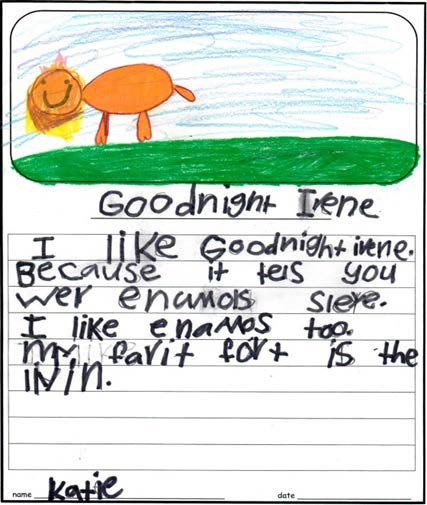 I like Goodnight Irene because it tells you where animals sleep. I like animals too. My favorite is the lion.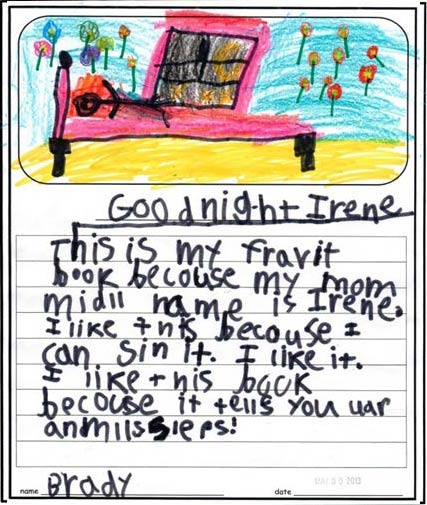 This is my favorite book because my Mom's middle name is Irene. I like this because I can sign it. I like it. I like this book because it tells you where animals sleep.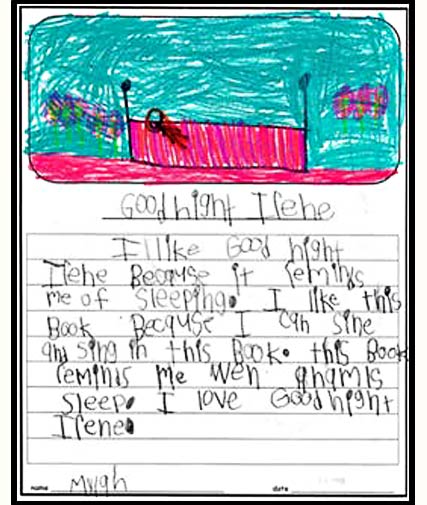 I like Goodnight Irene because it reminds me of sleeping. I like this book because I can sing and sign in this book. This book reminds me when animals sleep. I love Goodnight Irene.
Kindergarten "book lovers" talk and write about favorite books all year long! My favorite Read and Sing Big Book is Goodnight Irene because… My favorite Mo Willems Elephant and Piggy book is… because…and because… (251)
We Sing  I Love the Earth and Celebrate Connections to Nature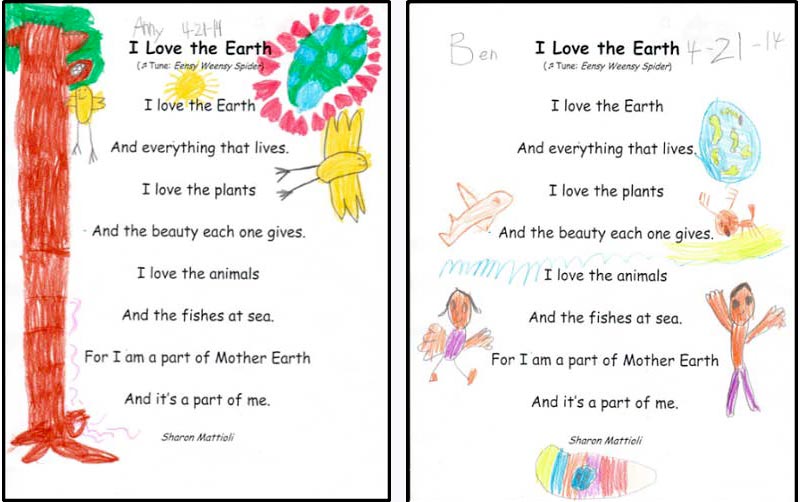 The "sciencing" song I love the Earth is our focus for Earth Day celebrations: We talk, draw, and write about nature. The songs, poems, and rhymes we learn provide inspiration and language patterns for end-of-year published books: The World is Beautiful. (300a)
Students Write, Edit, Rewrite and Publish Books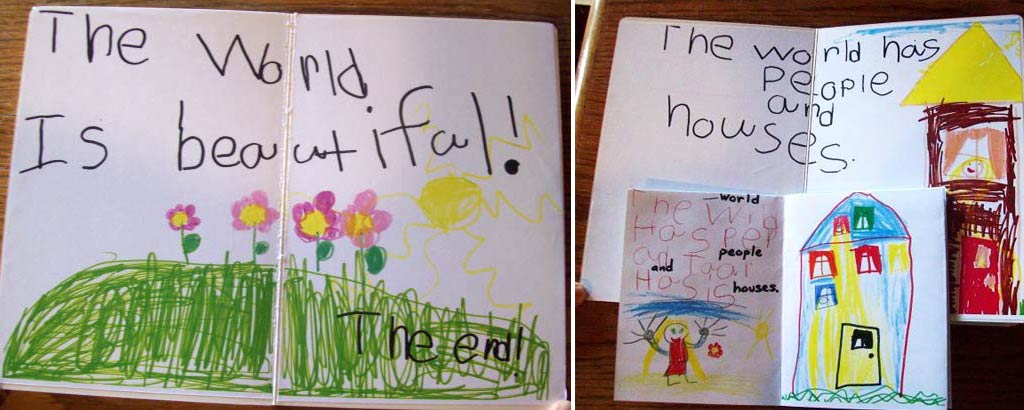 Authentic Writing Engages the Heart of the Young Writers: What I liked About Kindergarten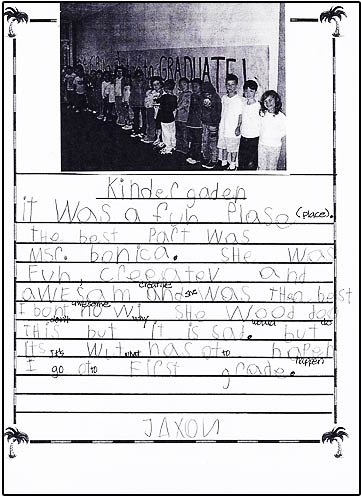 Kindergarten
It was a fun place. The best part was Mrs. Bonica. She was fun, creative, and awesome and was the best. I don't know why she would do this, but it is sad. But it's what has to happen: I go to first grade.
Jaxon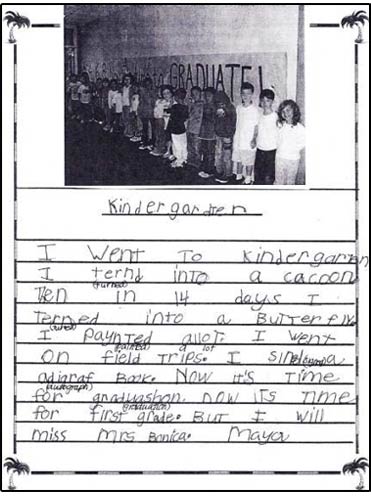 Kindergarten
I went to kindergarten. I turned into a cocoon. Then in 14 days I turned into a butterfly. I painted a lot. I went on field trips. I signed an autograph book. Now it's time for graduation. Now it's time for first grade. But I will miss Mrs. Bonica.
Maya
Reflection: "What I liked about kindergarten" becomes an end-of-year, on-demand writing piece. An authentic approach to kindergarten writing provides space for the unique voices of young writers. (318)
Children deserve joyful and authentic pathways to the Common Core writing standards: We want them to care about writing by making it real!
Want to accelerate kindergarten writing proficiency?
Join Nellie Edge for Kindergarten Writing Workshop #3:
From Independent Writing Centers to Published Books
Opinion Writing Resources: Freebies from Nellie Edge
Writing Related Blog Articles
Get our weekly blog for more high-impact strategies and free resources!