Write-a-Message Center empowers children to use writing for real-world purposes. Word work needs to be authentic, differentiated, motivating, and socially meaningful. Create an Independent Writing Center tote that has all the props needed for more proficient writers to soar and to provide scaffolding for younger less experienced writers: information folder, model sentences, photo/name page, black pens, colored pens, assorted blank paper, and envelopes.
Now for the 8 Steps to Success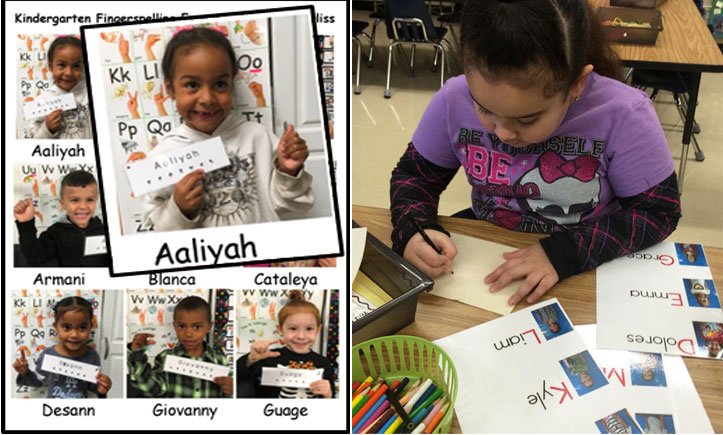 1. Include names and photos of kindergarten friends in the writing tote: use larger photos and print names for younger learners

2. Use Sing, Sign, Spell, and Read! songs to teach students how to spell "To" and "From." Sing and fingerspell words. See TPT Sight Word Program. These pages now have QR codes to support distance learning.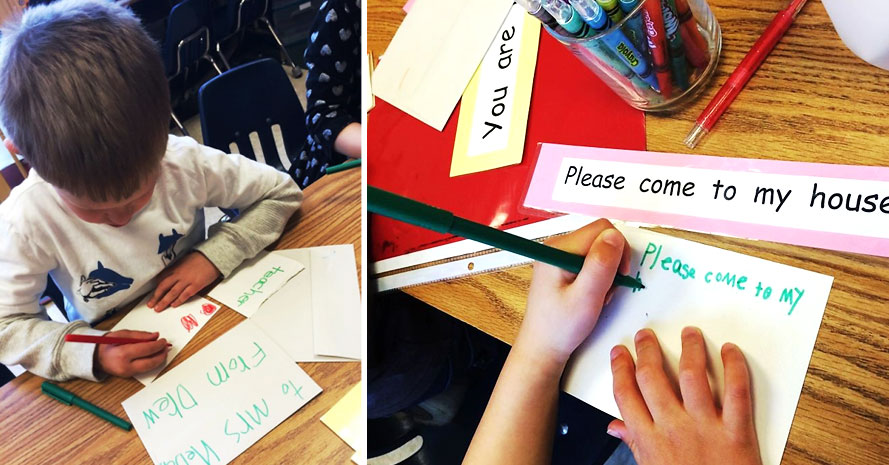 3. Model how to write a message and draw a picture. Consider sending each child a simple message: "I like you." To ____, From _____. How fun to give the children envelopes with their name on it!
4. Make an "I Chart" and teach independence. Once children experience how good it feels to receive a message, they will be eager to make cards and letters for their family and friends all year long! At first, an adult will need to guide children through the expected Independent Writing Center behaviors: Make and "I" Chart.

5. Add a Mail Box to your Literacy Center. Children delight in delivering the mail.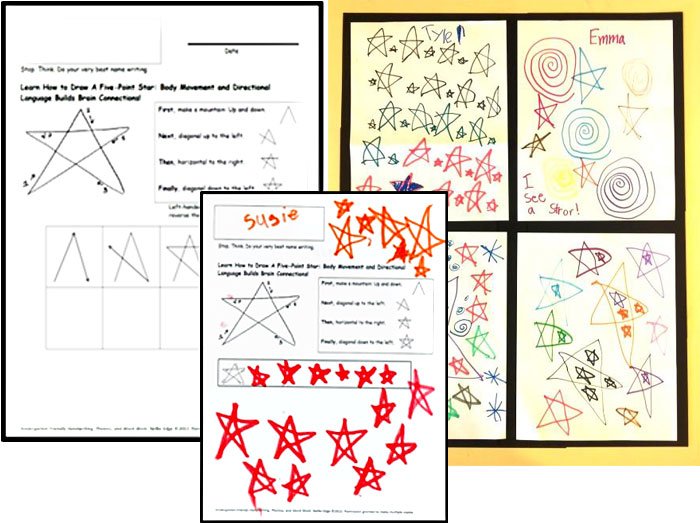 7. Children will soon start writing "I love you" messages to teacher. Treasure these gifts! Post them on your wall and keep a separate notebook for your growing collections of love and appreciation messages to teacher.
8. Renew interest in this center by changing the color or shape of the paper and adding new pens. Invite children to write a new kind of message: Valentine' s Day messages, Mother's Day cards, Thank you messages, and miniature messages. Learn more: See Preview of Write-a-Message Kit on
TPT. (119 pages of Writing Support)
Authentic invitations for students to write personal messages to their friends. 
You'll find everything you need to create this well-loved writing center!
119 pages of everything you need for a favorite Writing Center. Includes:

Step-by-step 52-slide photo essay

Traditional messages in 2 sizes

Valentine's Day messages
These gifts are ways to thank our loyal blog readers with some of our best resources. Watch for a link to your next monthly Nellie Edge Thank You Gift! 
THANK YOU for your feedback, and we enjoy responding to every comment! We are a small and growing TPT store, so your current 5-star reviews inform others about our resources and increase our exposure. Simply a couple sentences, short and sweet (about 200 characters), is all it takes. Thank you again! 
ENJOY! Nellie Edge
Authentic writing resources that students, teachers, and parents love!
When you purchase the Writing Bundle, you may request a TPT refund on
individual Writing Bundle resources.
---
So Many Reasons to Love It!
"This bundle gave my kinders the scaffolding and confidence to truly become writers. The ideas are simple yet profound; this product should be required in every kinder classroom." –M.R. quote from TpT
"Just finished one of her workshops and it was amazing! Can't wait to use this in my classroom and see the great works of writing my students will produce. Thank you for this amazing resource." –Nicola L. quote from TpT
"My first-grade students love learning how to draw and write about the animals. The grocery and friends list was a big hit with my class." –Kristiana P. quote from TpT
"I attended a Nellie Edge training with my building's kindergarten team and loved the resources! I knew what the kinder team was teaching, and I am able to expand on that in first grade." –Shana M. quote from TpT
"A super resource! So much packed in one bundle. Thanks!" –Renee B. quote from TpT
"The kids loved this as an intervention supplement." –Sarah T. quote from TpT
Joyful, Authentic, Multisensory Teaching and Learning with Parents as Partners
Receive Our Weekly Focus Kindergarten Blog
High-Impact Strategies to Inspire Your Practice. Free Downloads!