Nellie Edge High-Frequency Word Stamp Sets
Give All Children "I Can Read" Experiences
We are not accepting new orders for stamp products through May 2022. Please
visit our TpT Store
for resources and freebies.
Follow Nellie Edge weekly blog to be notified of when these stamps will be available again.
6-Word Stamp Set
Handmade in the USA.

Sturdy hard wood construction. Includes: I, see, a, This, is, the
30-Word Stamp Set
Handmade in the USA.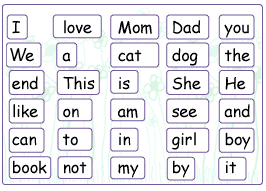 Sturdy hard wood construction.
Includes: I, love, Mom, Dad, you, We, a, cat, dog, the end, This, is, She, He, like, on, am, see, and, can, to, in, girl, boy, book, not, my, by, it
"I Can Read. Listen to Me." Stamp
BY NELLIE EDGE, NELLIE EDGE RESOURCES, INC.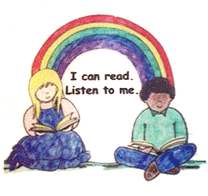 (This stamp is our gift to you: there is no mark-up on this item. Limit 1 per order.)
We are pleased to once again have our "I Can Read. Listen to Me." stamp available. You may recognize the image from the last page of our best-selling Read and Sing Big Book, I Can Read Colors. This belief statement is our goal for children and they love stamping it on the last page of our Read and Sing Little Books, or their own illustrated little books.
These stamps are not mass-produced overseas; they are made by our friend, Mike Collins, ten at a time, in his sign shop in Michigan. Our "designer stamp" is an expensive but precious affirmation for children in joyful writing-to-read classrooms.
As a gift to you: there is no mark-up on this item; we offer it to you at our direct cost from the producer. Happy Stamping! N.E.
Animal Stamp Set, Word and Label Cards, and Photo Essay: Make Stamp and Read Book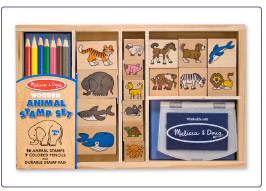 Sturdy hard wood construction.
We have added templates for building 16 word/stamp cards and organizational labels for making the Stamp and Read connection. Also included is a photo essay of the popular Stamp and Read  Skinny Book Center. 16 animal stamps, 7 colored pencils, ink pad, and instructional photo essay. Happy stamping!
Alphabet Stamp set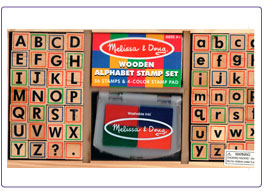 Sturdy hard wood construction.
We love this wooden alphabet stamp set! Includes 56 letters and 4 color stamp pads and makes a great addition to your ABC and Phonics Immersion resources.
12 Word Spanish Stamp Sets
Handmade in the USA.
12 Word Spanish Stamp Set Sturdy hard wood construction.Includes Yo, veo, un, una, Este, Esta, es, el, la, Me, gusta, tengo
Print 8.5" x 11" or see instructions for poster printing
Provide Active, Motivating Word Work: Make Stamp and Read "Skinny Books"!
Develop one-to-one correspondence between the spoken and printed word.
Engage the kinesthetic learner.
Help children effortlessly learn important high-frequency words.
Here is an engaging way to teach the concept of how words work while simultaneously building reading skills.  Children can kinesthetically feel each word as they stamp it.  The "skinny books" are mass prepared by parents—they are simply 4 sheets of paper cut into strips and stapled together, with—or without— a cover.

The limited number of word stamps (I, see, the…/ This, is, a…) and the thin design of the book pages support the child in creating one sentence on each length of paper.  Stamping naturally leaves a space between individual words so that children can more clearly see the visual uniqueness of each high-frequency word.  Children add an animal stamp, or their own drawing (with or without a word) to finish each sentence.  Young children take pride in these books, which they can read on their own, share with a friend, or read to the class; each time building stronger reading fluency and sight word recognition. Children happily take their personally-created stamping books home because they can successfully read "skinny books" featuring repetitive language patterns which they have completed in their own unique way.
Two sets of stamps, stored in a clear plastic fishing tackle box, make a great literacy center.
---
Literacy Links: How to make Stamp and Read Skinny Books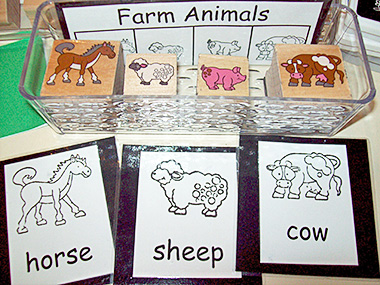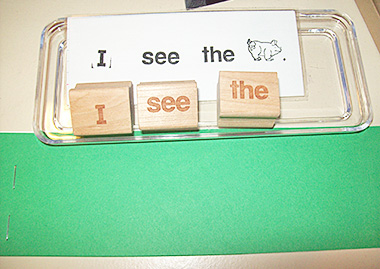 Receive Our Weekly Focus Kindergarten Blog
High-Impact Strategies to Inspire Your Practice. Free Downloads!