Their discovery? "I can read!"
Success with Stamp and Read Books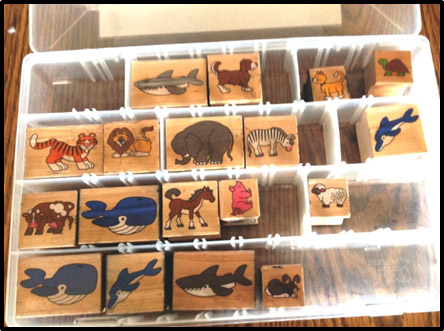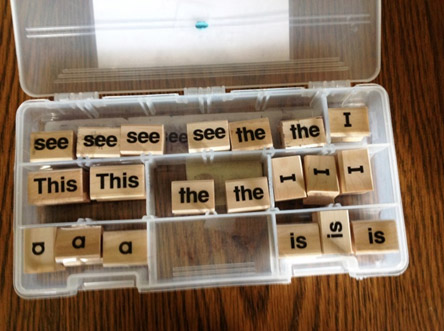 Each of these 16 Wooden Animal Stamps comes with a clear plastic coating, making it easier to keep them clean (made in China).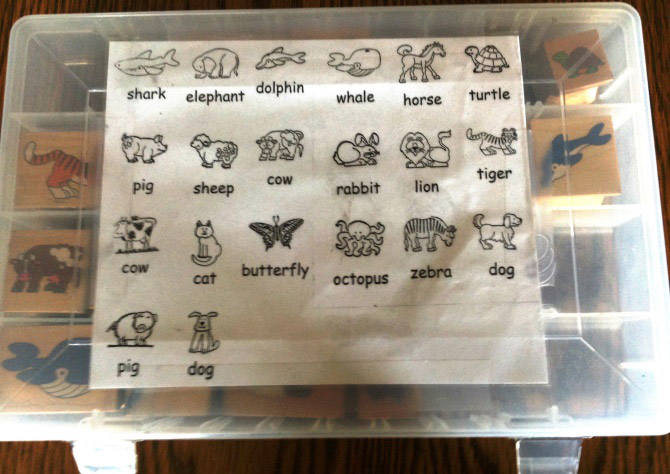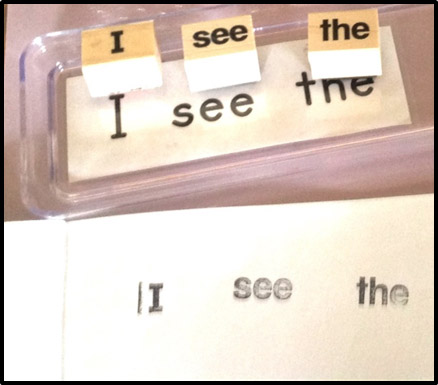 Tip: Consider covering Nellie Edge Wooden Stamps (handmade in the USA) with clear contact paper, going over the word and down the sides where the fingers grip. The contact paper is included with purchase.
Organize and store your stamps in tackle boxes for efficiency.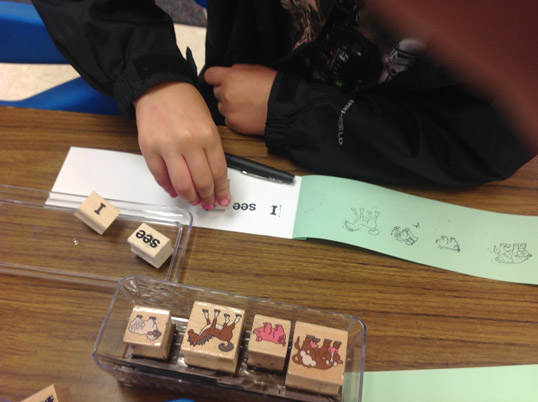 The first "Exploring Stamps" lesson is to teach children how to use word stamps, animal stamps, and ink pads—keeping fingers clean—in an exploratory lesson. Children can practice finding words and stamping "I," "see," "the,…" in order from left to right.

Create Word Cards for your stamps: Children take pride in reading and writing the animal stamp names. To make it easy for children to choose from a collection of animal stamps, we keep these in butter dishes (from the Dollar Store). We ask our kindergarten friends: Is your book about pets, zoo animals, farm animals, or ocean animals? Where does the whale stamp belong?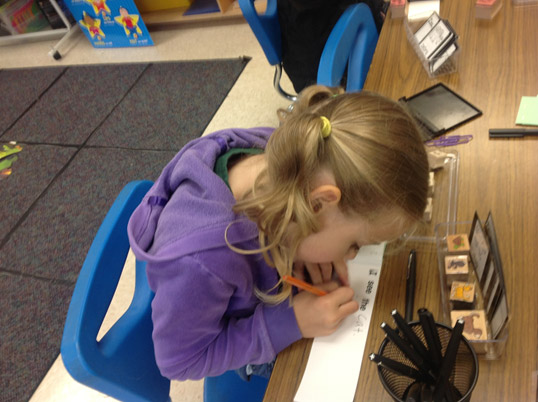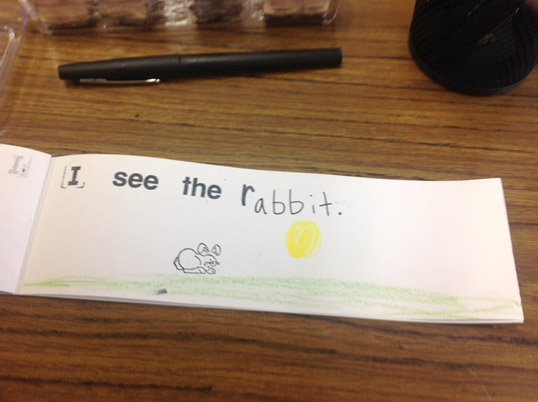 Give children black non-toxic pens, and encourage them to write the animal name after they stamp the image. Remember to add punctuation to the end of the sentence! More proficient learners may even have time to color the animal, using colored pencils.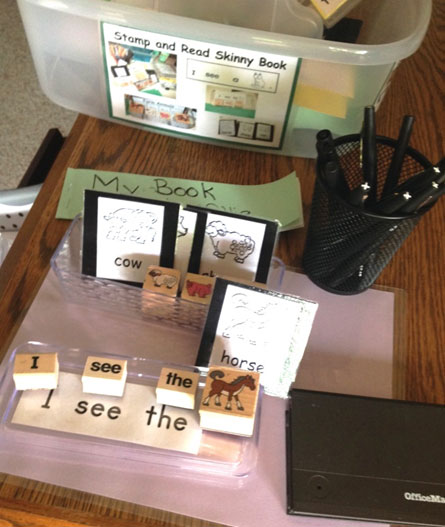 Teach high-frequency sight words: Make "Stamp and Read Skinny Books" after children have been introduced to the words "I," "see" and "the." Stamping this sentence pattern gives the children reading and writing power. (Soon they will have fluency writing this sentence "by heart!")
Review Sing, Sign, Spell and Read! songs before making the book: B-o-o-k: Book!, My and By. Have writing models available for each child. (See Online Store for Sing, Sign, Spell, and Read! songs by Nellie Edge.) Talk about the cover and title of the book. Who is the author of this book? Remind children to do their best name writing.
Ask each child to read her finished book, touching under each word. (Kindergarten friends, imagine your finger is lightly touching (stamping) under each word.) You may need to put your hand over the child's and help her point left-to-right across the page. See Neurological Impress Method of Guided Reading at end of document.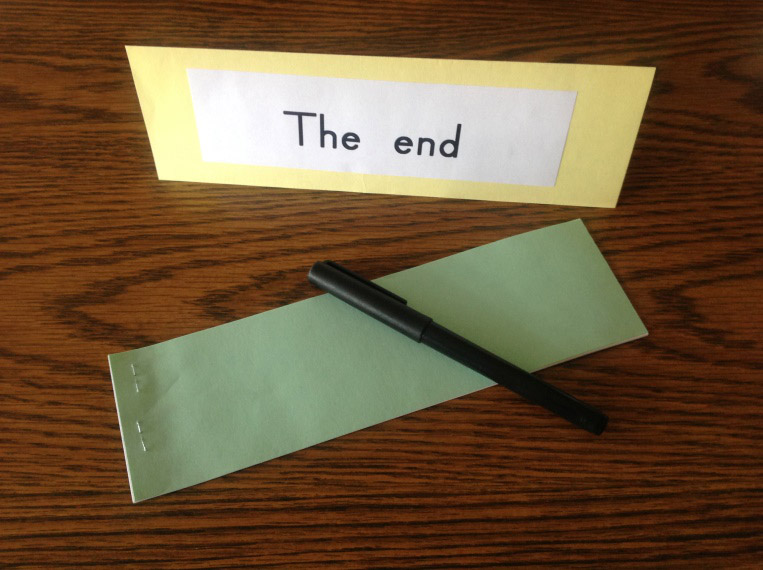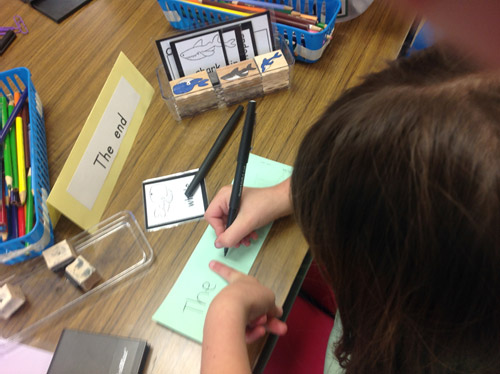 Ask children to copy "the end" onto the back cover of their book: Leave a space between each word! Recite the rhythmic "The End" chant and again—have writing models available! (See video of Teach High-Frequency Words: "the end" on our "Heart Words" page.)

The teacher stamps the "I can read. Listen to me!" rainbow on the book's last page and sings or chants the affirmation to the child. It is a miniature version of the last page from I Can Read Colors, a Nellie Edge Read and Sing Big Book™. This is a pride-filled moment for the child: Wow! You read the whole book!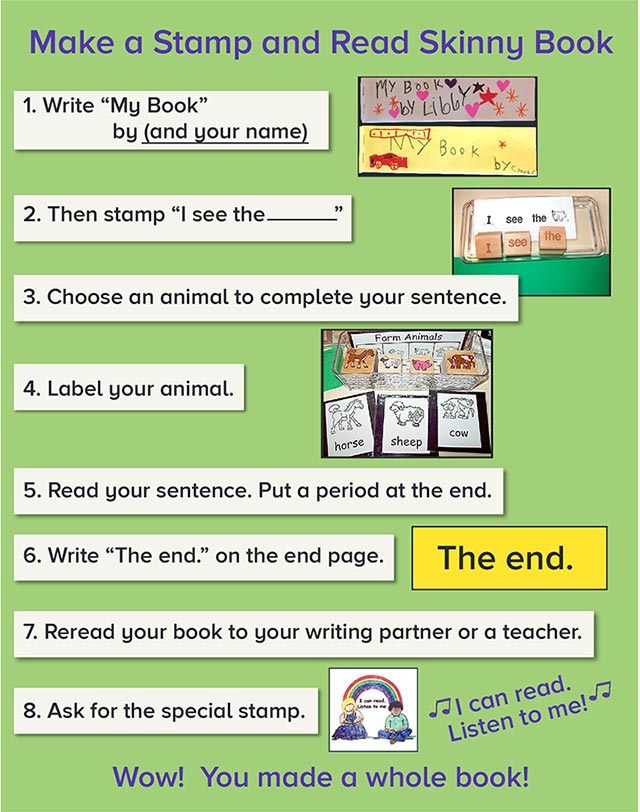 Keep a Stamp and Read Skinny Book anchor chart close by to remind children and volunteer helpers of their jobs. Ask children to leave the center set up for next group of stampers. Download Anchor Chart.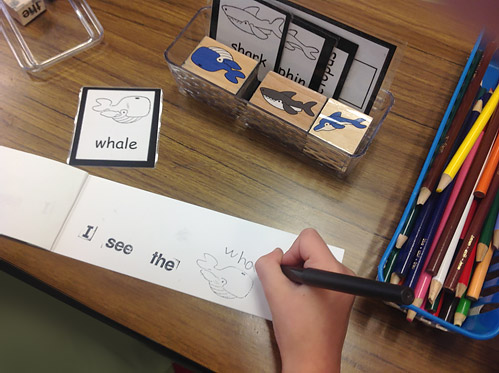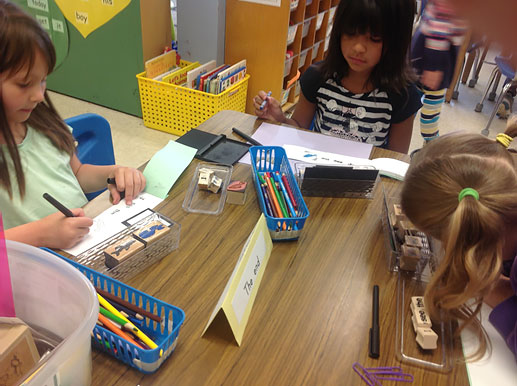 Limit the first Stamp and Read Skinny Book to 3 pages. Some children will finish stamping and reading much earlier than others. Let these children know they can always fancy up (embellish!) the front and back cover of their book or use colored pencils to color the animal stamps. (Some children may even want to add detail with a habitat drawing for their animal stamp: always provide opportunities to personalize the book.)
Share your organized Stamp and Read Tote (and these stamping tips!) with a teaching friend.
Happy Stamping!
Recommended props for "Stamp and Read Skinny Book" lesson:
Premade 3-page books with additional front and back covers stapled on. (If class is developmentally young, you may want to already have the cover language "My Book by _________" printed on each book
Multiple sets of high-frequency words (I, see, the) for children to share
Set of animal stamps with word templates
"I can read! Listen to me." stamp
"My Book" and "The end" sentence models
4-6 non-toxic ink pads (check that they are well-inked!)
Butter tubs (from Dollar Store) with trays to hold stamps during lesson
Black non-toxic pens and colored pencils (sharpened!)
Samples of completed books and/or exemplars from previous students
Wet wipes
Butcher paper over table or plastic mats to define each student's work space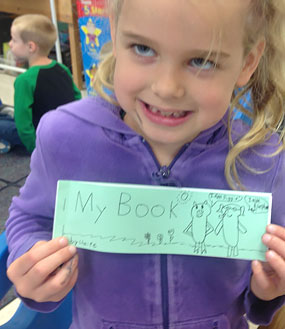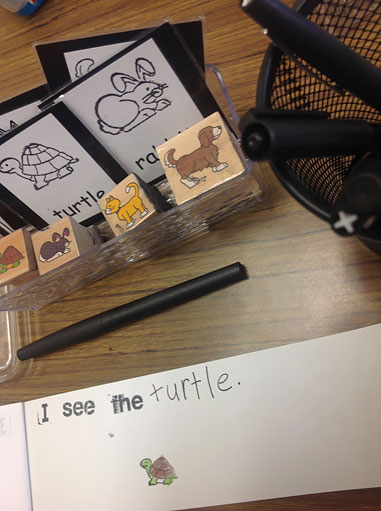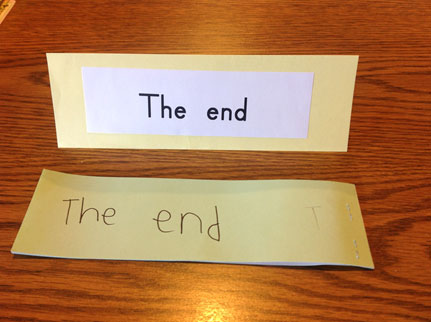 Give children joyful "I can read" experiences: Study Nellie Edge Online Seminars
Receive Our Weekly Focus Kindergarten Blog
High-Impact Strategies to Inspire Your Practice. Free Downloads!