Nellie Edge High-Frequency Word Stamp Sets
Give All Children "I Can Read" Experiences

Products shipped weekly via UPS standard ground delivery WITHIN U.S. ONLY. Pay with a PayPal Account or a major credit card. See how to pay with credit card in Paypal.
Print 8.5" x 11" or see instructions for poster printing
Provide Active, Motivating Word Work: Make Stamp and Read "Skinny Books"!
Develop one-to-one correspondence between the spoken and printed word.
Engage the kinesthetic learner.
Help children effortlessly learn important high-frequency words.
Here is an engaging way to teach the concept of how words work while simultaneously building reading skills.  Children can kinesthetically feel each word as they stamp it.  The "skinny books" are mass prepared by parents—they are simply 4 sheets of paper cut into strips and stapled together, with—or without— a cover.

The limited number of word stamps (I, see, the…/ This, is, a…) and the thin design of the book pages support the child in creating one sentence on each length of paper.  Stamping naturally leaves a space between individual words so that children can more clearly see the visual uniqueness of each high-frequency word.  Children add an animal stamp, or their own drawing (with or without a word) to finish each sentence.  Young children take pride in these books, which they can read on their own, share with a friend, or read to the class; each time building stronger reading fluency and sight word recognition. Children happily take their personally-created stamping books home because they can successfully read "skinny books" featuring repetitive language patterns which they have completed in their own unique way.
Two sets of stamps, stored in a clear plastic fishing tackle box, make a great literacy center.
---
Literacy Links: How to make Stamp and Read Skinny Books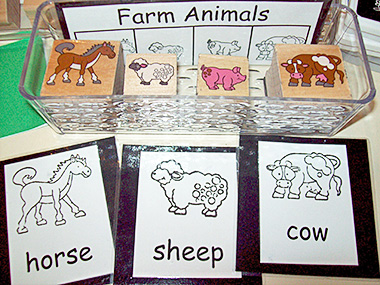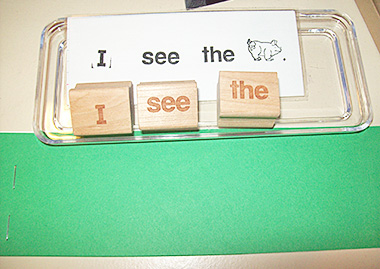 Receive Our Weekly Focus Kindergarten Blog
High-Impact Strategies to Inspire Your Practice. Free Downloads!