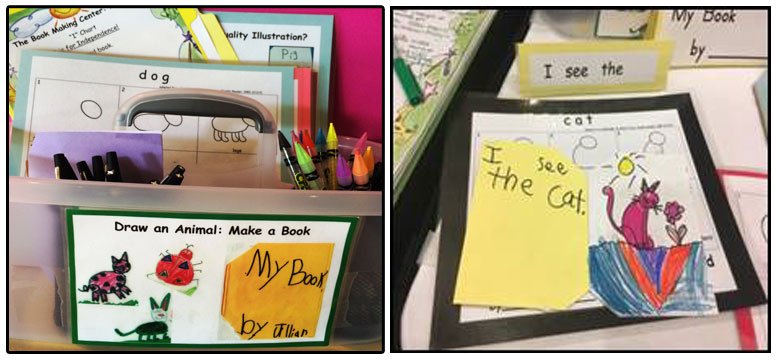 Children build fluency and stamina for writing workshop by making books with high-frequency sentences patterns! (We call them "heart word" sentences.)
Establish two principles:
First, the beginning of the year, kindergartners learn there are two types of words:
Heart words and sentences: they are expected to read, write, and spell these words "by heart." "I love you" and "I see the dog" are the first circles of writing mastery.
Phonics-based words: Children learn to listen and stretch through sounds, and write these words phonetically (Encoding sounds to print.)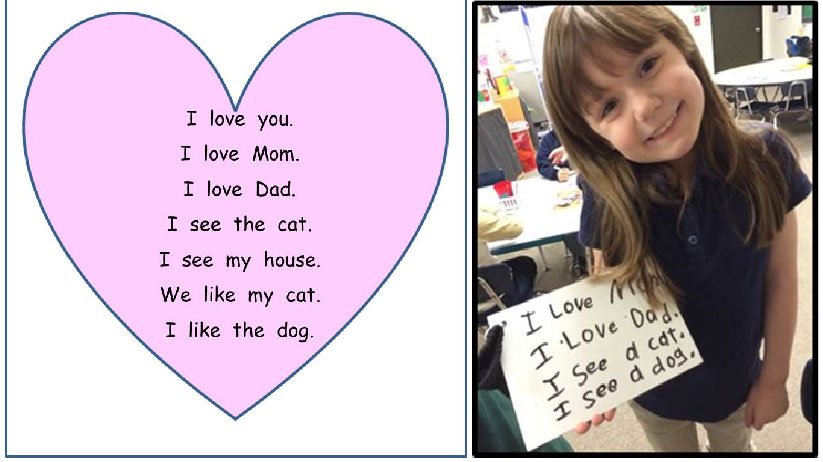 This blog focuses specifically on high-frequency words: authentic ways children will practice "heart word" sentences until their writing becomes automatic; building writing power!
Secondly, when students develop independent book-making behavior, it frees the teacher to conduct small-group writers workshop. This is where students
practice and integrate all of the skills of becoming a writer.

Writing teaches reading! Young writers soon learn to read and write "My Book,
"by," "the end," and "I see the dog/cat" — sometimes even before they recognize
all letters in isolation.
Now for the 10 Steps to Success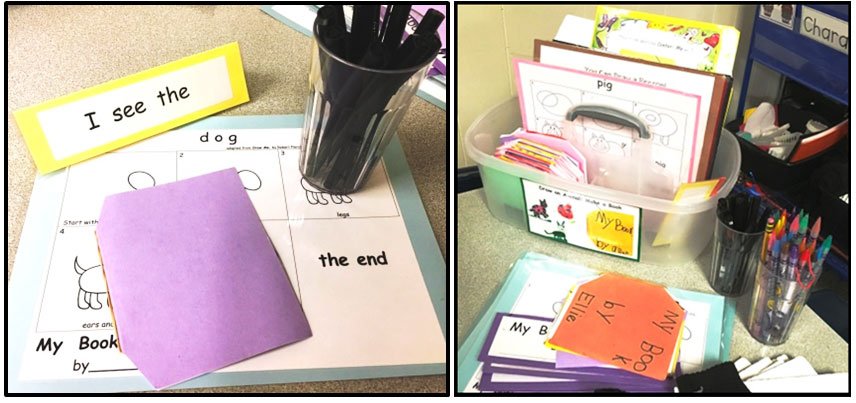 1. Organize supplies in one tote: drawing models, blank books, black pens for writing and outlining, twistable crayons or colored pencils for coloring. (We use a cleaning caddy.)

2. Use guided drawing models to teach children how to draw animals.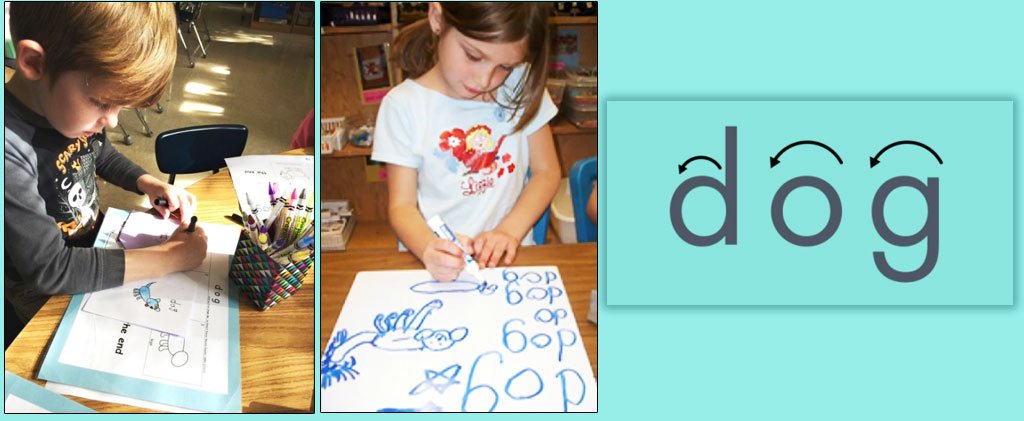 3. Practice step-by-step drawing and good handwriting using white boards with the entire class. Have high expectations that all kindergartners can write and draw. Teach our Sequential Language Song: First, next, then, after that, finally…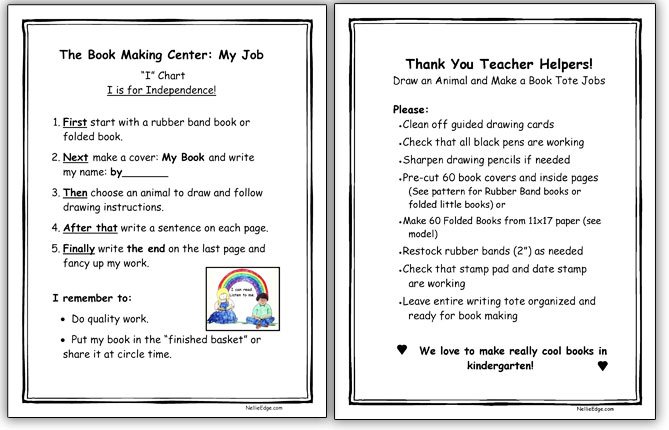 4. Teach independent writing center behavior in small group: Create an "I" chart. Refer to the agreed-upon responsibilities and behavior.

5. Introduce a predictable mentor text such as "I Love the Mountains" (A Nellie Edge Read and Sing Big Book™) to provide a frame for writing a book about things I love.

6. Vary the input and provide different sentence patterns: Rubber Band Books or Folded Books become frames for Information Writing about science concept and developing fluency with the sentence, "This is water."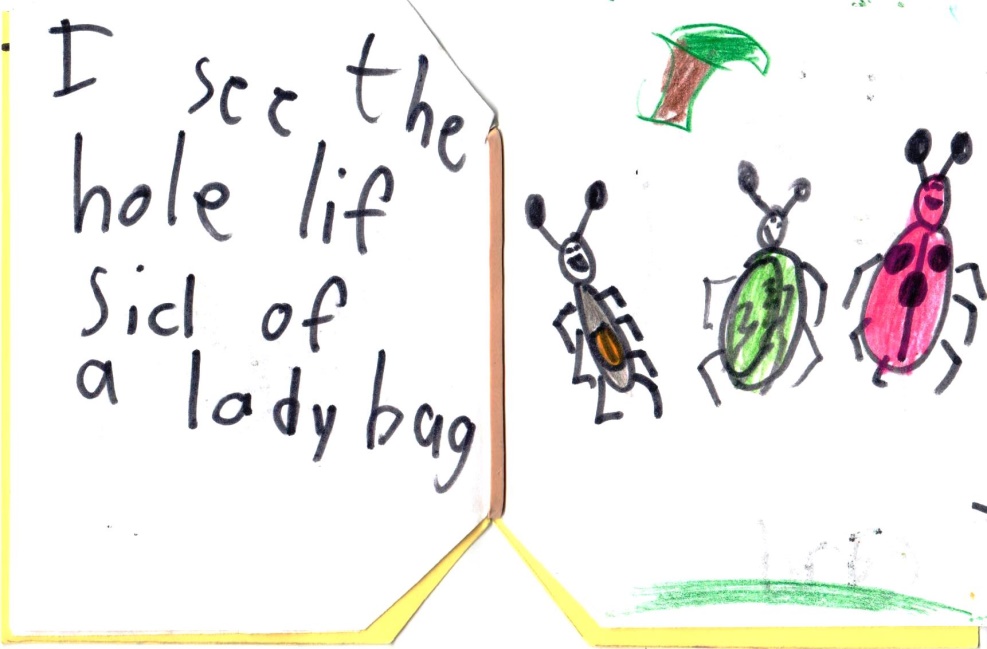 9. Differentiate Learning: Provide drawing and writing support for less experienced writers and challenge for your more prolific writers. In this TAG (Talented and Gifted) model kindergartners can always create their own book expressing their own unique ideas and design.
And…what might your future naturalist be independently writing?
I see the whole life cycle of a ladybug.
Notice—we do not usually edit these delightful first drafts. We celebrate "kid–writing" as a creative process! Students will begin using conventionally spelled "heart words" and phonics-based spelling! They will choose to edit these first drafts only if selected for their final published books.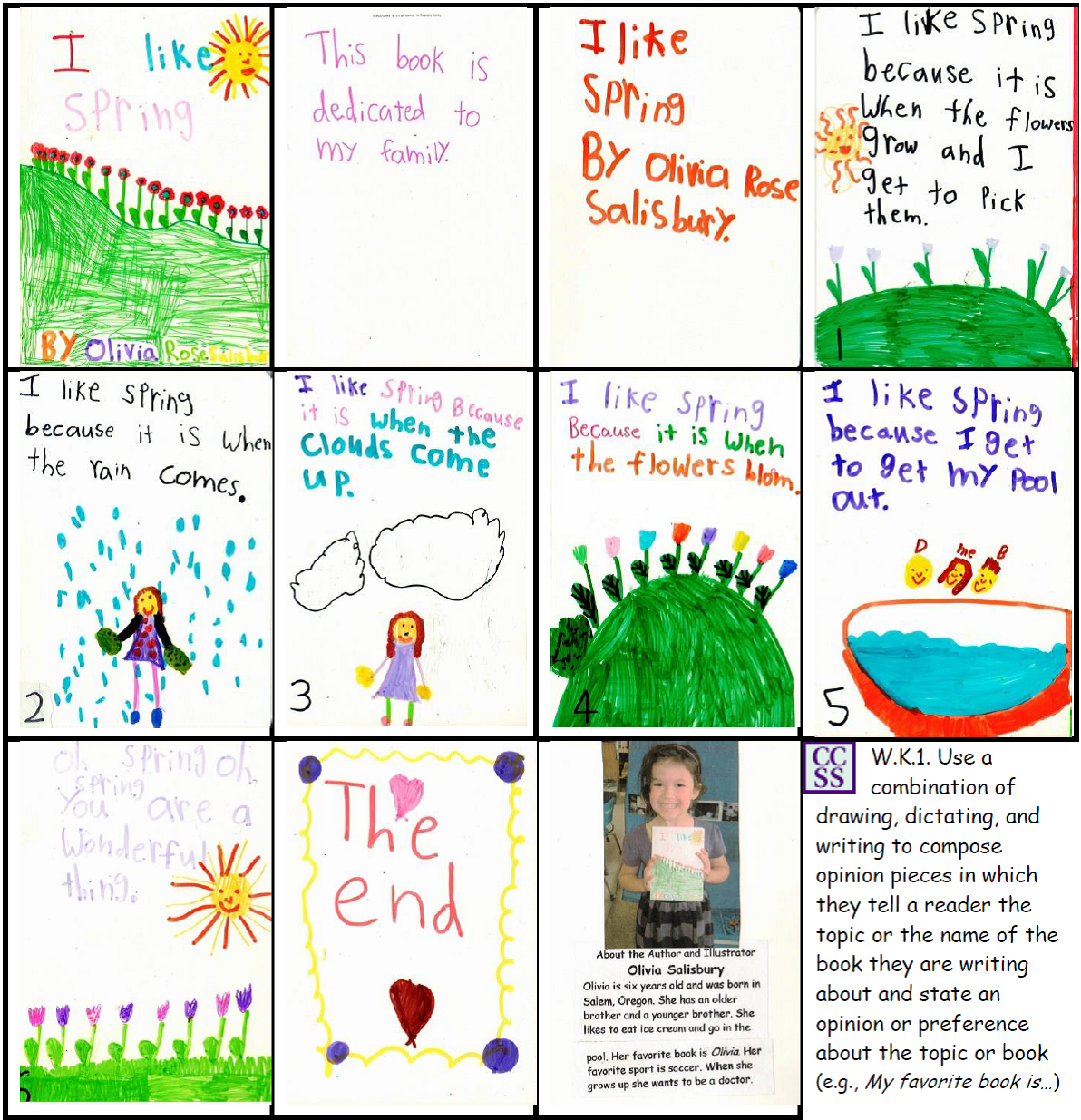 10. If you grow your kindergarten writers with independent writing centers, systematic writing workshop lessons, drawing instruction, and writing across the curriculum, your students will be writing and publishing amazing books by the end of the year!
Receive Our Weekly Focus Kindergarten Blog
High-Impact Strategies to Inspire Your Practice. Free Downloads!