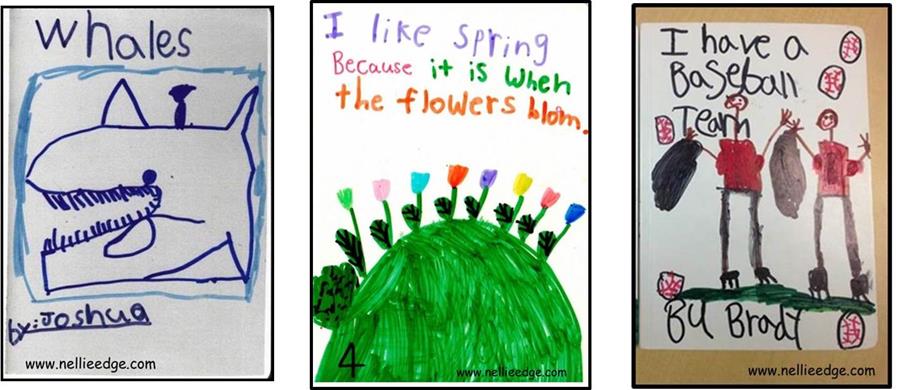 My kindergarten colleagues are starting the kindergarten publishing process this month. Every year the children's writing exceeds our expectations—especially in the Title 1 schools. We hope that even teachers who have not studied kindergarten writing with us will find this updated document a practical and inspiring look at the KINDERGARTEN PUBLISHING PROCESS. (To learn more see chapter 9 in Kindergarten Writing and the Common Core: Joyful Pathways to Accelerated Literacy by Nellie Edge and visit our writing pages at www.NellieEdge.com.)
Publishing children's books is our celebration of kindergarten writers. This publishing process is the final piece of our Comprehensive Writing Workshop Model with proven strategies to grow young writers.
What we have learned so far: Tips from Writing Teachers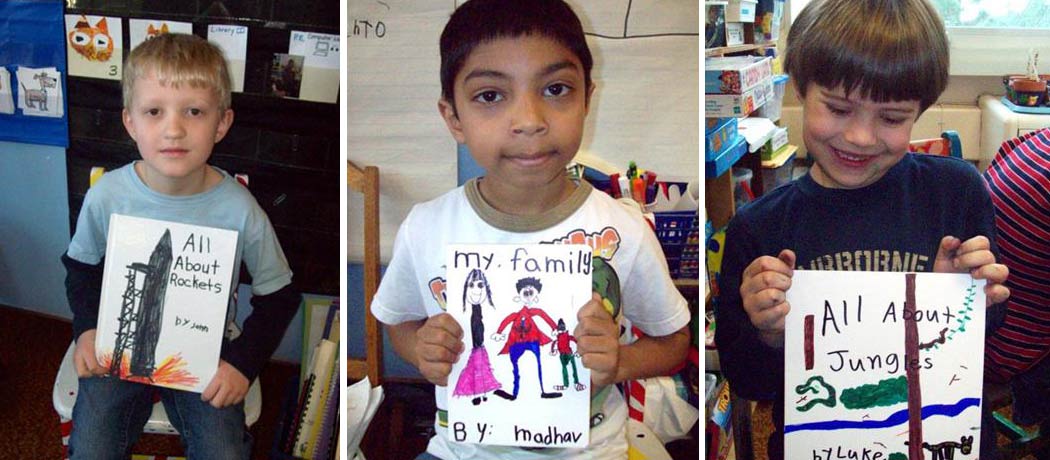 1. Order the blank Chunky Bare Books 8.3" x 6" (#3602) or 8" x 8" (#3604) in early April to begin the publishing process in late April or early May. Order from www.barebooks.com (cost is $1.65 – $1.95 each). Children's final stories will be re-illustrated and written by each child directly onto the pages of these books. Every book will be unique.
2. Send home a "Parents as Partners" letter (see our sample) asking for a donation of $4-$5.00 to cover publishing costs. Caution: Do not purchase less expensive or "off" brands of markers. Buy only the best pens: two large sets (24-count) of Sharpie® fine-point permanent color markers and (optional) one set of ultrafine-tip markers (best prices are on Amazon.com). Purchase several extra black, yellow, green, and blue Sharpie® markers. See sample Parent Letter. They tend to smear on these shiny blank books. Not good!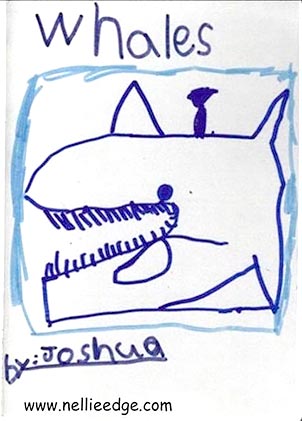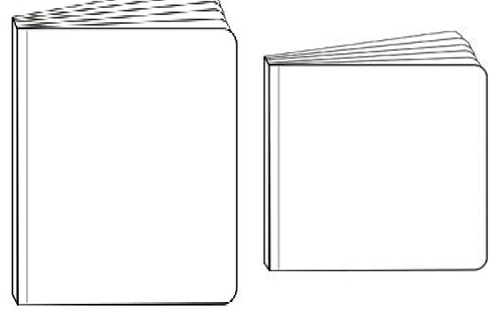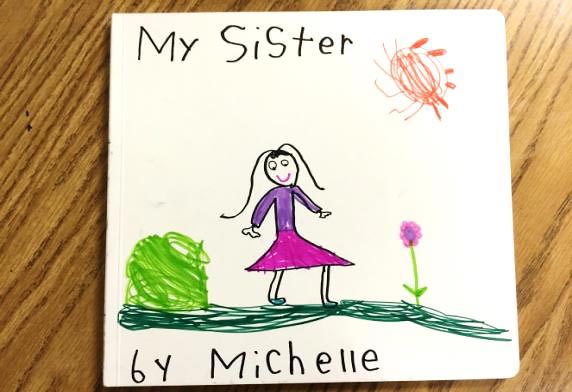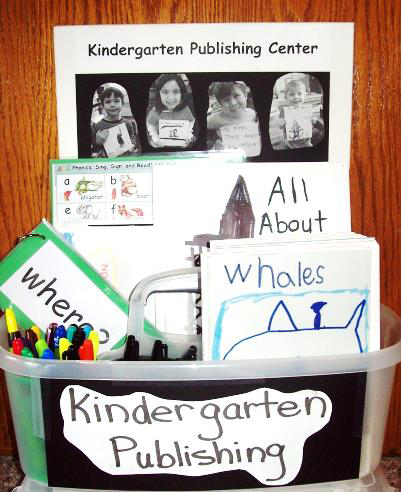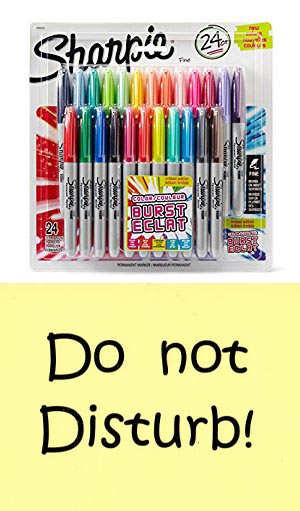 3. Send home the Interview Questions for "About the Author and Illustrator" page. Ask parents to interview their child for a brief bio consistent with the samples provided. Writing their child's bio involves families in the publishing process. Some parents may volunteer to type up the bios and take a photo of the child holding his book! (This will also remove one time-consuming piece of the kindergarten publishing process.) Choose a consistent indoor or outdoor location for author photos. A note about the bios: Kindergartners are exceedingly proud of their books and their "About the Author and Illustrator" pages. Most will work very hard learning to read—or memorize—the whole page!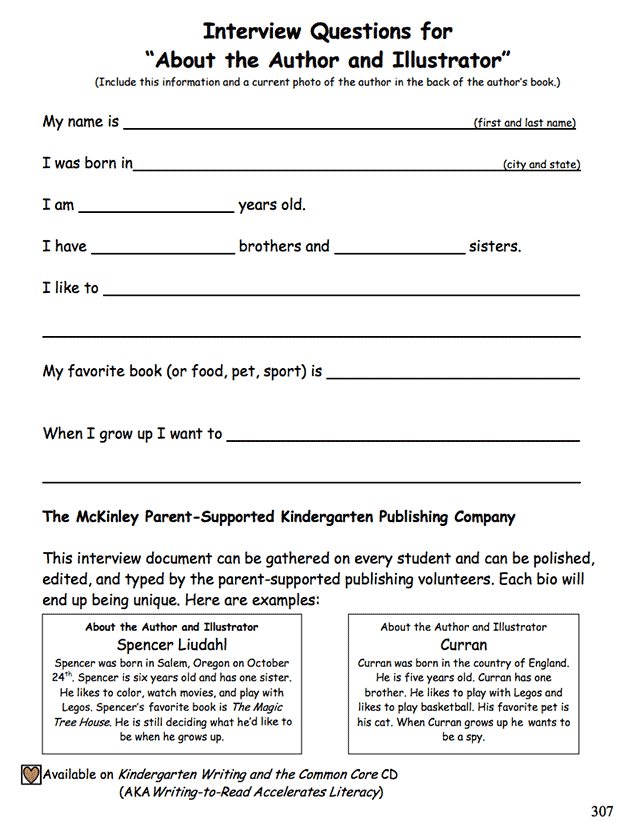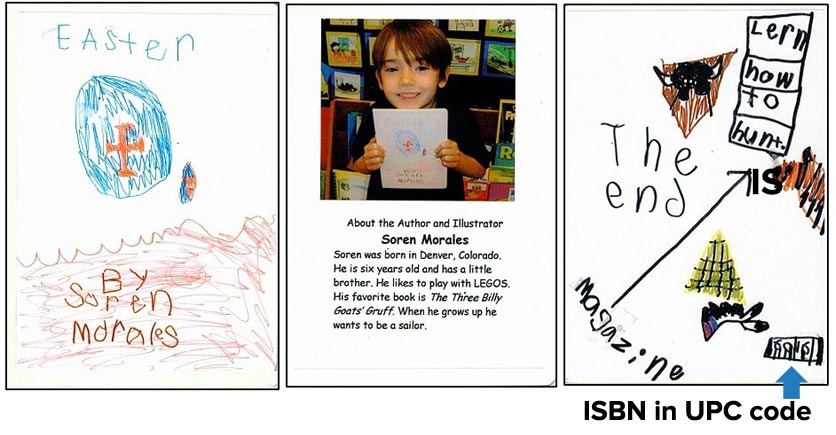 4. Create a Kindergarten Publishing Center tote with all the supplies you need for publishing:
blank books
a great supply of new Sharpie

®

markers
"oops" tape (or adhesive white labels)
samples of kindergarteners' book covers
samples of "the end" pages
"What Makes a Quality Illustration"
sticky notes
"Dedicated to" and "the end" models
wet wipes
your clipboard of notes
Highland Publishing Co.,
Salem, Oregon ©2017
Salem, New York, London,
Toronto, Sydney
5. Present a mini-lesson on book dedications: Notice the dedications in favorite children's books. Talk about to whom people dedicate books and why. What special person do you want to dedicate your book to? Keep a few "Dedicated to…" writing models at the publishing table for writers to copy. Some teachers choose to print this on the inside front cover, and then the child finishes writing the dedication. Optional: Attach a publishing house label with complete publishing information. (Highland Publishing Company, Salem, Oregon, ©2017) Children also enjoy seeing (and imagining) publishing details about where their books may eventually be published: Salem, New York, London, Toronto, Sydney…
6. Throughout the year, present minilessons, showing book covers that are enticing to readers. Kindergarten writers, what on this cover makes you want to open this book?
7. Children's first step in actual book publishing is to study the cover of their chosen rough draft. What more can you add to entice your reader to open your book? (Children can borrow the style of Mo Willems, Eric Carle…or other favorite authors/illustrators.) Expect each child to write their title at the top of the front cover on their blank book and their name (the author!) at the bottom. Remind them of quality illustration techniques.
8. Children proof and edit their stories from an 8-page prototype. Before publishing, children will experience the final part of the writing process, revising and editing their chosen story with an editor. We expect standard spelling, grammar, and punctuation in published books. Children will also experience literary vocabulary first hand: front and back cover, author, illustrator, dedication, end pages, editor, publisher, revision…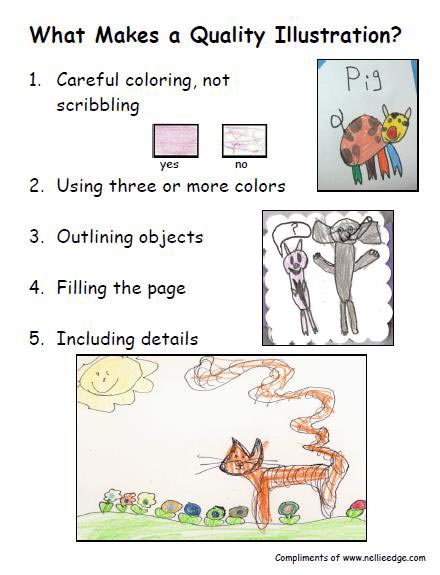 9. Plan to work with 4-5 students at a time at the designated "Kindergarten Publishing Center." Publishing is serious, focused, powerful work! No one disturbs this table. We often let children work for extended periods of time until they are finished. Ideally, we have help to supervise and guide this important publishing activity.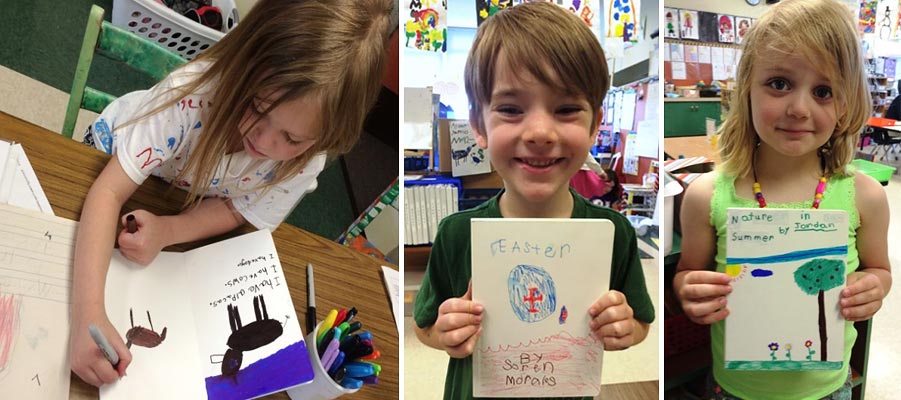 10. Consider allowing a few more proficient writers to publish first so they can motivate and inspire all of the children to keep working hard. First they will work with an adult to carefully proof and edit. Finally, they will copy the language and re-illustrate pictures from their prototype creating a beautiful published book! To preserve the books, consider covering the outside with sturdy contact paper.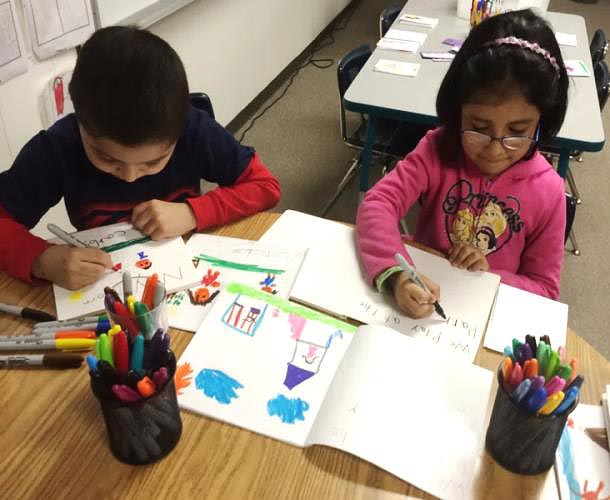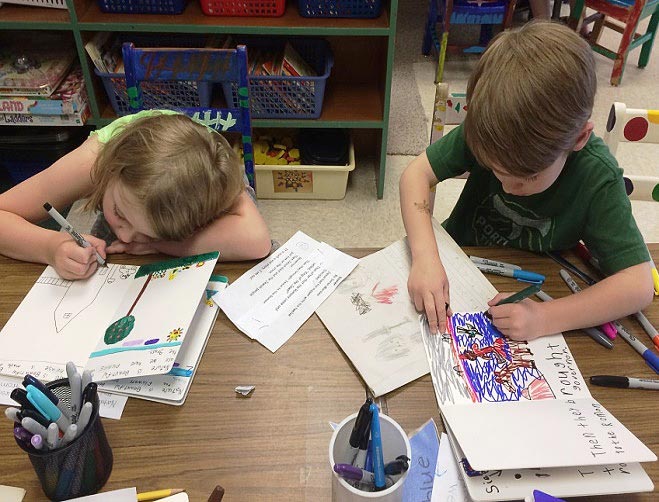 One More Minilesson: Notice and Talk About "The end" Pages in Children's Literature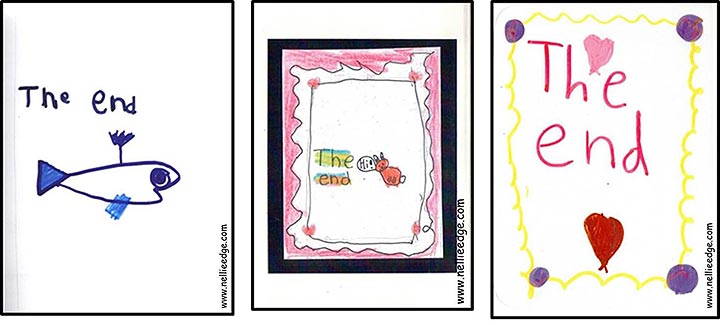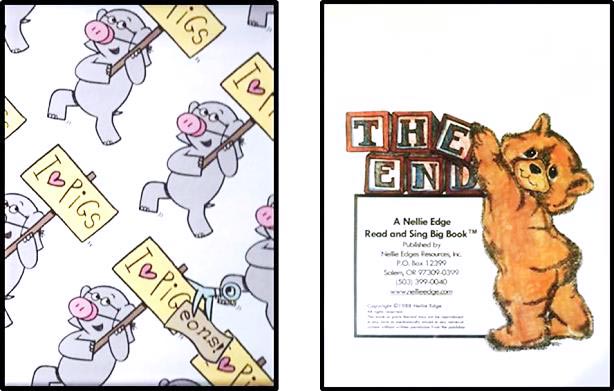 Children notice end pages in Mo Willem's Elephant and Piggie books, Nellie Edge Read and Sing Big Books™, and other favorite children's books all year long. We teach "the end" and encourage children to fancy up their "the end" pages. They delight in this final opportunity to display their creative work.
Teachers, be aware that some observant children may decide to add more details including a universal product code (UPC) with an ISBN to the back cover of their books. How clever! We have learned to honor the creative process and know that not all final copies will be identical to the rough draft.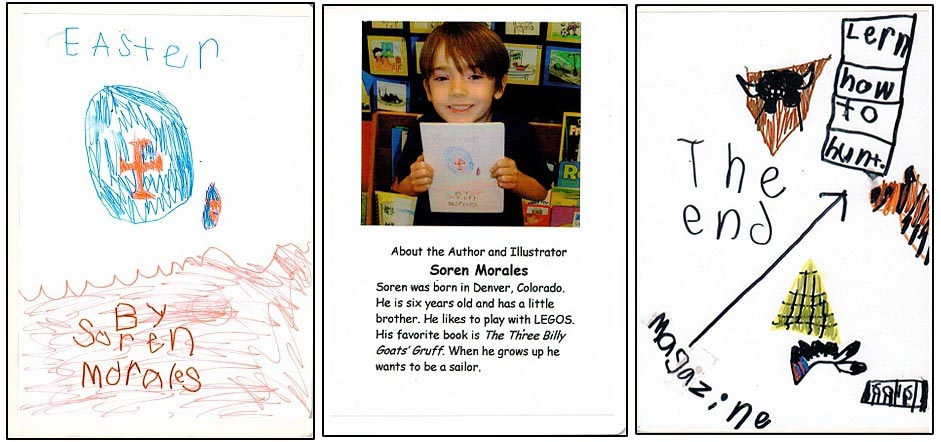 We know how to meet—or exceed—kindergarten Common Core writing standards.
However, not all writing pieces need to fit into one prescriptive category of opinion, information, or narrative writing. My overriding goal as a teacher of kindergarten writing is to nurture in each of our young children a love of writing, drawing, and making books to share with readers. I want them to already see themselves as "prolific writers and illustrators" who will continue to make books and write lists, messages, and science notes all summer long. We want children to go into first grade with a passion for the author's craft! You might hear the influence of master writing teachers Donald Graves, Katie Wood Ray, Lucy Calkins, Peter Johnston, and Julie Lay in my words:
Wow! You are becoming such a prolific writer!
You might find yourself swinging on a swing or lying in bed thinking about the next story you will write…
You have grown so much as a writer! Remember the beginning of the year when…?
Your words and pictures tell a story.
You wrote that whole book all by yourself! Aren't you proud of your writing?
Authors often need to make choices like that….
Good writers do a lot of rewriting: it's part of the writing process!
No problem. We have "oops" tape. What do you want your sentence to say? You have a writerly decision to make.
Let's just stop, breathe, think, and focus! (Signing each word increases the brain connection!)
Tell me about your illustration. What other details might you add?
11. Sitting in the Author's Chair and Celebrating Kindergarten Authors!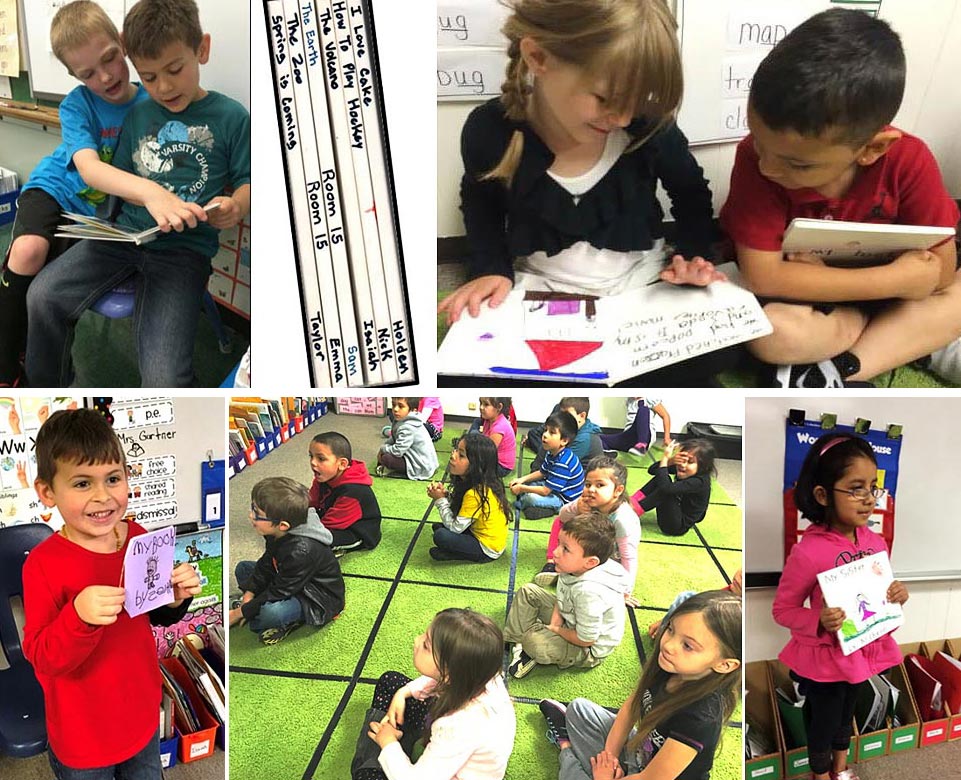 Author celebrations are ongoing and take many forms.
As books are finished, children proudly stand by or sit in the Author's Chair, read their books, show the pages, and respond to "I like" comments and "How did you…" questions from their kindergarten audience. (This is a process children have practiced repeatedly all year long.)
A special morning is set aside for children to read their published books to each other and visit a first grade class to again share their work.
Families are invited for an end-of-year author's celebration.

School principals, secretaries, and community members are invited to a "Meet the Kindergarten Authors" morning
Here is still one of the cleverest kindergarten "How to" books I have seen!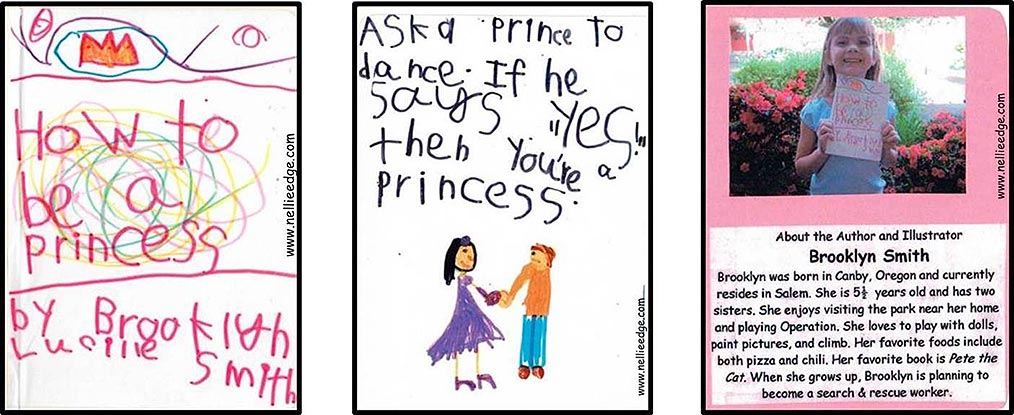 Kindergarten publishing celebrates the delightfully unique voices of our proficient, young writers. It's a grand and magical way to end the year!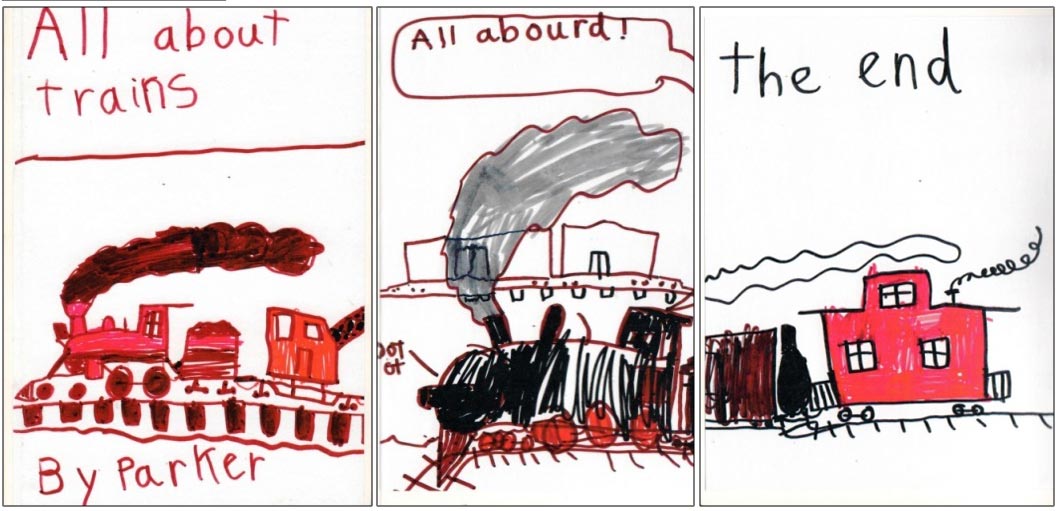 A special "thank you" to my kindergarten writing colleagues: Jaime Corliss, Winter Curry, Laura Flocker, Becky Leber, Katie Nelson, Celeste Starr, and Shanda Lung. This blog is adapted from Chapter 9 of Kindergarten Writing and the Common Core: Joyful Pathways to Accelerated Literacy by Nellie Edge.

Grow Your Kindergarten Writers:
Attend Kindergarten Writing Institute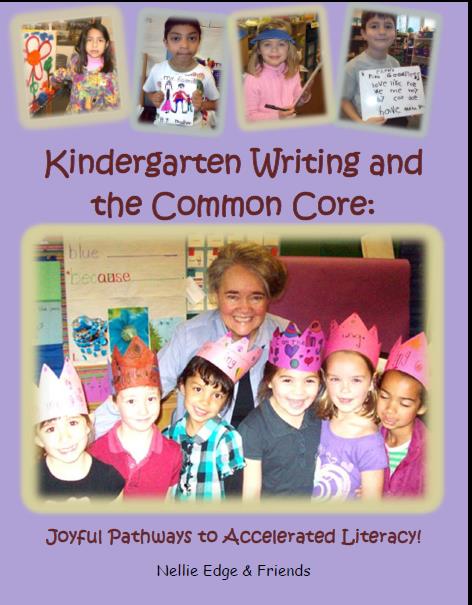 Join us July 19-20, 2018 in Salem, Oregon
Nellie Edge and Julie Lay will show you how to build a culture of kindergarten writers.
Save $100 now with Early Registration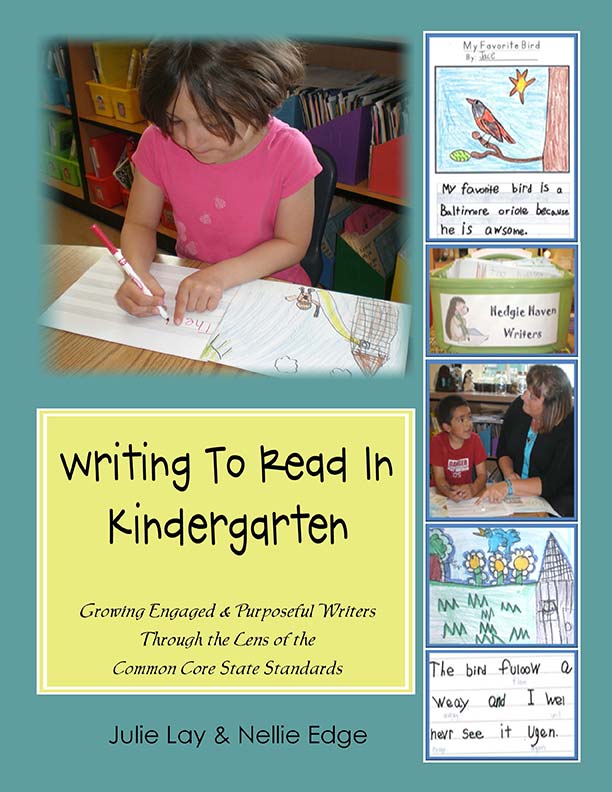 Receive Our Weekly Focus Kindergarten Blog
High-Impact Strategies to Inspire Your Practice. Free Downloads!