Ten Highest-Impact Writing Strategies from My Action-Research Documented in Kindergarten Writing and the Common Core:
Joyful and Proven Pathways to Narrative, Opinion, and Information Writing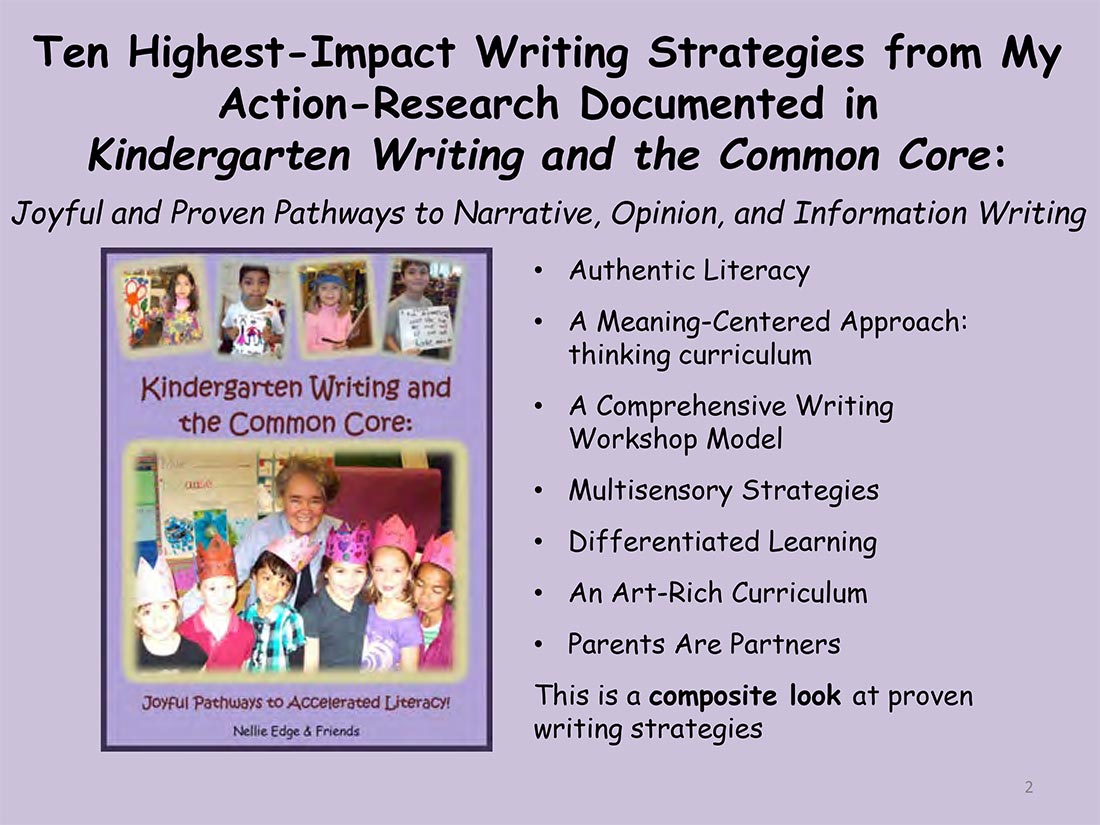 Joyful and Proven Pathways to Narrative, Opinion, and Information Writing
Authentic Literacy
A Meaning-Centered Approach: thinking curriculum
A Comprehensive Writing Workshop Model
Multisensory Strategies
Differentiated Learning
An Art-Rich Curriculum
Parents Are Partners
This is a composite look at proven writing strategies
We are Supported by Decades of "Best Practice" Research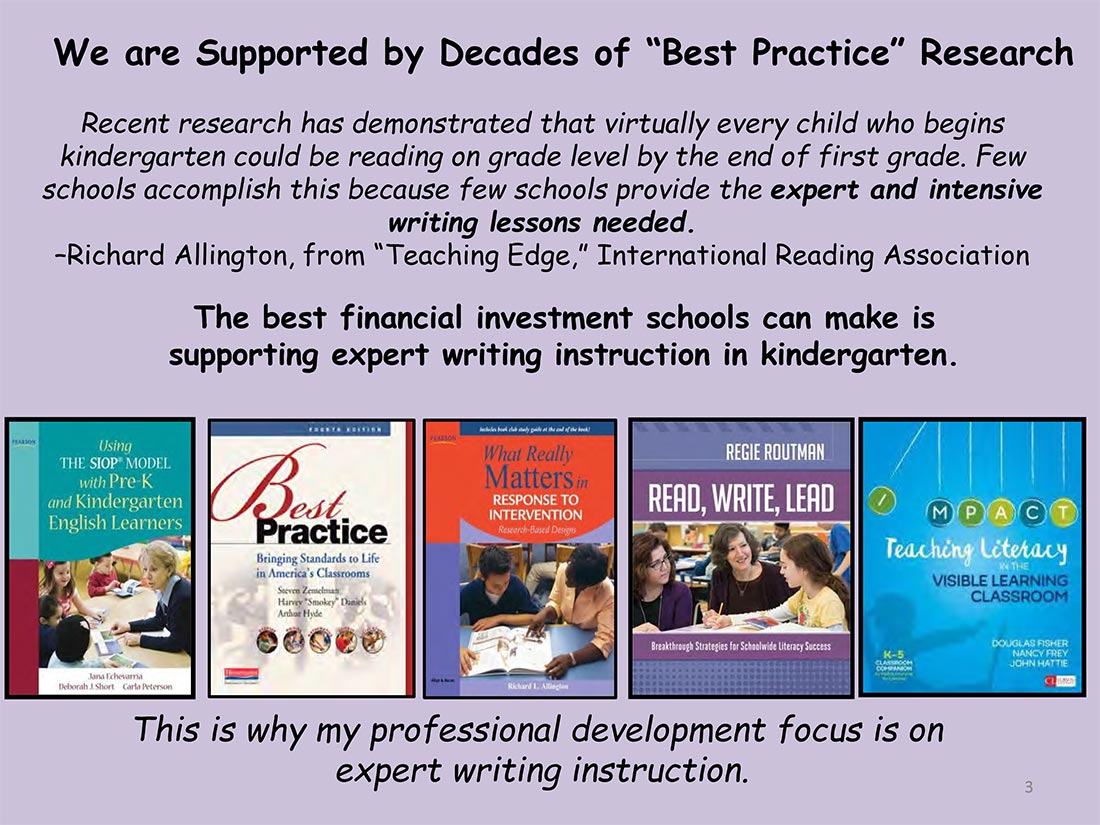 Recent research has demonstrated that virtually every child who begins kindergarten could be reading on grade level by the end of first grade. Few schools accomplish this because few schools provide the expert and intensive writing lessons needed.
–Richard Allington, from "Teaching Edge," International Reading Association
The best financial investment schools can make is supporting expert writing instruction in kindergarten.
This is why my professional development focus is on expert writing instruction.
We Continue to Read and Reflect On Many Treasured Resource Books As We Build an Expanded Writing Workshop Model for Oregon's Children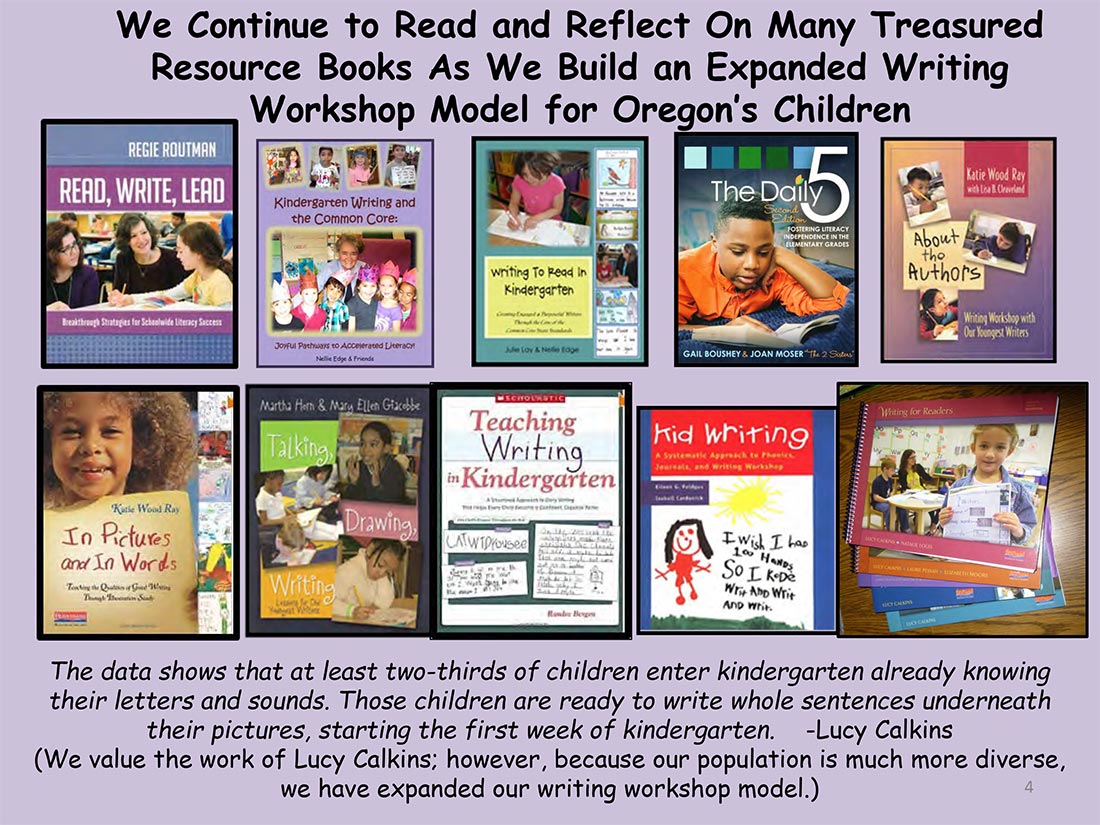 The data shows that at least two-thirds of children enter kindergarten already knowing their letters and sounds. Those children are ready to write whole sentences underneath their pictures, starting the first week of kindergarten.
–Lucy Calkins
(We value the work of Lucy Calkins; however, because our population is much more diverse, we have expanded our writing workshop model.)
Our Typical Oregon Kindergarten Classrooms Have a Four-Year Span in Literacy Development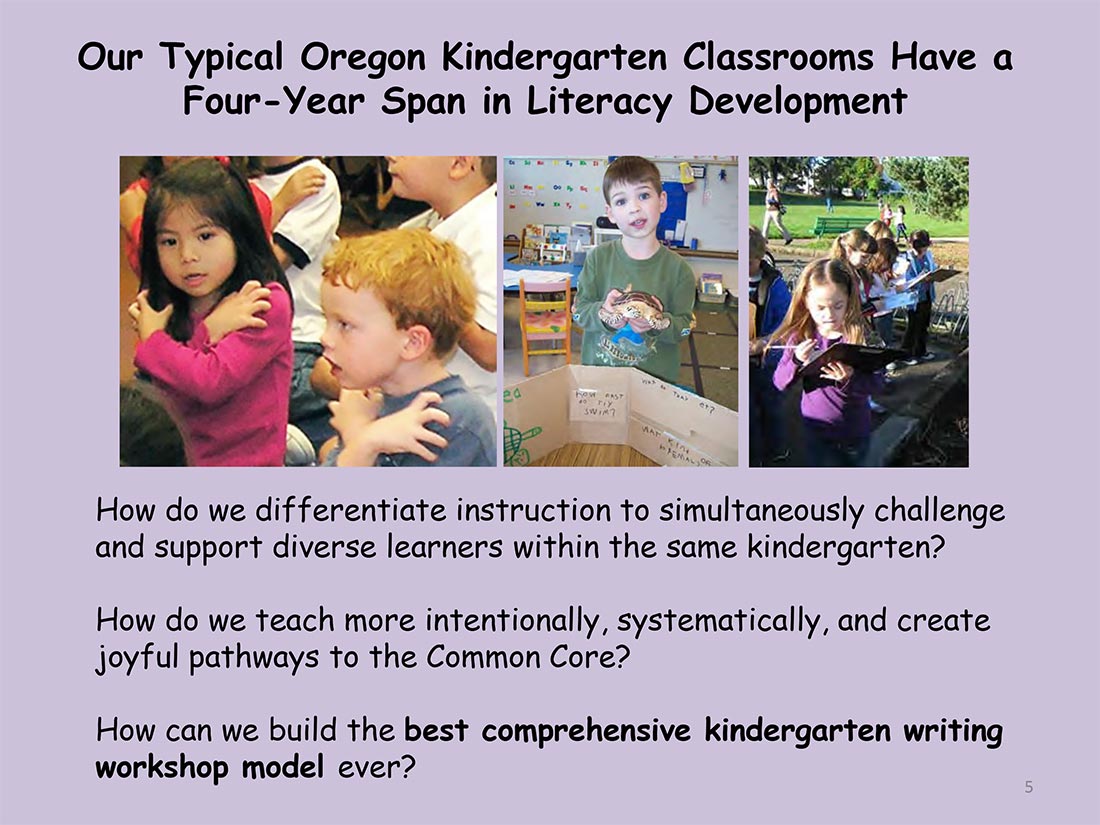 How do we differentiate instruction to simultaneously challenge and support diverse learners within the same kindergarten?
How do we teach more intentionally, systematically, and create joyful pathways to the Common Core?
How can we build the best comprehensive kindergarten writing workshop model ever?
Authentic, Intentional, Meaning-Centered Literacy Is the Answer:
We Know How to Create a Growth Mindset and Make Learning Visible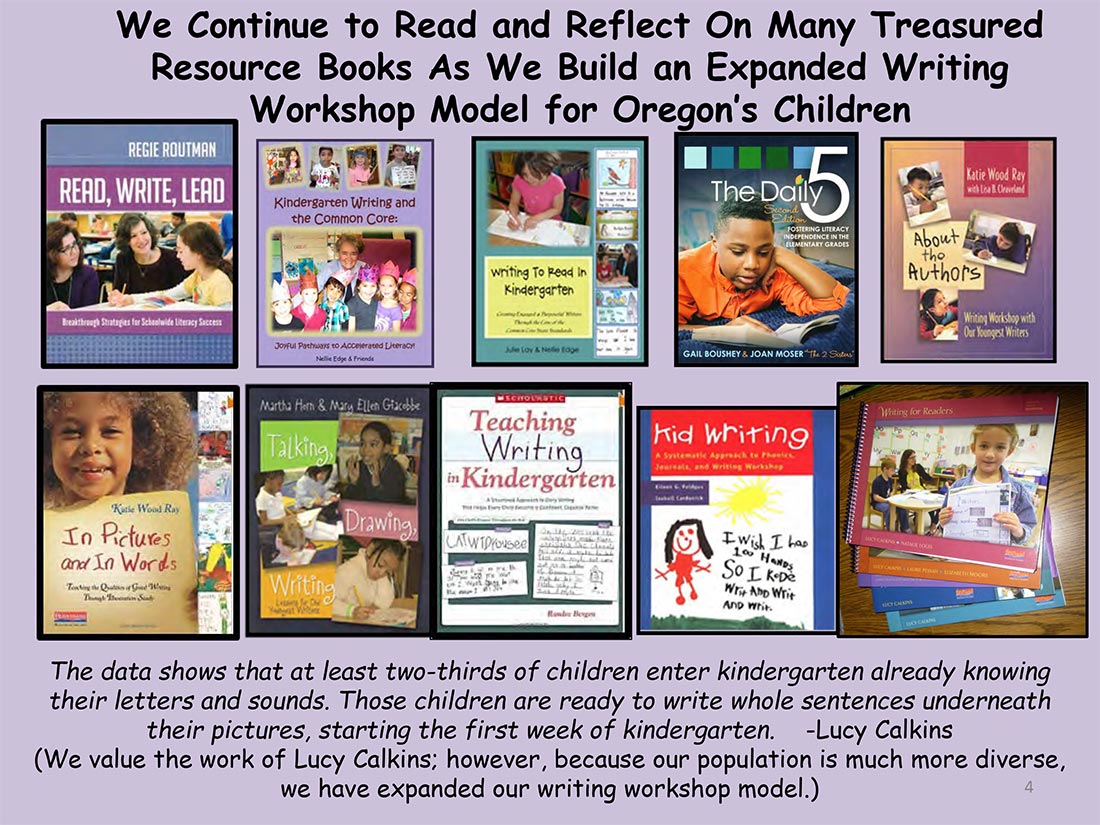 The following 10 high-impact writing strategies may be used in tandem with any writing workshop model to dramatically accelerate literacy and develop engaged and purposeful writers.
1. Bond with Children, and Create a Joyful Learning Community, Rich in Poetry, Songs, Sign Language, Literature, and Celebrations
Singing, Dancing, and Celebrating the Arts Are Part of Best Kindergarten Teaching Practices!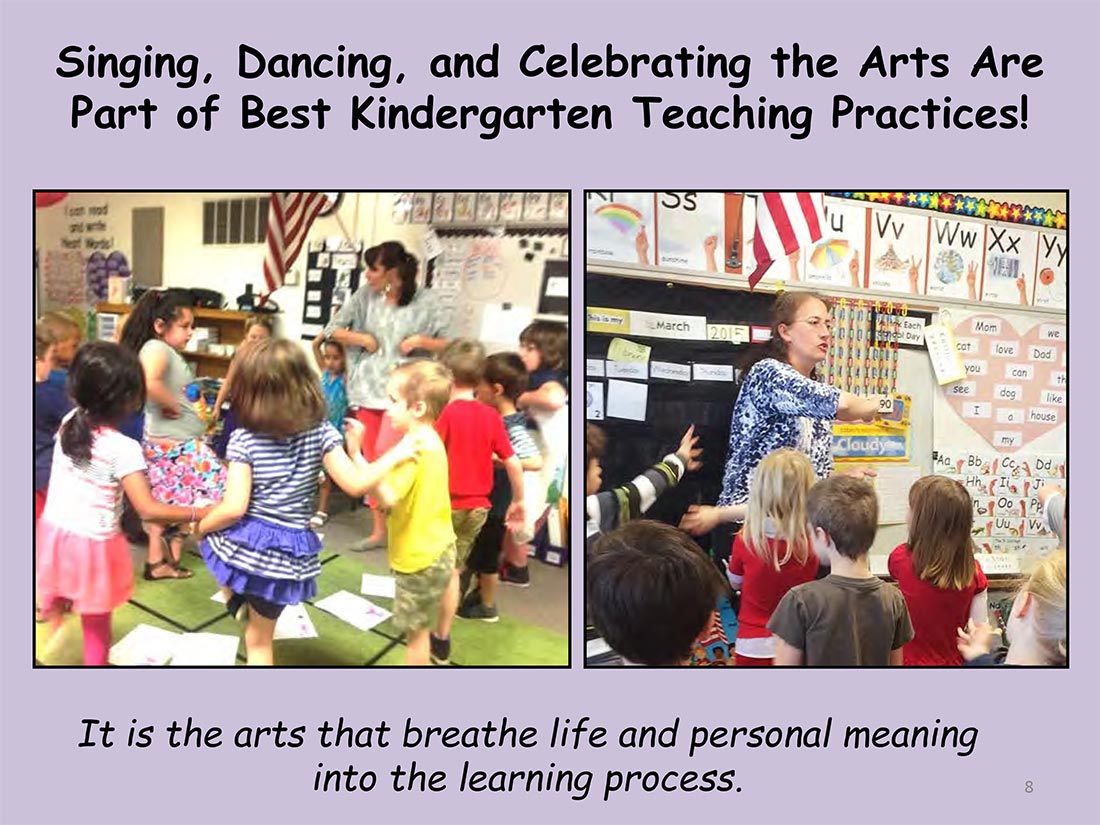 It is the arts that breathe life and personal meaning into the learning process.
Grow Your Kindergarten Writers!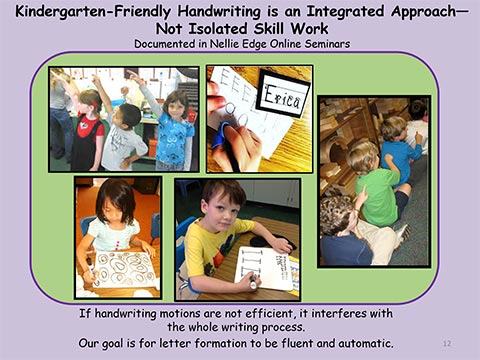 Enter your email address to receive this comprehensive 120-page e-book!
[cm_form form_id='cm_589e065645630']
Print 1 or 4-up horizontally for easy reference.
You will also begin receiving our weekly kindergarten blog featuring best practices, resources, and practical tools.
Grow Your Kindergarten Writers

Make These Strategies Routine in Your Classroom
It's easy with Nellie Edge Online Seminars
( 3 Foundation Seminars $39 ea)
Step-by-step video tutorials & Teachers' Guide
Watch anytime with unlimited access!
Classroom resources included ($159 value)