Oral Language Feeds the Reading and Writing Process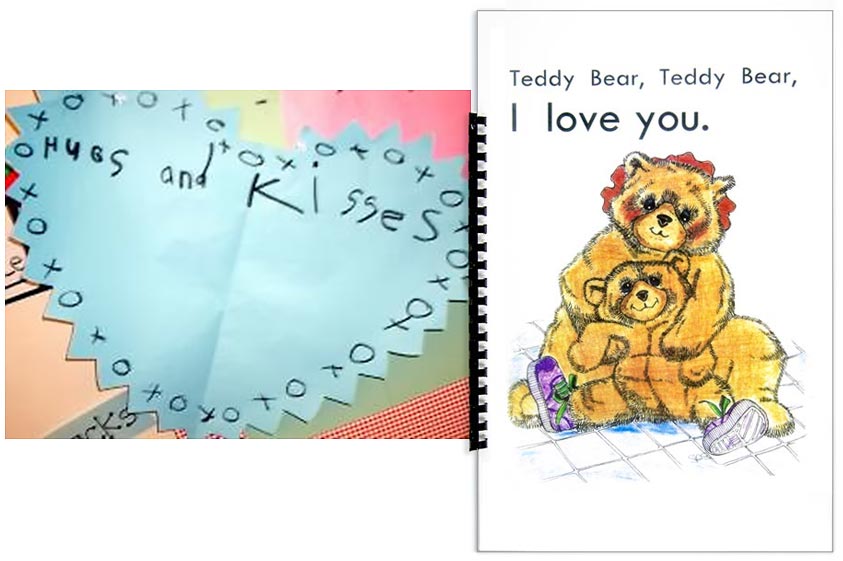 Oh, My Darling Valentine
(To the tune of Clementine)
February is a short month
28 days or 29
In the middle is a love-day,
Won't you be my Valentine?
Oh, my darling
Oh, my darling
Oh, my darling Valentine.
In the middle is a love-day,
Won't you be my Valentine?
—Author Unknown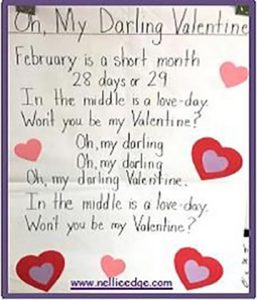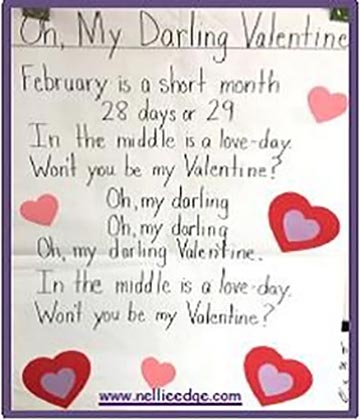 This "just right" song came to me from mentor, retired kindergarten teacher, Joanie Cutler. Clementine is a contagious melody, so you may find yourself repeating, "In the middle, is a love-day, won't you be my Valentine?" over and over again. What a memorable way for children to learn about February calendar skills, the concept of "middle," and cultural traditions of love and friendship!
February Themes of Love and Friendship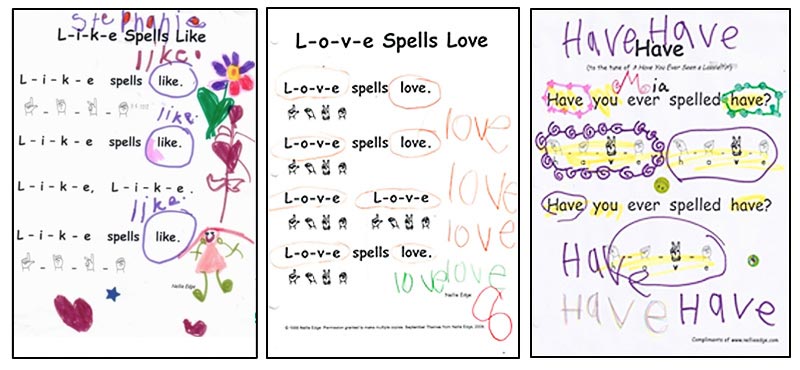 February Is a Time to Sing, Sign, and Write Messages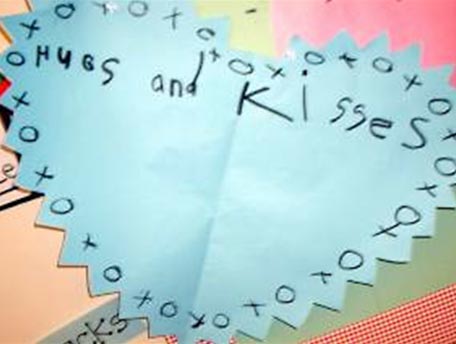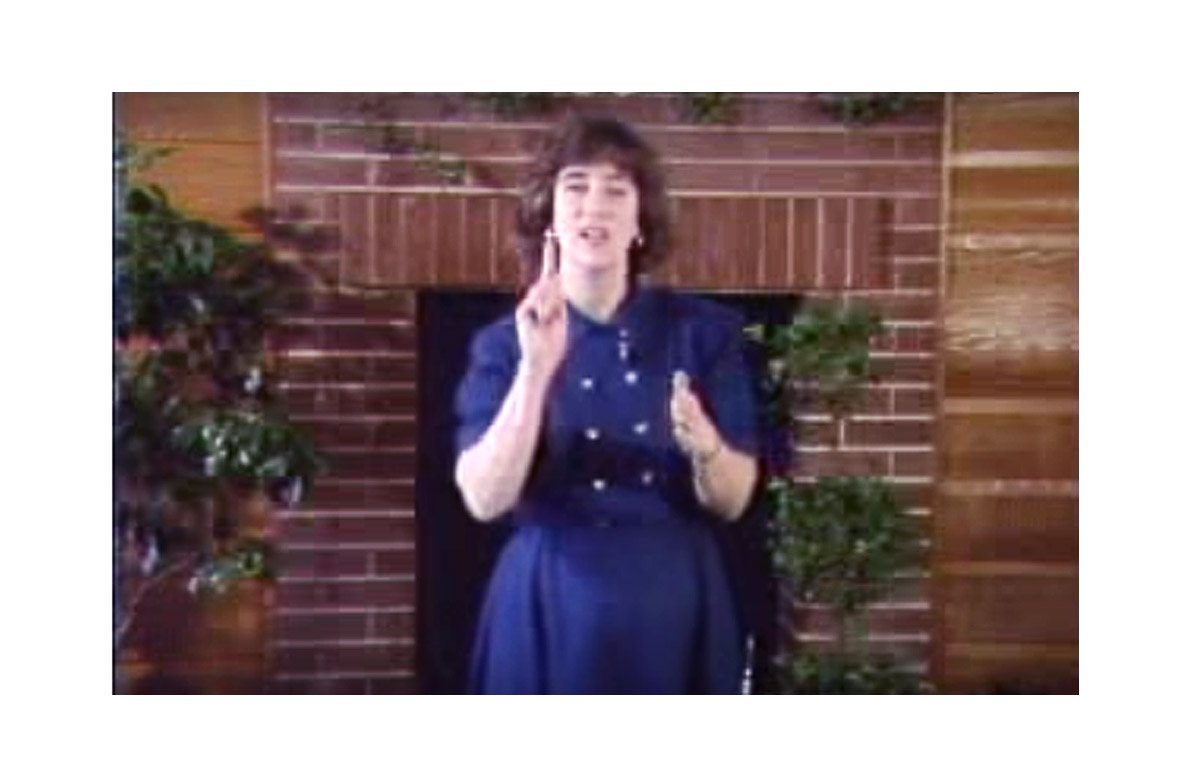 View our sign language video clip on our YouTube Channel: 
Singing, signing, and spelling are powerful ways to learn high-frequency "heart" words.
February message writing activities provide great practice in writing meaningful sentences and phrases:
 To _________
I love you.  
I like you. 
You are my friend.
From _________.
Write Secret Messages to Take Home and Hide!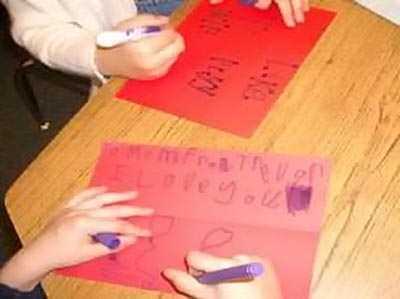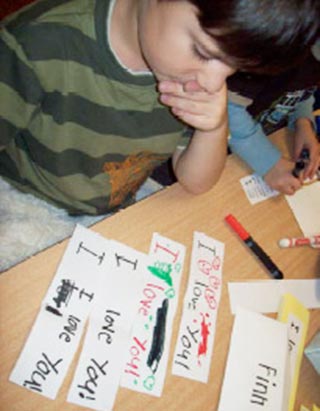 One boy decided to make ten secret messages to hide all around his home—even his sister's bedroom.
I love you. To _________.
I like you. From _________.
You are my friend.
Keep sentence strips, photo/name cards of classmates, and a variety of paper, pens, and envelopes in your card-making center. Children can practice writing a message (with high-frequency "heart words") and adding "To _____" and "From _____". Enjoy their delightful, creative designs.

Invite children to write "love coupons" and take them home for Mom and Dad. This idea comes from the book Kid Writing: A Systematic Approach to Phonics, Journals, and Writing Workshop by Eileen Felgus and Isabelle Cardonic. (Page 92)
Study Artist Marc Chagall
We remember Joanie Cutler's magical kindergarten where children came to know about the life of artist Marc Chagall during Valentine month.
Notice his use of color, the floating figures as in a dream, flowers, and the people of his childhood…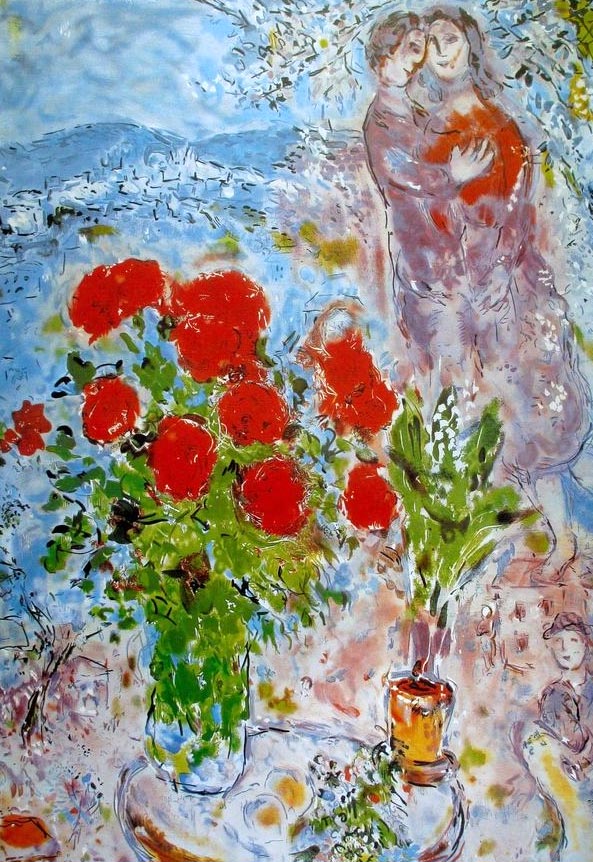 Children's Books That Say, "I love you..."
The most power-packed words a child can write (besides their own names) are "I love you." We teach these important high-frequency "heart words" early in the year, and we teach for fluency. Our kinders (even special needs children) can all proudly read, write, sign, and spell "I love you," "I love my…," and "I love the…" How happy the children are to confidently read these words in so many wonderful books! Here are some sample children's book pages and covers:
Teach Writing Skills with Word Work that Matters!
Enjoy kindergarten art from a Sing, Sign, Spell and Read! lesson
April 18, 2020 | Salem, OR
Save with Early Registration through Feb. 20th
Celebrate Literacy and Create a Culture of Book Lovers
July 29 & 30, 2020 | Salem, OR
Save with Early Registration through March 15th