Favorite Children's Books
Favorite Books that Say, " I love you."
Teach Children to Read, Write, Spell, and Sign The Most Beautiful Language: "I Love You" and All Its Variations
(I love my Mom because… I love to… I love the cat… I love my dog…)
Begin by teaching the "I" chant and the

L-O-V-E Spells Love song with sign language. Feel the gentle rhythm as you sing and sign it loud (forte) and soft (pianissimo) and then with "no voice at all."  Children delight in signing the letters, mouthing the words—"but no sound comes out." Next teach the 

 M-O-M Spells Mom song so the children can use auditory and kinesthetic memory hooks to read, write, spell, and sign "Mom," "Dad," "me," and "you."
Children begin finding the words " I  love  you " again and again in favorite children's books and Nellie Edge Read and Sing Big Books™ with take home Little Books: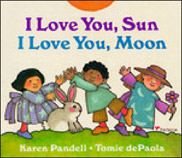 I Love You Sun / I Love You Moon: Te amo Sol / Te amo Luna (Spanish and English Edition)

by Karen Pandell. G.P. Putnam's Sons, 1994.
Watch these videos and learn along with your child.
Receive Our Weekly Nellie Edge Kindergarten Blog
High-Impact Strategies to Inspire Your Practice. Free Downloads!