(a.k.a. "Read together" Anthologies and "Family Reading" Notebooks)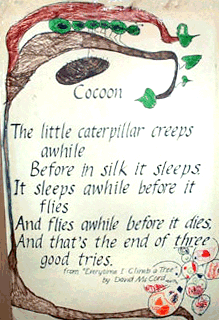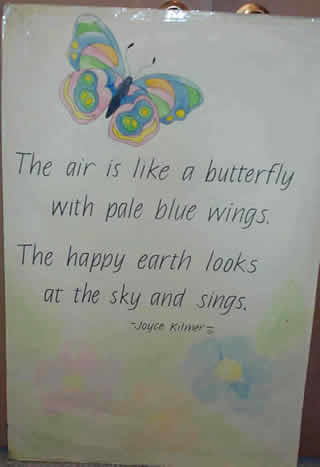 Favorite songs, poems, rhymes, chants and story excerpts are first learned orally. Children will both memorize and read the words from language charts, pocket charts or big books.
This provides the necessary oral language foundation for building strong phonemic awareness skills.
(Copyright regulations allow teachers to make one copy of any poem or song for class use.)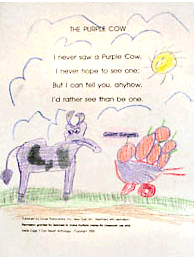 Once children have a memorable sense of the poem, they are given a printed 8 1/2" x 11" copy to illustrate with crayons or colored pencils.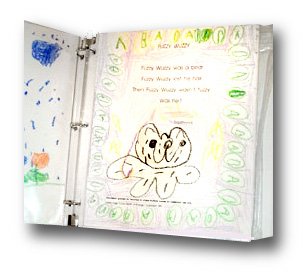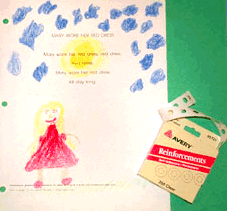 Finished poems are kept in clear plastic sleeves or each page is three-hole punched and reinforced with hole reinforcements. The pages accumulate in individual notebooks.
The entire notebook becomes and end-of-year gift to your children and their families. Parents in return present notebooks for next year's children.
It is the Familiarity with the English Language that Allows the Child's Decoding to be Error Free and Their Reading to be Fluent.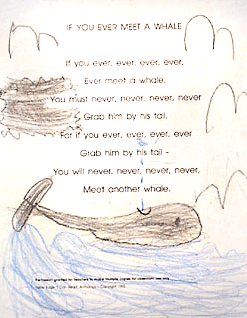 We encourage young children's delight in presenting dramatic choral readings of favorite rhymes.
Children learn to track the words, instantly identify high-frequency words (we call them "by heart" words), and build oral language fluency. Learning becomes more meaningful when a child can illustrate and read language that he or she already has a memorable — and joyful—connection with.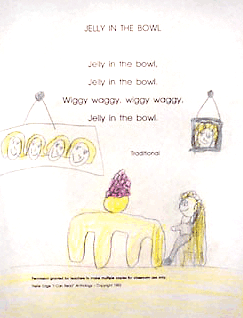 I Love You Little, If You Ever Meet a Whale, Fuzzy Wuzzy, and Jelly in a Bowl are a few of the many poems, rhymes, songs and chants that are in the public domain.
You do not need to secure copyright permission to make multiple copies of them for children's Poetry Notebooks or "I Can Read" Anthologies.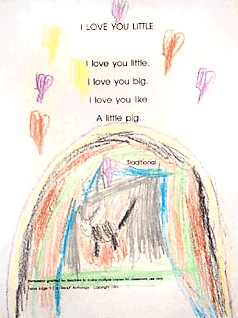 The least-able reader in the group perceives him or herself as successful when children are choral reading and singing together from familiar poems, songs and rhymes.
Children who learn to recite poems and rhymes with expression become more expressive oral readers.
Children Illustrate Memorable Poems and Rhymes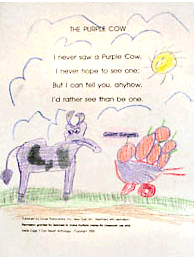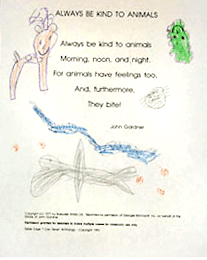 The following copyrighted poems are used with permission: Dreams by Langston Hughes, Brooms by Dorothy Aldis, Bugs by Karla Kuskin,Leaves Fall Down by Margaret Wise Brown, The Purple Cow by Gelett Burgess, Fairies by Eleanor Farjeon, Always Be Kind to Animals by John Gardner and Lessons by Harry Behn.
Current copyright regulations do not permit making multiple copies of these poems without first securing permission or purchasing them in a copyright-secured format. If you are not certain if a poem is in the public domain, use your favorite search engine to do a web search by typing in the title and author.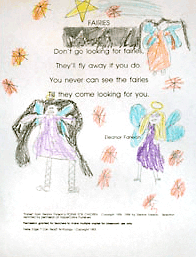 Poetry notebooks provide an inexpensive and practical way to give children the sounds of language and foster the home/school connection. Children cherish their personalized reading notebooks and return to them again and again.
Notebooks Go Home Weekly to Share with Families
Children proudly recite the poems "by heart" as they build fluency with oral language.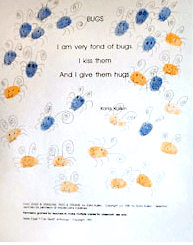 Teachers encourage parents to honor and celebrate children's "magical memory reading" at home and to use the Neurological Impress Method (NIM) of supported reading to build fluency with familiar print.
Parents treasure this wonderful notebook containing up to 50 illustrated pages of language that the child has made "their own". It is a celebration of the child's art and their success and pleasure in learning to read while developing a love of language.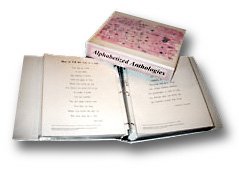 Organizational Tip: Store the original black-line masters, alphabetized, in clear plastic sleeves in a master notebook.
We recommend keeping them in the sleeves when you make copies, so the originals are never accidentally lost.
Connect Poetry to the Children's Lives: Give Children Only the Finest Colection of English Verse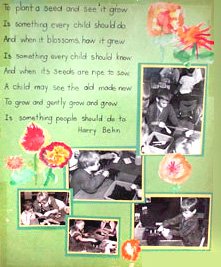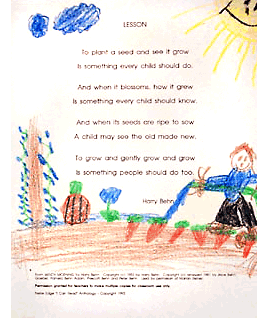 Poetry connects to meaningful projects and to the lives of our children. Planting seeds and watching them grow is a common childhood experience. In the woods of the poet Harry Behn, "To plant a seed and see it grow/Is something every child should do..."
"I know well that only the rarest kind of best in anything can be good enough for the young." — Walter de la Mare, Bells of Grass
Nellie Edge Online Seminars
Grow Your Kindergarten Writers
Build Stamina for the Writing Workshop
• ABC Phonics
• Kindergarten Handwriting
• Authentic Sight Word Work
Nellie Edge teaches you essential skills designed from 30 years of experience in step-by-step videos:
Seminar #1: Multisensory ABC and Phonics Immersion
Seminar #2: Kindergarten-Friendly Handwriting Matters!
Seminar #3: Authentic Sight Word Work
WITH EACH SEMINAR YOU'll RECEIVE:
Unlimited Access to Online Video Tutorials
Companion Teacher's Guide
Coordinating Classroom Resources - ready to use!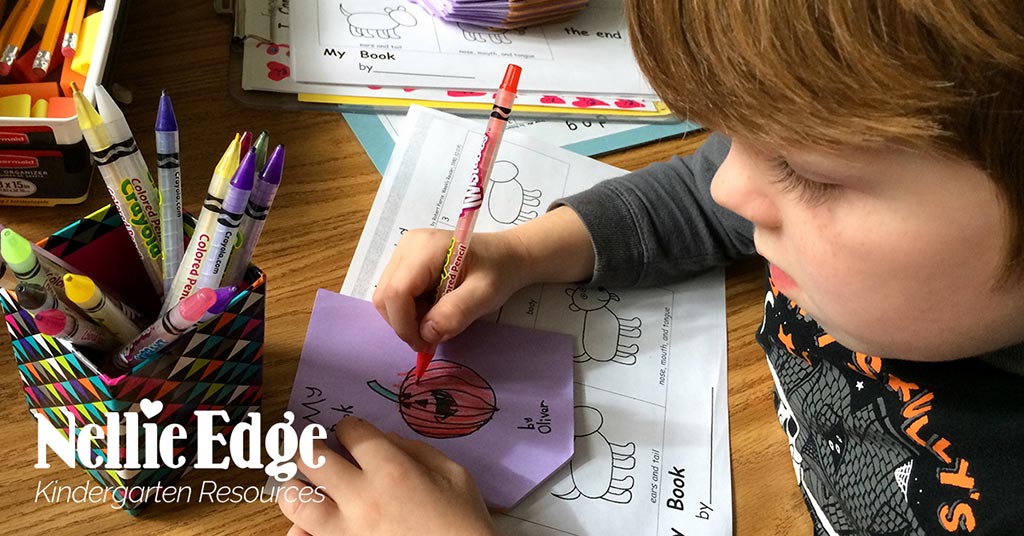 Receive Our Weekly Focus Kindergarten Blog
High-Impact Strategies to Inspire Your Practice. Free Downloads!