How News Stories Build Writing Independence, Motivation, and Stamina All Year Long

News stories give students choice of writing topics. They find their voice and create stories about what is most important in their lives. There are few things more satisfying for a young writer than creating something that reflects their feelings and experiences.
What Do Authentic Kindergarten News Stories Look Like?

"Your pictures and words tell a story."
Thoughts from Kindergarten Writing Teacher Heather Cacak Excerpts from blog by Heather Cacak:
"News writing is what all the other students are doing while I am working with writers in a small group, and it's perfect for kindergarten. Five- and six-year-old students are very egocentric, and writing about what's happening in their world is an authentic way to get writing workshop up, running, and continuing to thrive the whole school year."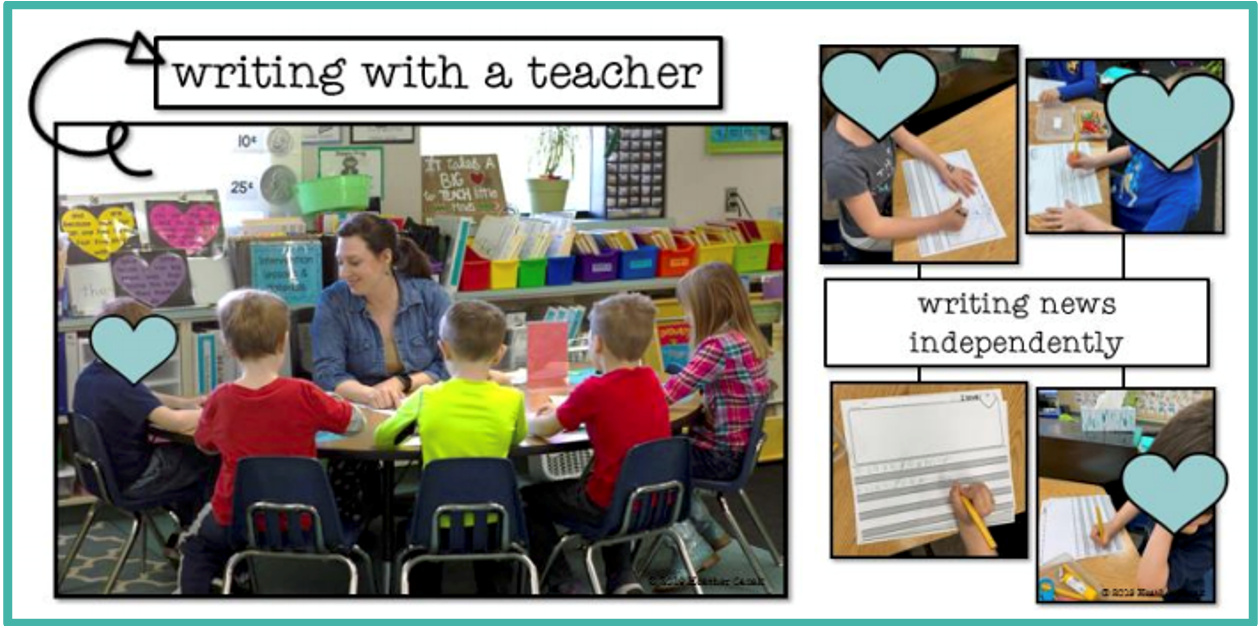 "Students are willing to write news for me each day because they are given choice when it comes to what to write about, and what they choose to write is something deeply important to them. Writing daily news transforms students into willing, joyful, confident communicators and writers!" H.C.

Children deserve many opportunities to write for a variety of authentic purposes. As reporters, students select the news story topic that most inspires their current thinking. They can even create their own topic, e.g.: New Baby News or Baseball News…

Notice how these open-ended themed writing pages naturally engage the imagination and differentiate learning. In our best kindergarten writing programs, children do not spend time completing meaningless work pages. Instead, they are thinking, drawing, creating meaning, and expressing their unique writing voice with honesty and feeling!
Kid Writing Followed by Adult Under-Writing Provides What We Call Personal 'Rereading for Fluency' Practice
When the adult chooses to write the child's news story in corrected text under the kid writing or at the bottom of the page, it provides a highly meaningful passage for 'rereading for fluency.' At the emergent level, we like to first read the adult writing aloud with careful articulation and expression. Then hand-in-hand, using the Neurological Impress Method (NIM) of guided reading, the child and adult repeats the process until the child is ready to touch and read each word without adult support. Our action-research is built on the pioneering work of Eileen Feldgus and Isabell Cardonick, which they presented in Kid Writing in the 21st Century.

Create an Environment for Themed News Stories (notice our updated news stories pages with art from Nellie Edge Read and Sing Books!)
W.K.2. We can use drawing, dictating and writing to compose informative/explanatory texts in which we name what we are writing about and supply some information about the topic.

News Story File Folders and themed writing pages are attached to the door. Teachers save and share exemplars from children's actual independent writing to inform future kid writers.
Use K-1 News Stories themed paper with your students today!
K-1 News Story FREEBIE includes: (10 pages) includes:
Good News (vertical and horizontal paper)
Bad/Sad News (vertical and horizontal paper)
Create an Environment for Themed News Stories
Teaching for Independence
Yes! I want this free guide!
Download PDF here, our gift of authentic literacy for you.
"Writing daily news transforms students into willing, joyful, confident, communicators and writers."
Learn more! Preview K-1 News Stories
K-1 News Stories (86 pages) includes:
11 themed writing pages in 3 formats

Writing songs

Lessons, exemplars, organization

Anchor charts

Proven writing workshop resources

And MORE
Get our weekly blog for more high-impact strategies and free resources!