With American Sign Language (ASL), Literacy, and Family Connections
Teaching children to sing and sign the Pledge is among the most POWERFUL strategies we share! Take photos of your students signing the words of the Pledge. Children AND parents will love this class book featuring the lives of each classmate. 
Every child deserves to know the words and meaning of the Pledge of Allegiance. The best way to learn how? By singing, signing, and performing with American Sign Language (ASL)! Teach American Sign Language with our instructional video and ASL Guide—take advantage of multisensory teaching and learning!
ALL students, especially English language learners (ELLs), build oral language fluency, vocabulary, and confident speaking skills! 
When students learn to sing, sign, and perform the Pledge together, they begin to develop bonds of community and take confident steps toward lifelong speech communication skills. This class book is a celebration of their new learning.
Children are proud that they can speak with their hands, and families are delighted to see their child's beautiful new communication skill!  
Take it one step further! Learn how your students can perform the Pledge to music. 
We promise! Families will be BLOWN AWAY when they watch their children sing and sign to Lee Greenwood's stirring version of the "Pledge of Allegiance" from his CD, American Patriot! Wow is that ever emotionally powerful!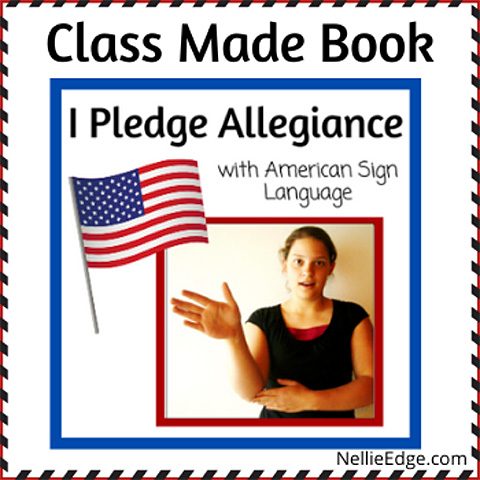 Save on Nellie Edge "Class-Made Books" Bundle
When you purchase the Class-Made Books Bundle, you may request a TPT refund on individual books if purchased within one year of the Bundle.
We have made it easy to create memorable books. Favorite class made books highlighted in Nellie Edge Professional Development:
Nellie Edge Online Seminars (NEOS)
K-1 Live Literacy Workshops
Nellie Edge Summer Kindergarten Institutes
Come study with us in Oregon this Summer!
Class-made books are one of the ways we build community, celebrate language, and honor the lives of our students.
Writing Related Blog Articles
Receive Our Weekly Focus Kindergarten Blog
High-Impact Strategies to Inspire Your Practice. Free Downloads!