How to Simplify Kindergarten Handwriting Instruction
And Build Stamina and Fluency for Writing Workshop!
1) Intentionally develop fine motor skills and teach pencil grip. Differentiate instruction, recognizing the diverse 4-year range of skill development typical in most kindergartens.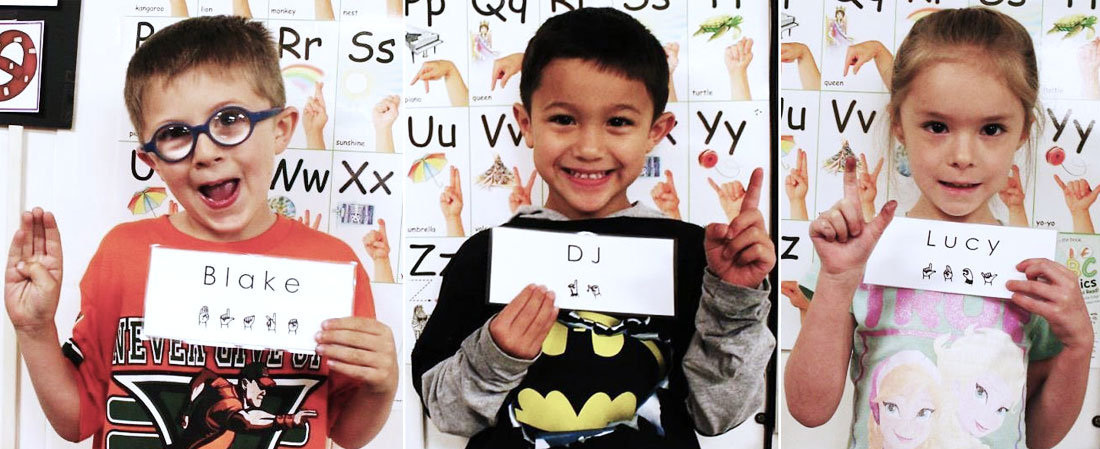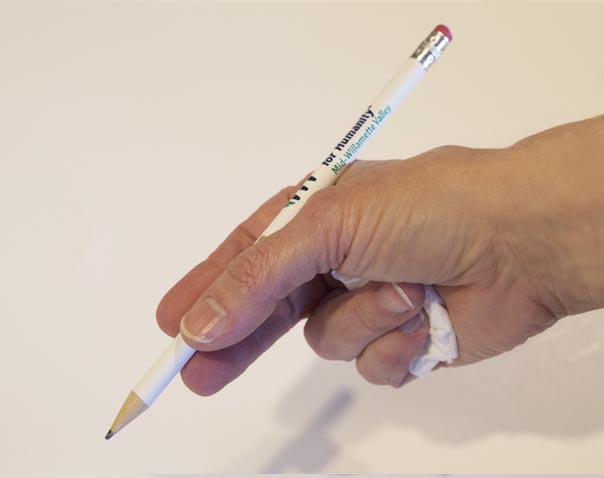 Use fingerspelling, games, and guided drawing to build finger dexterity, perceptual motor skills, and focus. 
All photos and writing samples used with permission from both parents and teachers. 
2) Involve Parents as Partners to teach handwriting with the letters in each child's name. Provide families name-writing support beginning at spring registration (Kindergarten Round-Up) and the Back-to-School Kindergarten Family Scavenger Hunt.

Give children and parents a crystal-clear learning target: A name-writing model. Expect namewriting practice daily at home and at school. Work on one letter at a time and expect daily improvement. See Name Ticket video clip on our website handwriting page for coaching model.
3) Teach the word "I" with top-to-bottom, left-to-right handwriting motions using skywriting, action-songs and chants, and guided writing.

Enjoy art lessons on white boards using Total Emotional Body response to Language ( TEBRL) strategies. Teach horizontal, vertical, and diagonal lines with rich directional handwriting vocabulary. Provide individual coaching.
4) Provide instruction in "continuous motion letters" and "lift-the-pen letters" using engaging movement and drawing techniques: Children will learn to draw 3 kinds of stars!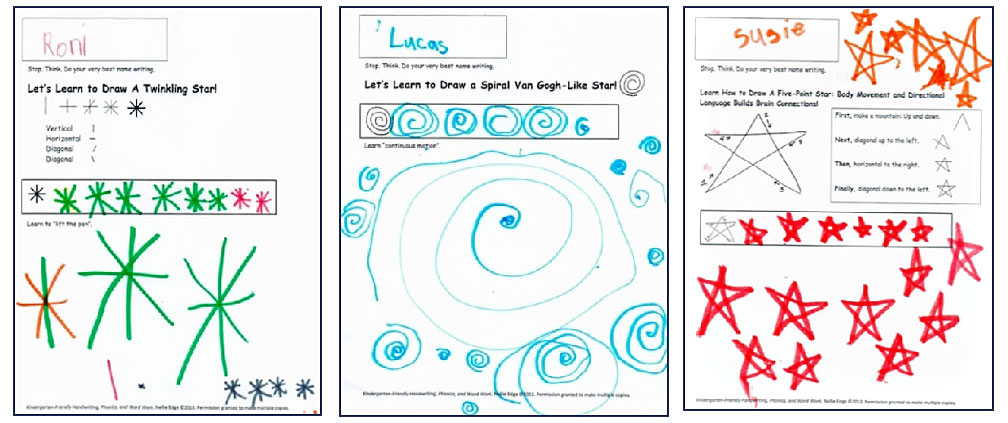 Use songs, dances, movement chants, and sky writing to build muscle memory and handwriting language. Invite students to fancy up their work with stars.
5) Teach the counterclockwise motion pattern (a left-leaning arc) with the "O" Dance

This movement teaches beginning handwriting pathways for o, c, a, d, e, f, g, s, and q
6) Avoid confusion with "d" and "b" by using different initial movement/language pathways - "d" curve up and around, way up and down (dog, dad) - "b" down, up and around (by, book, bat, boo!) This excellent strategy comes from Reading Recovery® research

Teach how to draw and write "dog" early on. Brain-friendly handwriting provides guided drawing lessons and gives students an authentic purpose for practicing the counterclockwise movement pattern for "d."
7) Use a multisensory approach to handwriting that simultaneously teaches high-frequency "heart words" and "heart word sentences" so there is direct transfer to the writing process. This is respectful of the time demands faced by today's kindergarten teachers.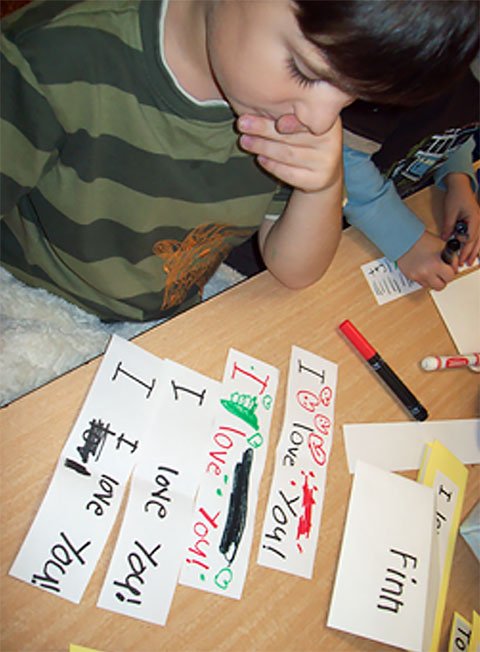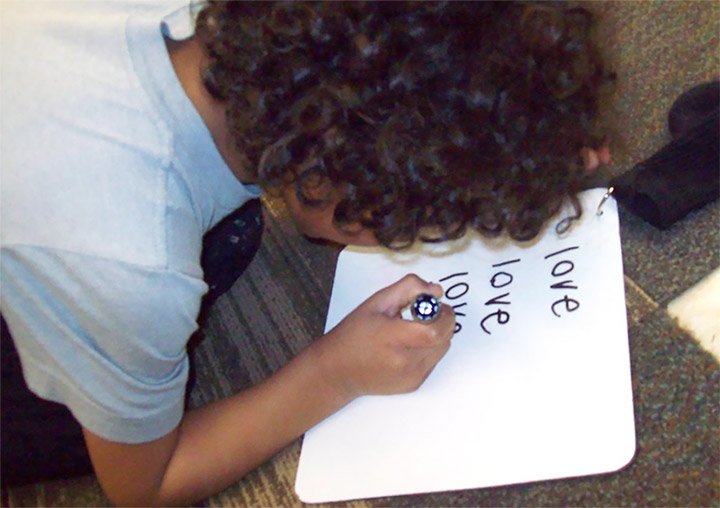 Start with "I, love, and you." Love is our anchor word! With this powerful word, students demonstrate top-to-bottom, left-to-right, diagonal, counterclockwise, and horizontal movement pathways. (MRIs of the brain show that tracing over dotted letters does not cause the brain to work hard: write real words!)
Note: 95% of the letters that young children use are lowercase, which is why our focus is on handwriting high-frequency "heart words" using lowercase letters.
8. Teach students to observe closely and analyze the size relationship of letters within words. Start with our version of the traditional handwriting chant (sing and dramatize!): Some letters are small… Use Total Body Response strategies and intensive individual coaching: Which letter is small? Which one falls?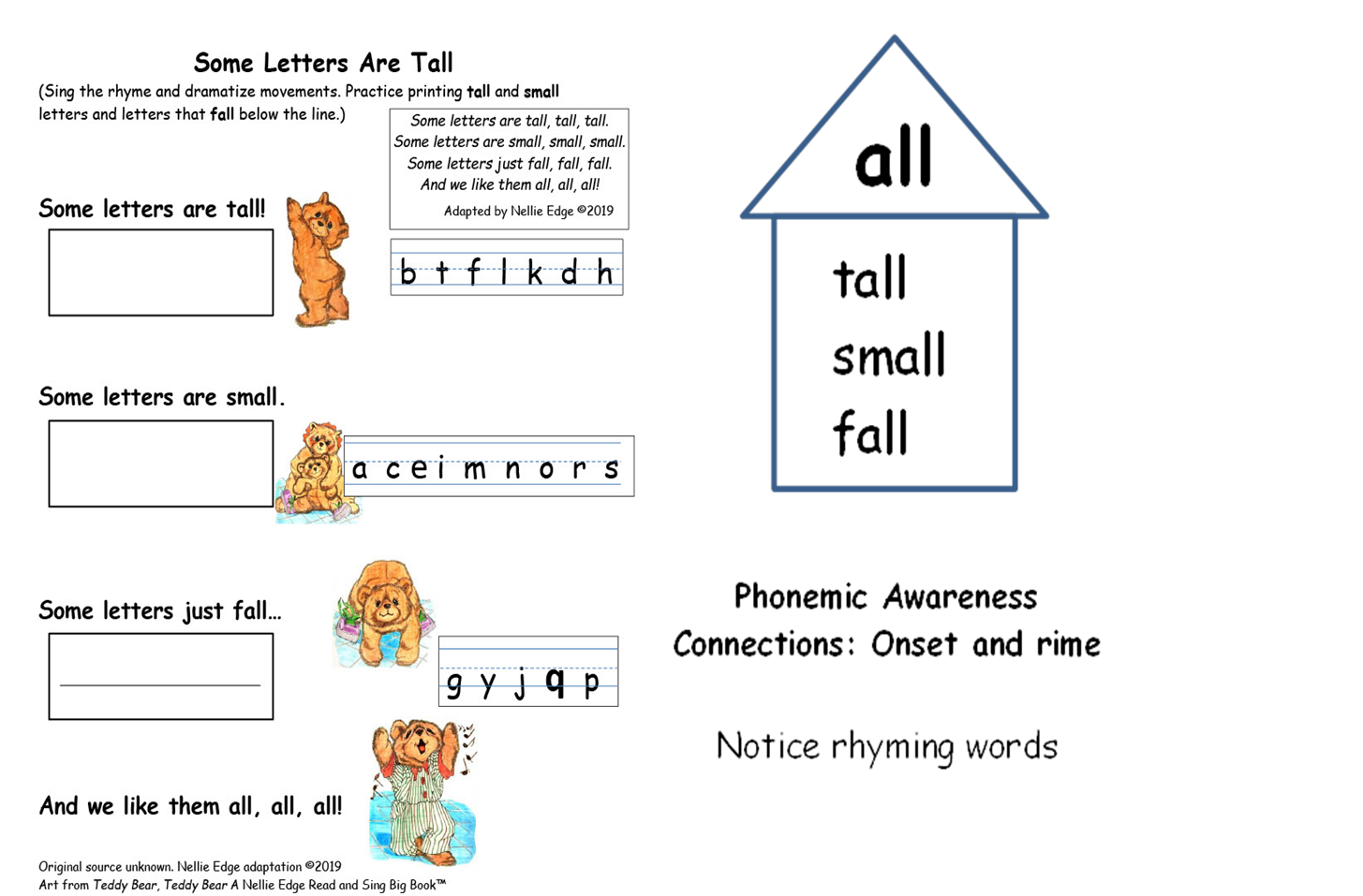 9. Use the Optimal Handwriting Learning Model: Gradual Release of Responsibility with modeling, active guided whole group practice, individual practice, and personal application.

Integrate the arts. Teach students why good handwriting matters! Give them rich vocabulary, authentic practice, and pride in doing quality work! Continue individual coaching with harder-to-accelerate students.
10. Engage students in self-evaluation and metacognition. Teach them to focus. Give students growth mindset language and ownership of improving their handwriting.
Wow! How did you learn to write that 'y' so well?

Kindergarten-friendly handwriting was developed BY kindergarten teachers FOR kindergarten teachers with documented action-research over 10 years.
Want to learn more about this proven kindergarten-friendly approach to handwriting?

Here are ways!
Study Nellie Edge Online Seminar #2: Kindergarten-Friendly Handwriting Matters!
See video clips and samples of authentic handwriting practices

Download my FREE eBook Kindergarten-Friendly Handwriting: How to Build Fluency for Writing Workshop on TPT

Learn by doing! Attend a live handwriting workshop - information coming soon!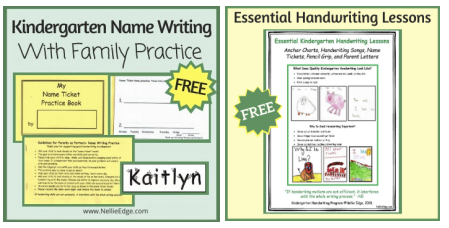 Get our weekly blog for more high-impact strategies and free resources!