Posted by Nellie Edge on February 20, 2015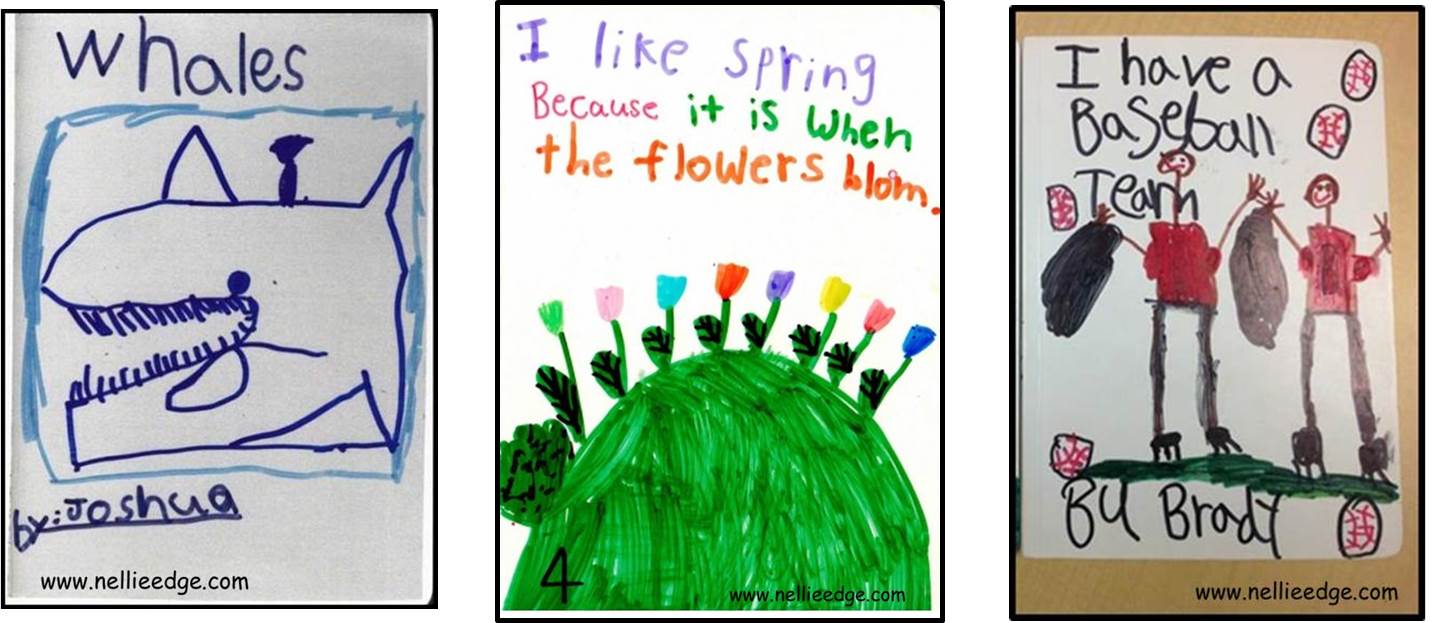 I wrote this original document for my kindergarten colleagues — Jaime, Katie, Laura, and Shanda — who are starting the publishing process in April. Because I had so much fun developing it, I decided to share with all of our online community. We hope that even teachers who have not studied kindergarten writing with us will find this a practical and joyful look at the KINDERGARTEN PUBLISHING PROCESS. (See Chapter 9 in Kindergarten Writing and the Common Core: Pathways to Joyful and Accelerated Literacy by Nellie Edge.)
FROM FOLDED LITTLE BOOKS TO KINDERGARTEN PUBLISHING
Six-page folded books allow young writers to practice quality handwriting, illustration techniques, and to understand that "our pictures and words tell a story." In our Kindergarten Writing and the Common Core program, by spring, kindergartners are well able for the challenge of writing "My Book," "The End," and several pages using a repetitive sentence pattern with pink and purple "heart words" spelled conventionally. Many young kindergarten writers benefit from repeating a familiar "heart word" sentence pattern, and this may provide a frame for making some of their first "really cool" books.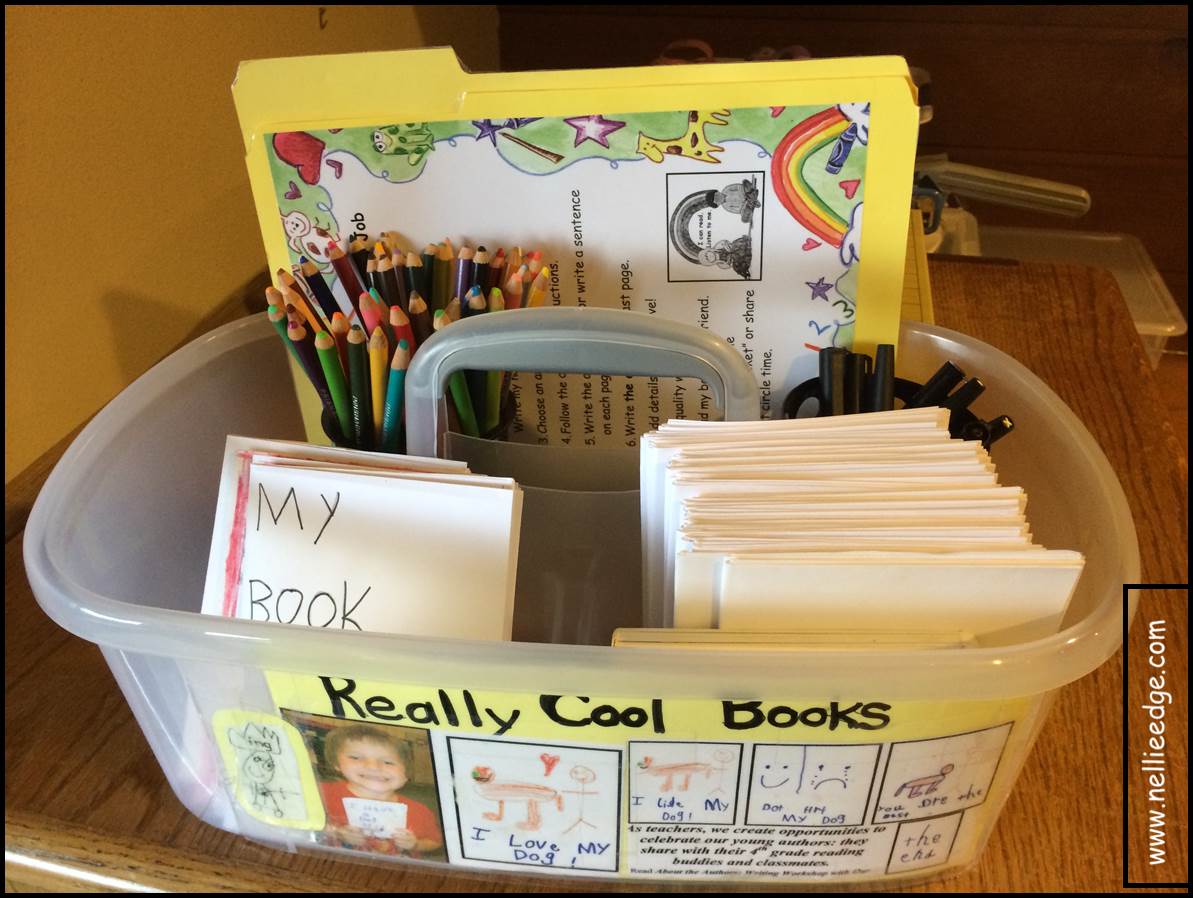 We keep our "Really Cool Books" (bookmaking) tote supplied with folded little books made from 11" x 17" paper. The "I" Chart (I is for Independence) and volunteer information are all kept in our yellow information folder right there in the tote.
Follow this template to make Nellie Edge Folded Little Books:
Kindergarteners will love to draw animals and will be able to write and reread their books early on in the year:
I love…                          I see the…                      I like my…
This is a…                      I have a …                       What is that? That is a …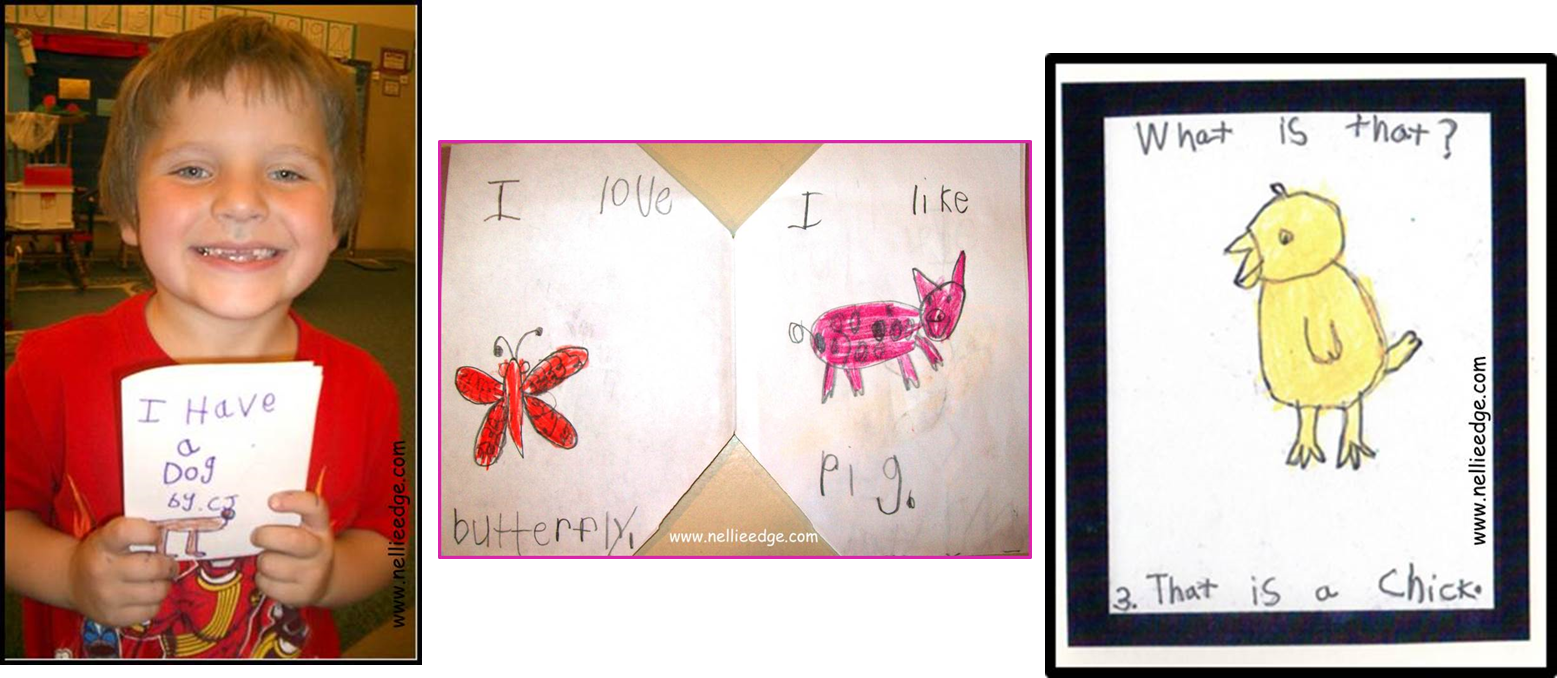 More proficient writers at the same writing center enjoy the creative and cognitive challenge of writing a book about whatever is most meaningful to them, from "New Shoes" or "My Penguin Book" to a play date at the park. I love the way teachers' independent writing center totes naturally differentiate literacy and build a classroom of writers and illustrators who all take pride in doing quality work.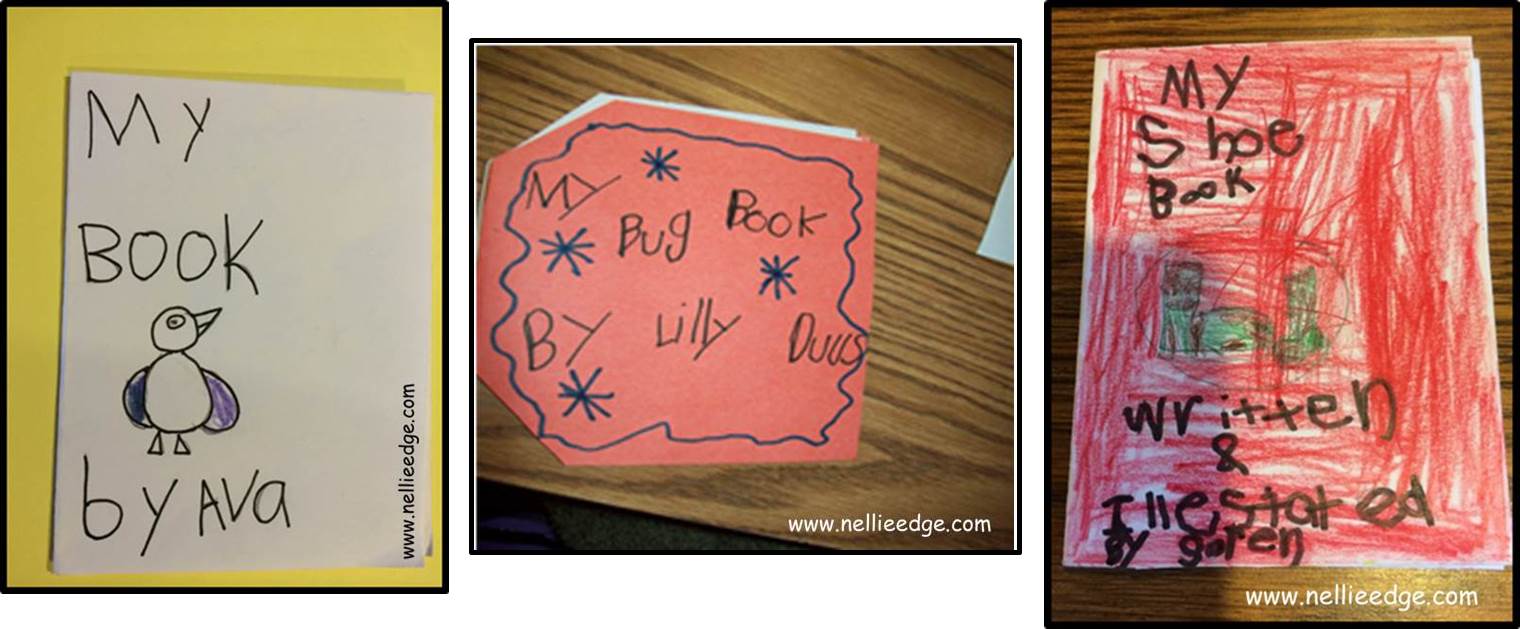 Spring is often a good time of year to transition from the "word work" of storybook writing with simple repetitive sentences to folded books that have more details and eventually can be proofread, edited, rewritten, illustrated, and published.
Consider beginning to raise the expectations by giving children black pens and quality colored pencils or thin marking pens. Invite the children to look at some exemplars of the kinds of Little Book writing that kindergartners are capable of doing. These may be samples from last year's students.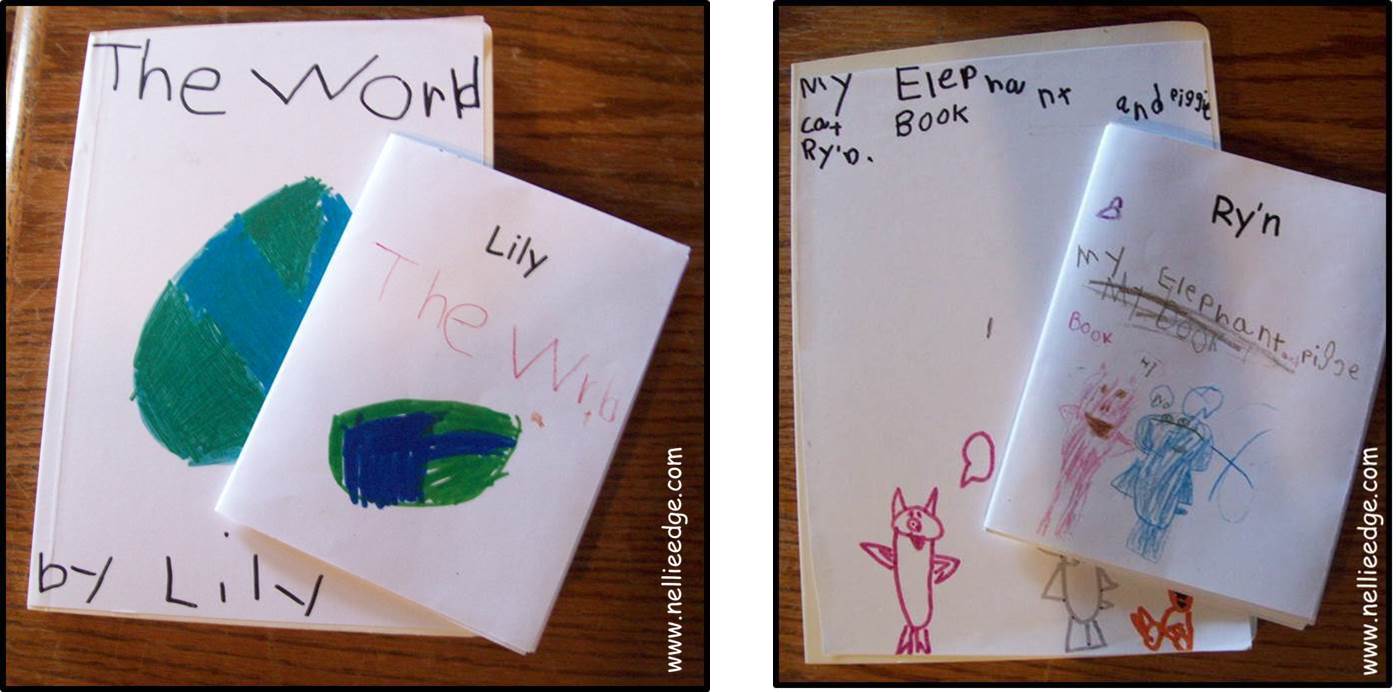 Encourage children to create an interesting cover that entices their reader to open the book. (They might borrow the style of Mo Willems, Eric Carle…) Expect them to write the title at the top of the front cover and the author's name at the bottom.
Expect children to use quality handwriting (you may want to review the words: My, By, Book, The End).
Encourage children to write "The end" and decorate (fancy up!) the last page and refer to authors' "end pages." Show them samples from their "kindergarten writing colleagues!"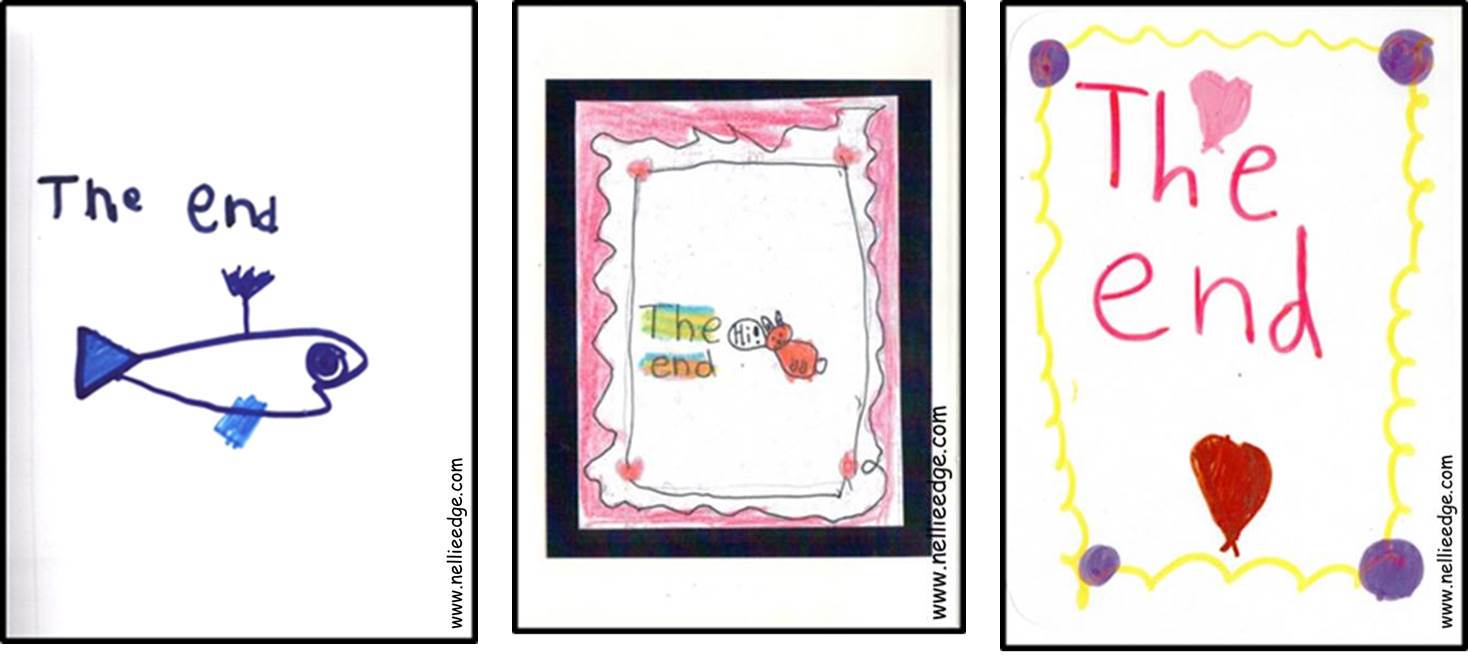 Talk about book details when reading literature to children. Children might locate end pages in Mo Willem's Elephant and Piggie books and Nellie Edge Read and Sing Big Books™.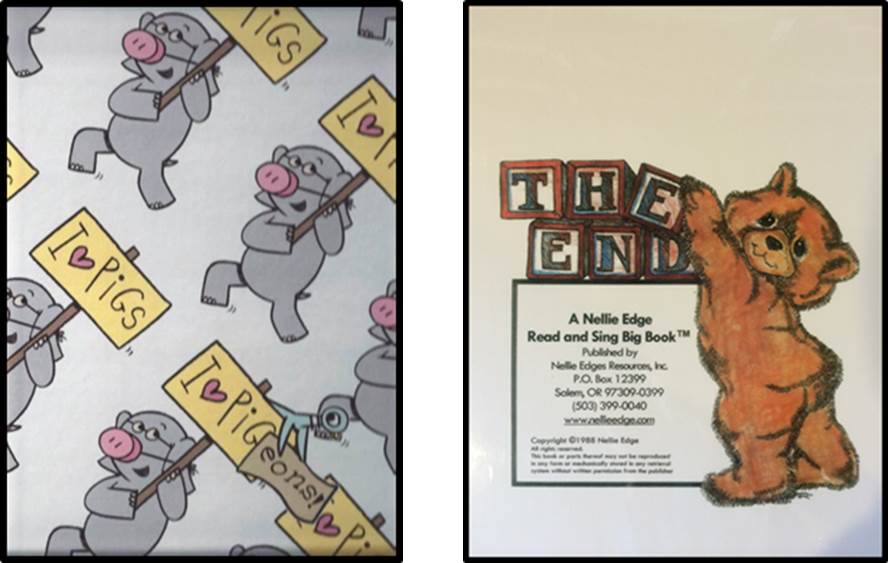 Remember to order the blank 8.3" x 6" Chunky Bear Books (item #3602) in early April in order to begin the publishing process in late April or early May from www.blankbooks.com.
Send home the "About the Author" page soon and ask parents to write up a brief bio based on the sample so you have this time-consuming piece of the kindergarten publishing process completed early on.
Find a template for Interview Questions About the Author and Illustrator.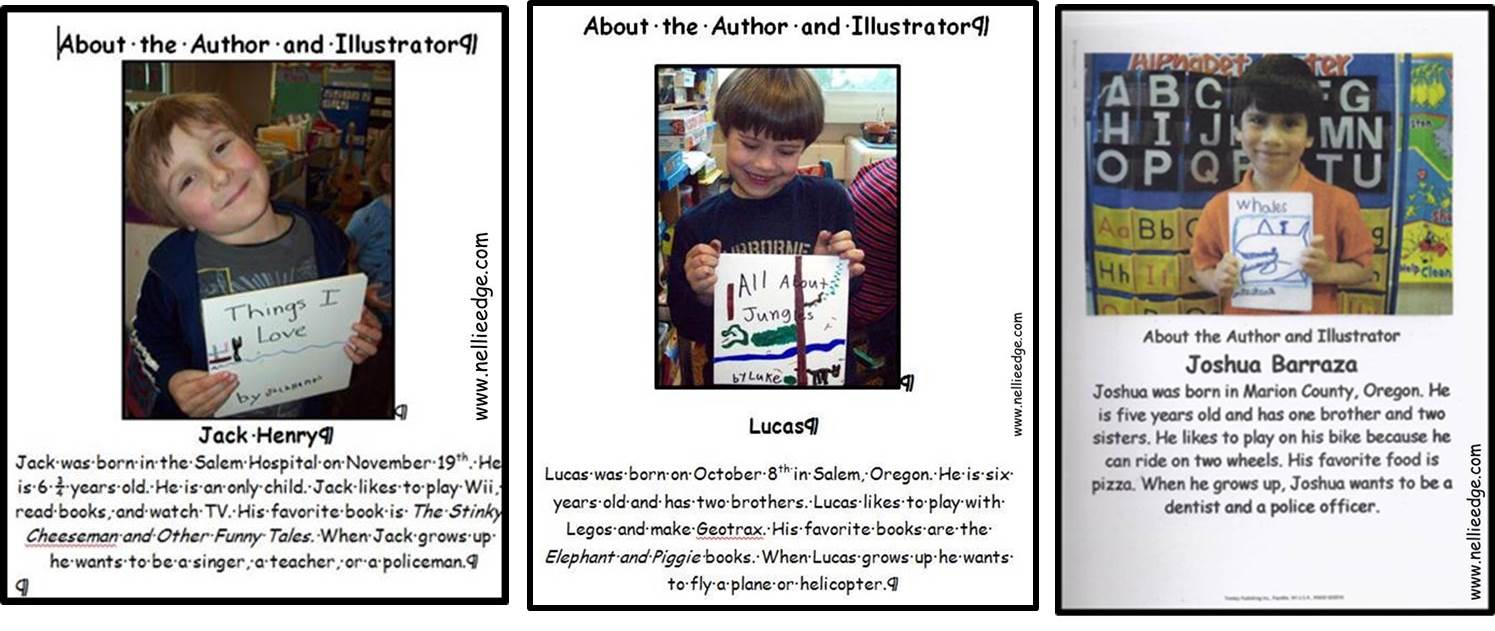 Consider choosing a few proficient and disciplined writers and have them publish first so you can show the children how their favorite (rough draft) folded book stories can be proofed, edited, and rewritten to become beautiful published books.
We know how to meet—or exceed—kindergarten Common Core writing standards.
However, not all writing pieces need to fit into one prescriptive category of opinion, information, or narrative writing. My overriding goal as a teacher of kindergarten writing is to nurture in each of our young children a love of drawing, writing, and making books. I want them to already see themselves as "prolific writers" who will make books, lists, messages, and science notes all summer, going into first grade with a passion for the author's craft. You might hear the influence of master writing teachers Donald Graves, Katie Wood Ray, Lucy Calkins, Janis Wurgler, and Julie Lay in my words:
Wow! You are becoming such a prolific writer!
You might find yourself swinging on a swing or lying in bed thinking about the next story you will write.
You have grown so much as a writer!
Your pictures and words tell a story.
You wrote that whole book all by yourself! Aren't you proud of your writing?
Authors often need to make choices like that….
Good writers do a lot of rewriting!
No problem. Cross it out. What do you want your sentence to say?
Let's just stop, think, and focus! (Sign Language included!)
What do you want to tell your reader?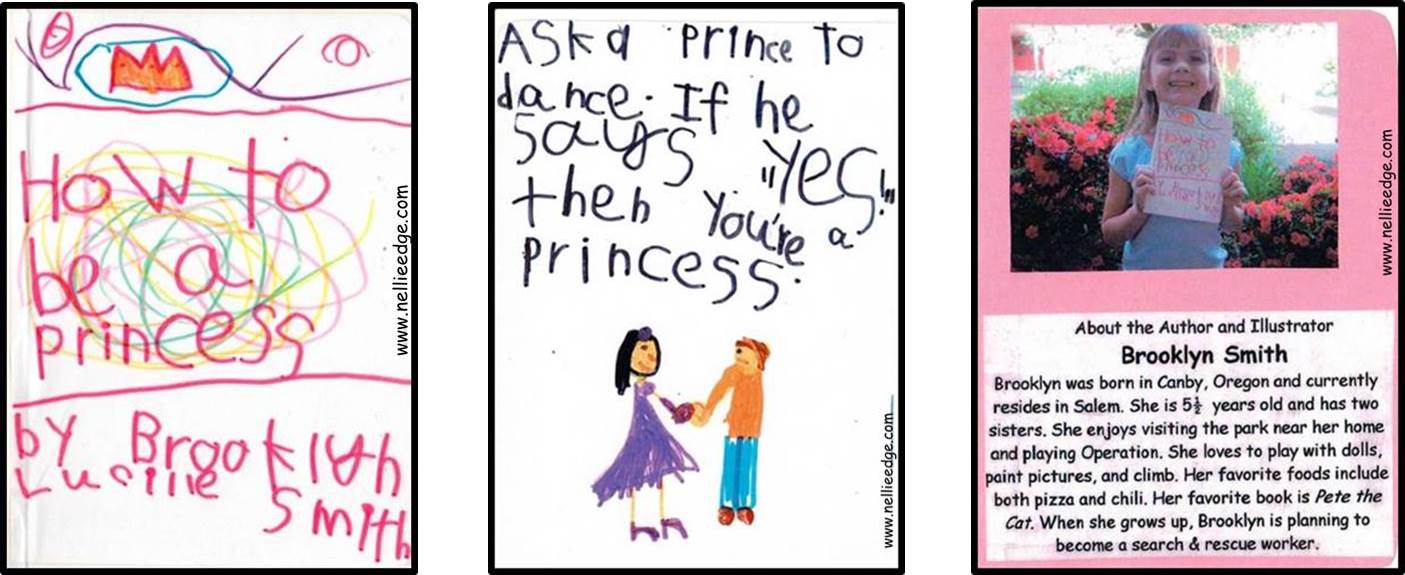 Kindergarten publishing celebrates the delightfully unique voices of young writers. It's a grand and magical way to end the year!
Yes, this is  "t – h – e    e – n – d, the end!"
A special "thank you" to my kindergarten writing colleagues: Jaime Corliss, Winter Curry, Laura Flocker, Becky Leber, Katie Nelson, and Shanda Vandehey. This blog is adapted from Chapter 9 of Kindergarten Writing and the Common Core: Joyful Pathways to Accelerated Literacy (book, CD and seminar) by Nellie Edge, 2014 update.
 Was this article helpful? Do you have any publishing strategies to share? We love to hear from you and would be happy to respond to your questions.