What a grand time I have sharing multisensory and joyful writing-to-read lessons in local classrooms! An invitation a couple of years ago to write a song that teaches "i-n-g" was all I needed to create this sing, sign, and fingerspell song  There's an "ing" in King: i-n-g. I have now expanded the lesson, and here is how I present it to the children.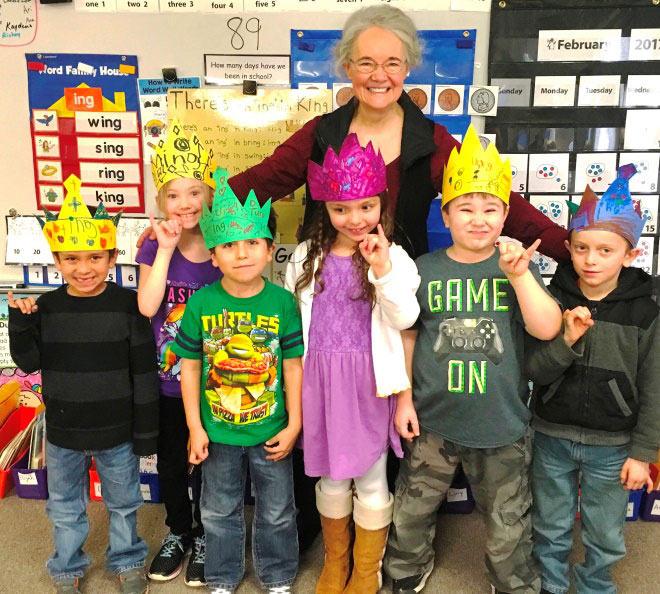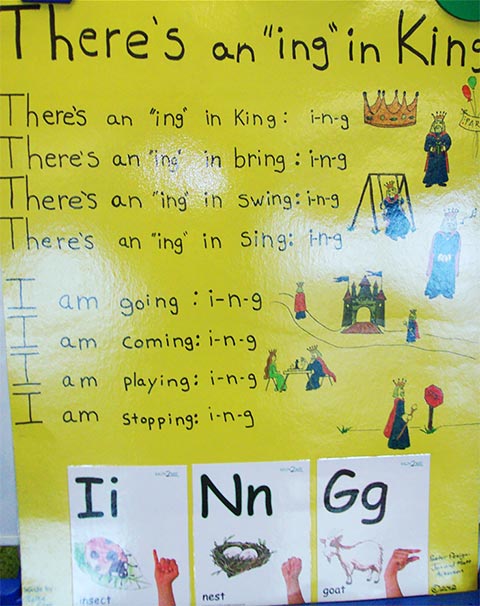 Watch me present this strategy
taken from Nellie Edge Online Seminar (NEOS) #3
Kindergarten friends, let's learn how to sing and fingerspell our King of "ing" song so we always remember how to write "ing" as a sound on the end of words such as: "going" and "playing." Help me think of other words that end in "ing." I am ____ing.
Glimpses of the King of "ing" lesson: What do happy engaged learners look like?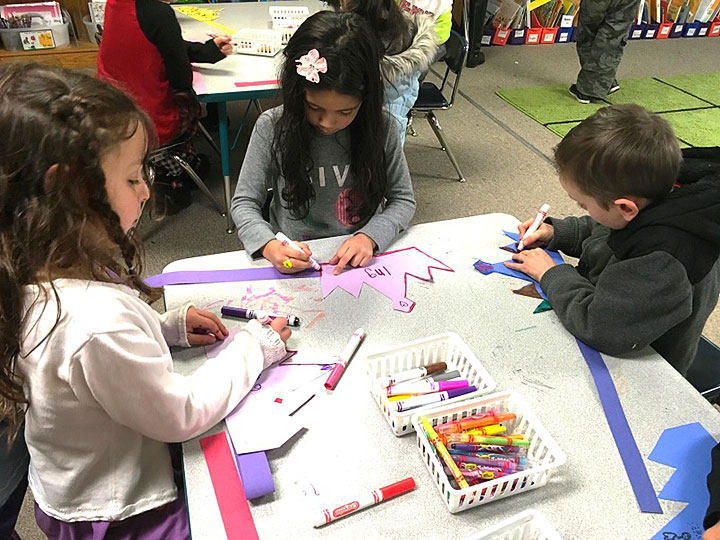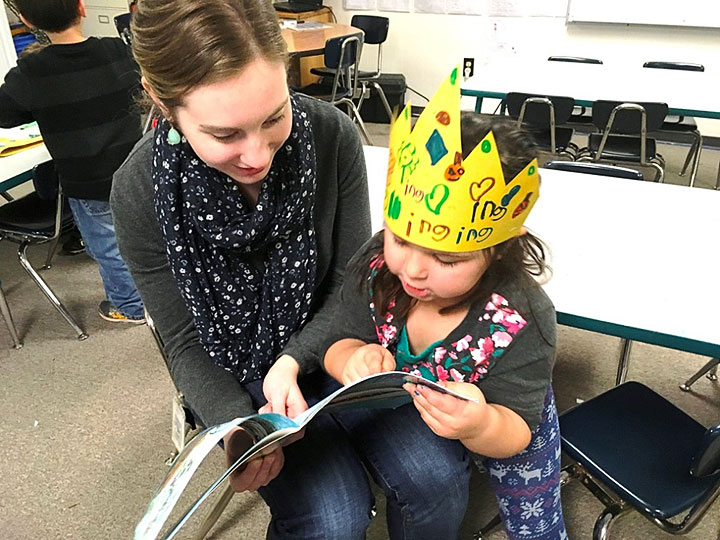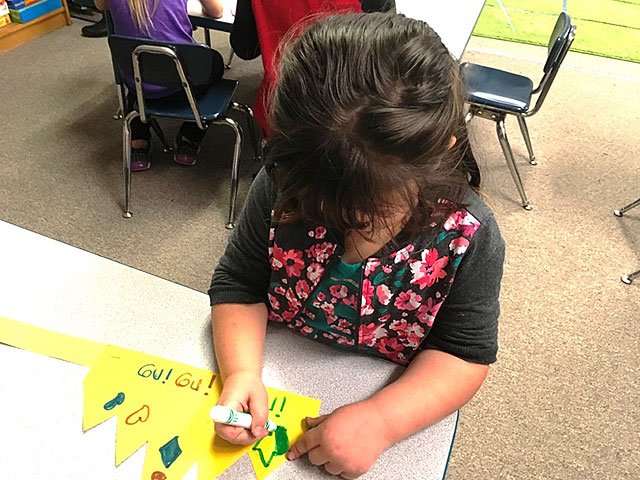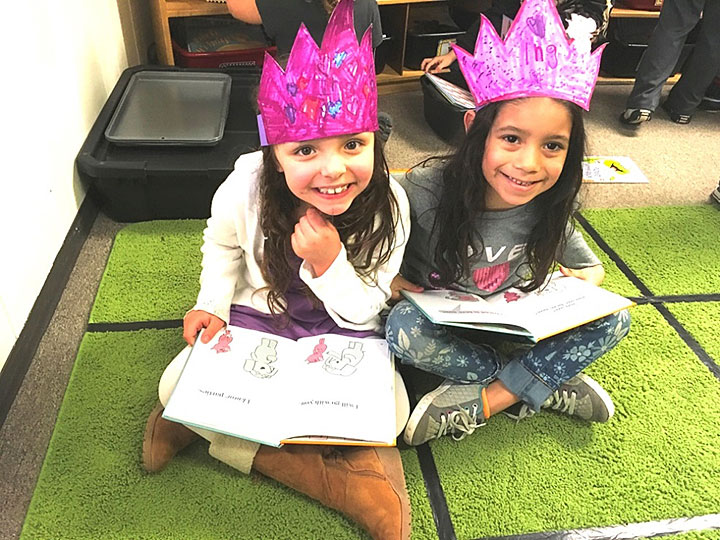 Lesson Plan Suggestions:
Allow 30-35 minutes (preferably at the end of the day)
Volunteers prepare crowns with attached bands or separate bands and crowns ahead of time
Provide "ing" models at each table for any student needing visual support
Provide plenty of quality marking pens at each work table
Have transparent tape or staples available to attach crowns (you will need two adults helping fit crowns as kinders often finish about the same time)
Provide "ing" handwriting models for large group handwriting lesson (see free printable downloads)
Select the right Elephant and Piggie books for "ing" hunting (see recommended list). Attach a sticky note on one "ing" page, and give students more notes to attach under each "ing" word. How many can they find?
Suggested Sequence for King of "ing" Lesson
Take advantage of how the brain learns best: the brain creates multiple memory hooks through music, sign language, and emotionally engaging teaching.
First rehearse fingerspelling "i-n-g" repeatedly (This will be especially fun for the ABC Fingerspelling Experts in your kindergarten!)

Present a short focused "ing" handwriting lesson on a white board to reinforce the new learning while listening to the song. (Handwriting lessons simultaneously build reading and writing skills!)

Sing, sign, and fingerspell  There's an "ing" in King song repeatedly. Sing fast with the music as a model. Then sing slowly to teach the song. Return again to the memorable music.
Invite children to use their detailed drawing skills to decorate crowns and write "ing" or King of "ing" on their crown. They can listen to the music and sing the There's an "ing" in King song while they work. Have fun. Take pictures! Every crown will be unique.

When children finish their crown they can hunt for "ing" words in Elephant and Piggie books by Mo Willems. (see list of best "ing" books)

Children can also find "ing" words on the walls: Notice the Reading Is Fun poster.
The transfer to writing is powerful once children have this song in their long-term memory!
One class decided:


Let's find 100 "ing" words: The 100th day of school is coming! (They actually found 106 "ing" words.)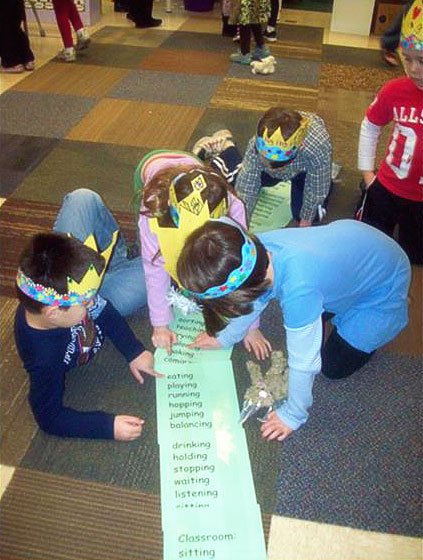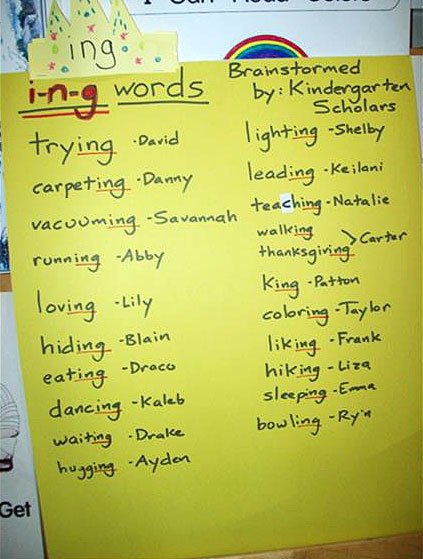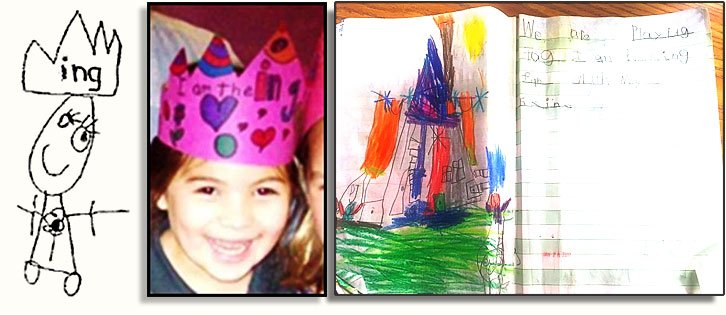 Both less experienced writers and more proficient writers are proud to display their new skills during writing workshop.
This Is Always a Good Time for Another Short Focused Handwriting Lesson!
We simultaneously teach good handwriting motions with our high-frequency sight word lessons. (Learn more from Nellie Edge Online Seminars #2.)
Return to the Song Over and Over – All Week Long and Beyond

Literacy Connections
Intentional teaching is often close coaching: Keep asking individual children, And how do you fingerspell 'ing?' (They will automatically say the letter names while fingerspelling.)
And when someone says, I'm not the king, I'm the queen. You can respond, Oh yes! You're the queen of the 'King of ing'!
Enter into the playfulness and drama of royalty: when you tape the finished crown on each child's head, graciously curtsey or bow down and say, I crown you King Joshua: the King of ing!
You can always draw a person wearing a King of "ing" crown.
Our goal is to transfer new skills to the reading and writing process.
Now find "ing" Words in Elephant and Piggie books.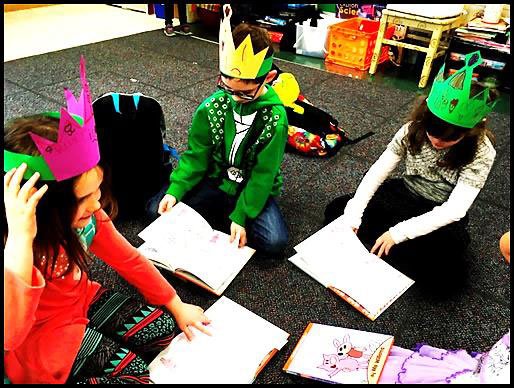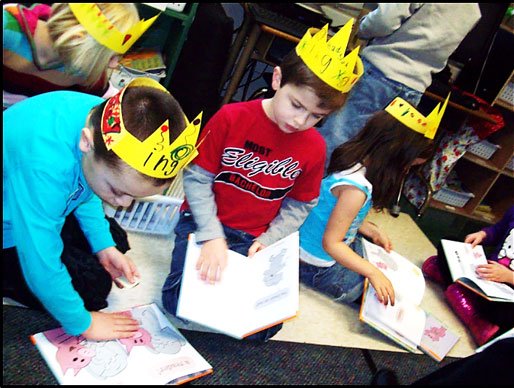 Some Elephant and Piggie books feature many "ing" words: Time permitting, students can share their book and "ing" word with the class.
One child decided: Mo Willems probably learned about the King of "ing" when he was in kindergarten.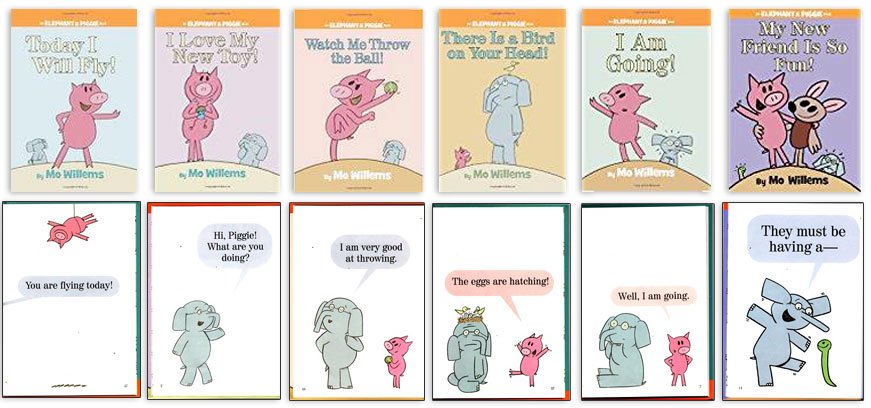 During Writing Workshop the children can yellow highlight or underline any "ing" word that they use. They are quite proud of their new writing skill and will quickly let everyone know "I remembered the King of "ing!"
Challenge the children to fingerspell "ing" and think of "ing" words as a ticket to go out to recess: Give me a word that ends with "ing!"
Present an interactive writing lesson and make an anchor chart.
Present a word family lesson with white erase boards: Write King, erase the "K," and make the word sing. What letter do we need?

Each year the King of "ing" Lessons Inspires New Literacy Connections: Long Lists of Words, Class Books, and Powerful Memory Hooks. Forever!
This class book featured photos of the children "doing" kindergarten activities.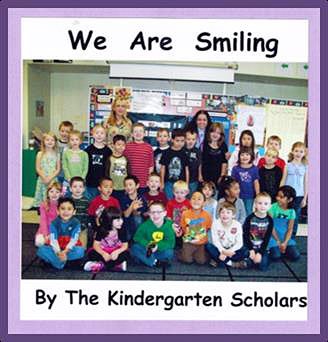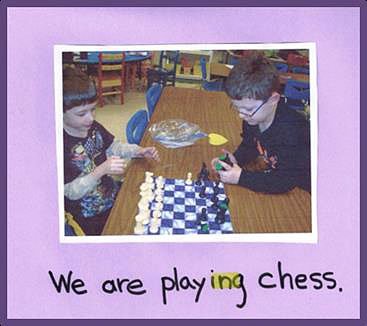 Build Vocabulary and Intentionally Create a Growth Mindset with Carefully Chosen Words
Why are you learning the King of "ing"?
Wow! How did you teach your brain to remember "ing"?
I crown you King of "ing"…I curtsey in honor of your royal majesty.
You focused and carefully wrote "ing" with good handwriting—it's so easy to read your work.
Look at your crown! You really fancied it up: that is what kindergarten artists do!
Every crown is uniquely different. Tell me about how you designed your crown. What shapes did you use?
I bet you can go home and think of more "ing" words to add to our list.
Now you'll always know how to write "ing"!
We Make Learning Visible by Giving Children Crystal Clear Learning Targets

Children deserve to know what the learning target is and how it will help them as a writer. This new learning immediately transfers to writing workshop for young writers, and writing teaches reading! (See introduction to lesson at the beginning of this blog.)
Give students their own copies of the "I Can Read" Anthology Page: There's an "ing" in King.
Peruse NellieEdge.com Sight Word page for more video clips of memorable sight word practices.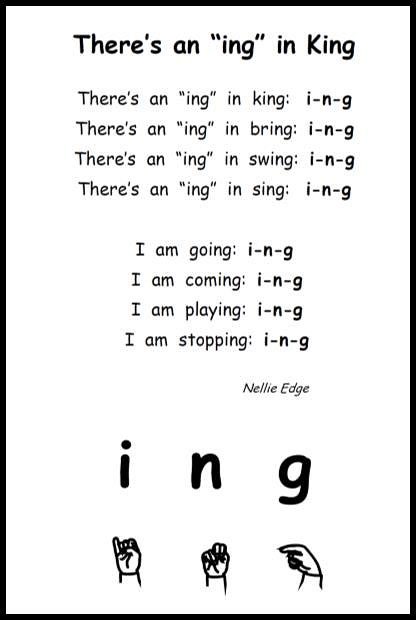 This playful strategy is documented in Nellie Edge Online Seminar (NEOS) #3: Best Ways to Teach Sight Words.
The entire Sing, Sign, Spell, and Read! program is included as a FREE download, and incorporates fingerspelling strategies from NEOS #1 and handwriting from NEOS #2.

This year's King of "ing" crowns were as detailed and well-loved as last year's. Once again, the children simply did not want to take them off. The literacy skills that wrap their arm around this time of pure serendipity were memorable and filled with SMILES…
What Did We Learn?
Nothing lights up the brain like playing, singing, and signing. We need to infuse our literacy lessons with music, multisensory teaching, and playfulness.
Multisensory teaching through music and sign language creates powerful memory hooks.
Handwriting is best practiced in a meaningful context with real words and literacy events (not as isolated drill).
Phonics lessons with word families can be playful. (Some sounds are hard to hear and you need to remember them "by heart.").
Kindergartners always love making crowns!
Writing teaches reading.
Intentional teaching is often close individual coaching: And how do you spell and fingerspell "ing?"
Best practices in kindergarten writing address multiple skills and differentiate learning through lessons rich in the arts!

ELA Kindergarten Common Core State Standards
Print Concepts
RF.K.1. Demonstrate understanding of the organization and basic features of print.
Follow words from left to right, top to bottom, and page by page.
Phonological Awareness
RF.K.2 Demonstrate understanding of spoken words, syllables, and sounds (phonemes).
Recognize and produce rhyming words.
Phonics and Word Recognition
RF.K.3 Know and apply grade-level phonics and word analysis skills in decoding words.
Conventions of Standard English
L.K.1. Demonstrate command of the conventions of standard English grammar and usage when writing or speaking.
Print many upper- and lowercase letters.
Vocabulary Acquisition and Use
L.K.4. Determine or clarify the meaning of unknown and multiple-meaning words and phrases based on kindergarten reading and content.
Presentation of Knowledge and Ideas
SL.K.5. Add drawings or other visual displays to descriptions as desired to provide additional detail.
SL.K.6. Speak audibly and express thoughts, feelings, and ideas clearly.
Get our weekly blog for more high-impact strategies and free resources!