Download our Big TpT Writing FREEBIE
from Nellie Edge Kindergarten!
Let this FREEBIE inspire you to study authentic K-1 writing strategies via distance learning this summer with the step-by-step 6-hour MasterClass workshop
Photos of children and their art used with permission from parents and teachers.
You'll see the result of powerful writing instruction from these photos of children's authentic writing and drawing: All kids love to make lists, messages, news stories, and really cool books!
In this 17-page FREEBIE:
samples of best early writing practices
practicum project ideas for earning 1-3 graduate credits
2 examples of practicum time logs for the University of the Pacific
2 easy ways to study the MasterClass Intensive at your own pace: 1. Enjoy a day of study: download this PowerPoint PDF to your computer 2. Read and study at your convenience: print 4-to-a-page and have it bound
Is this 6-hour MasterClass Intensive right for you?
Here are 3 exemplars from your Writing FREEBIE.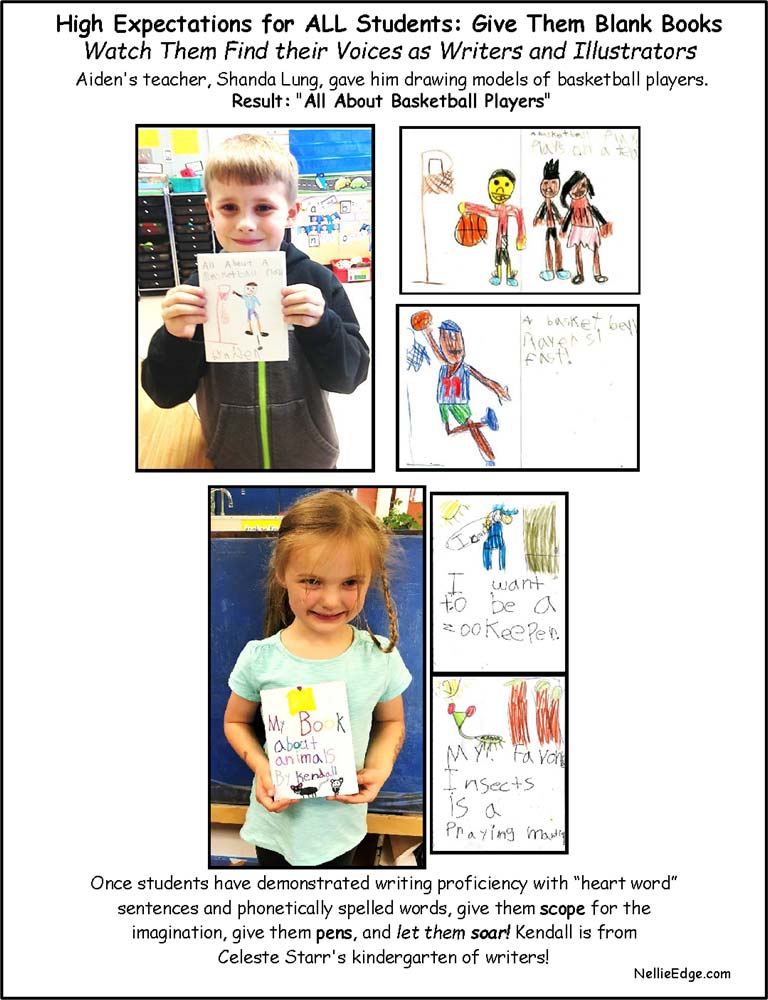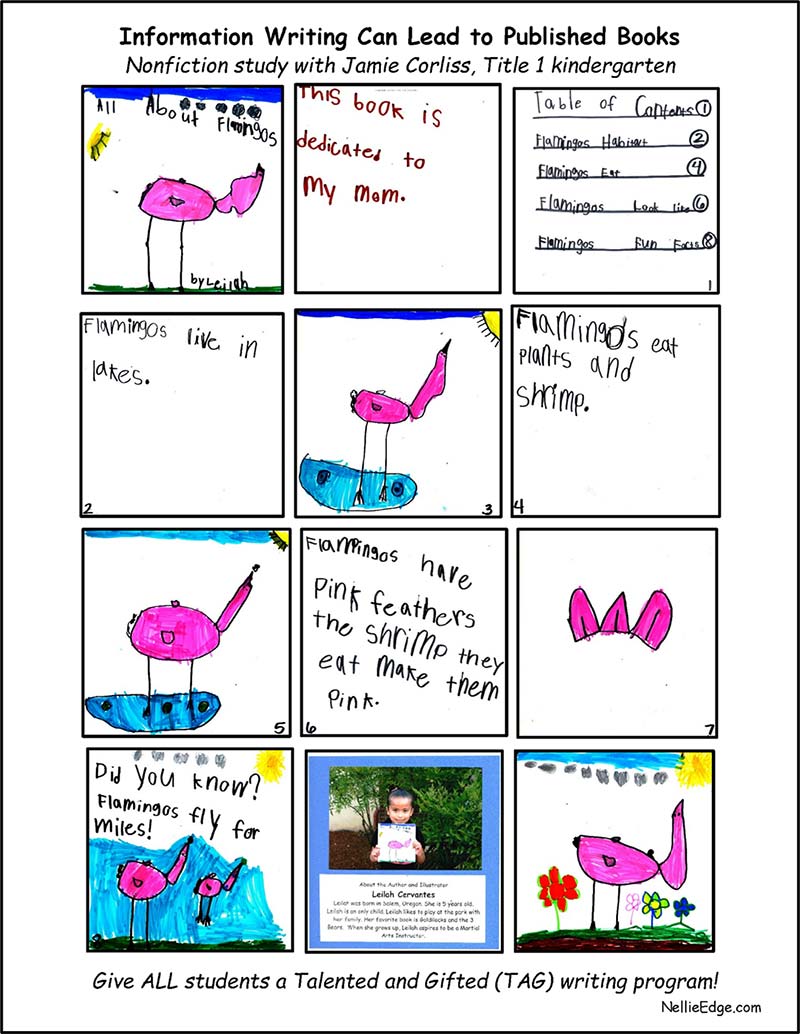 This FREEBIE features PROVEN kindergarten writing practices. Explore a Talented and Gifted (TAG) model that builds success for ALL learners—especially emergent bilingual students.
Take your writing instruction to a higher level!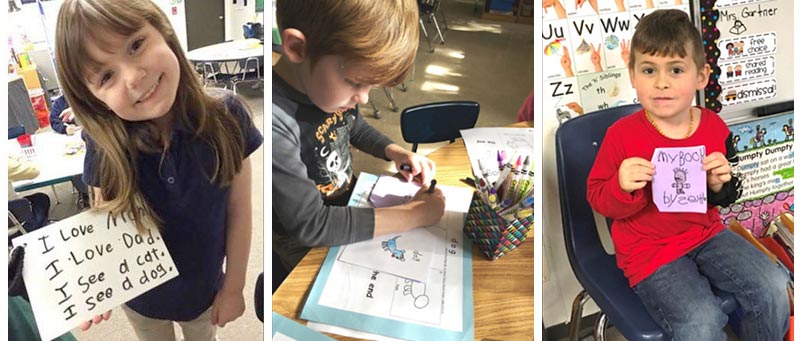 Build circles of writing mastery early in the school year
Encode sounds to print for powerful phonics rehearsal
Access the complete step-by-step MasterClass (over 400 slides with exact instructional language) PLUS 80 bonus pages of lessons, printables, and exemplars.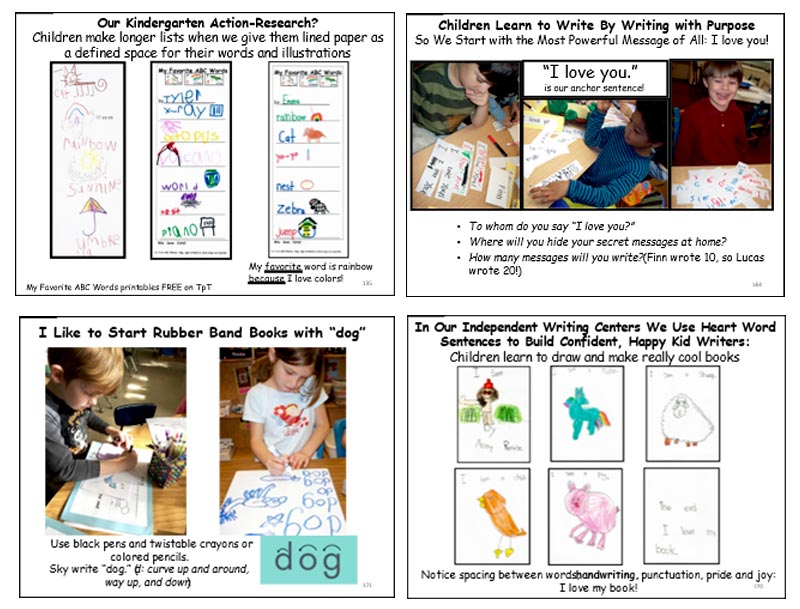 Discover an authentic approach to kindergarten writing that students love!
Check out our TpT Sale for 25% off everything in our store.
Use code: THANKYOU22
Nellie Edge K-1 Writing Program
Authentic writing resources that students, teachers, and parents love! When you purchase the Writing Bundle, you may request a TPT refund on individual Writing Bundle resources.
So Many Reasons to Love It!
---
"This bundle gave my kinders the scaffolding and confidence to truly become writers. The ideas are simple yet profound; this product should be required in every kinder classroom."
—M.R. quote from TpT "
"Just finished one of her workshops and it was amazing! Can't wait to use this in my classroom and see the great works of writing my students will produce. Thank you for this amazing resource."
—Nicola L. quote from TpT
"My first-grade students love learning how to draw and write about the animals. The grocery and friends list was a big hit with my class."
—Kristiana P. quote from TpT
"I attended a Nellie Edge training with my building's kindergarten team and loved the resources! I knew what the kinder team was teaching, and I am able to expand on that in first grade."
—Shana M. quote from TpT
"A super resource! So much packed in one bundle. Thanks!"
—Renee B. quote from TpT
"The kids loved this as an intervention supplement."
—Sarah T. quote from TpT
Receive Our Weekly Focus Kindergarten Blog
High-Impact Strategies to Inspire Your Practice. Free Downloads!