and Writing Project, and a Performance of Music and Poetry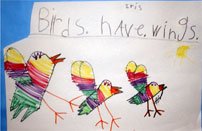 Children are immersed in bird literature, poetry, songs, dances, and – of course – bird watching.   Each child selects a bird to study and goes home with an envelope of books for family research.  A week later the children return with a book they have written and illustrated about their special bird.
---
Wings
Bees have four wings, birds have two…
Aileen Fisher
Birds of a feather flock together.
May Wind is Busy
Brushing the robin's tail…
Kazue Mizumura
---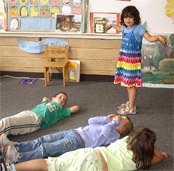 A few children each day present their bird report.  Then they enjoy becoming the bird and dancing around the circle in the Indian Wheel song… I am the eagle. I am the eagle. Flying around the wheel.
Sing, Dance, and Dramatize: Engage Multiple Intelligences in Learning
Enjoy a circle dance: Bluebird, bluebird, fly through my window…
Sing and sign If I Could Be An Eagle, by Jolene Griffith.
Dance as the Firebird (A Russian fairy tale) – The Firebird Ballet music, part 23 by Stravinsky, is magnificent!  Give the children red crepe paper streamers to make large circles in the air – they will follow teacher's movements creating images of this ballet.
There is depth (and creativity) in the curriculum.
Northwest Indian legends and dances become a part of the study.
Children listen to tapes of bird songs – and learn to imitate them.  Did you know that baby songbirds talk baby bird talk and babble while learning to imitate the adult bird song?
In Joanie Cutler's magical kindergarten children read, write, dance, and wonder about birds.
Remember, "A feather is a letter from a bird…pick it up—and put it in your pocket."
from Something Special by Beatrice Schenk de Regniers.
Receive Our Weekly Focus Kindergarten Blog
High-Impact Strategies to Inspire Your Practice. Free Downloads!