in the Classroom and at Home
Every child deserves to own a growing collection of books that they can sing and read with pleasure and delight.  These cherished reminders of the child's developing reading skills will be kept for years to come.  Teachers are encouraged to have volunteers reproduce enough of the Little Books so that each child in the class has two copies.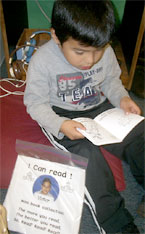 After several "magical memory reading" or "guided reading" experiences at school, one copy can go home with the child to be joyfully shared with family members.  The other Little Book can be added to the child's growing collection of Read and Sing Little Books at school.
Children treasure their Little Books.  One youngster slept with them under her pillow in a special purse.  Whoever tucked her in at night got to hear her proudly sing and read every Little Book.  Teachers have shared clever storage ideas and delightful "I Can Read" rituals with us:
Provide shoeboxes for children to decorate.  These become "treasure boxes" for children to take home and store in a special place in their bedroom.  Kathie Bridges spray paints these boxes gold or silver.  Children and parents can be reminded to keep all the Little Books that come home in their "treasure box" to be read over and over again.
Becky Leber includes the child's name and photo page inside a sturdy re-sealable bag.  This becomes the book bag for independent "read to self" time in September.
Little Books may be stored in a heavy weight 8" x 10" plastic pouch (Ziplock). The re-sealable bag can be reinforced and stored in the child's Poetry "I Can Read" Notebook (a.k.a. "Read Together" or "Family Reading" Notebook).
Children may choose favorite Read and Sing Books in sturdier library format for their individual book boxes later in the year.  These "Just Right: I Can Read!" books become the good-fit books that are read with 99% accuracy: building fluency, confidence, and delight.
A red, yellow, or blue zippered, plastic pouch with a clear window can be added to each child's Poetry "I Can Read" Notebook.  The book pouch can be color coordinated with the 3-ring notebook so children can quickly find their "I Can Read!" Little Books and celebrate their growth as a reader.  These notebook photos, from Julie Lay's kindergarten, show another management system for building reading independence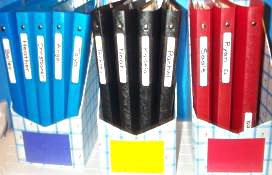 Receive Our Weekly Focus Kindergarten Blog
High-Impact Strategies to Inspire Your Practice. Free Downloads!