Kindergarten-Friendly Handwriting, Phonics, and Word Work

Products shipped weekly via UPS standard ground delivery WITHIN U.S. ONLY. Pay with a PayPal Account or a major credit card. See how to pay with credit card in Paypal.
New 2018 Kindergarten-Friendly Handwriting, Phonics, and Word Work
TEACHERS' GUIDE, GROUP LESSONS, A-Z STUDENT PAGES, and LITTLE BOOKS
Coming July, 2018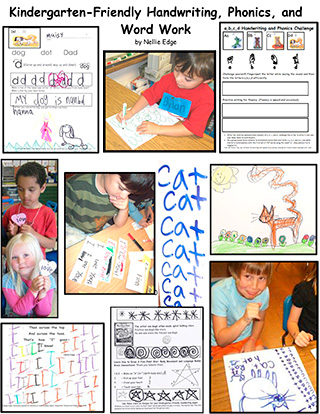 Detailed, spiral bound Teachers' Guide including a 6-page full-color photo essay.
40 pages of large group lessons, parent information, handwriting chants, drawing templates, and assessment pages.
30-page a-z student writing templates with cover page and assessments integrated. (We recommend binding these into individual notebooks for each child.)
1 sample student notebook included.
Permission granted for teachers to make multiple copies of the student book with credits noted.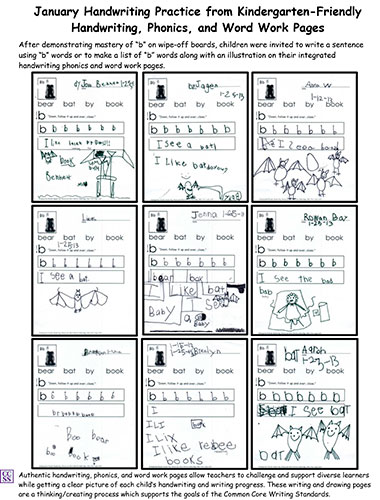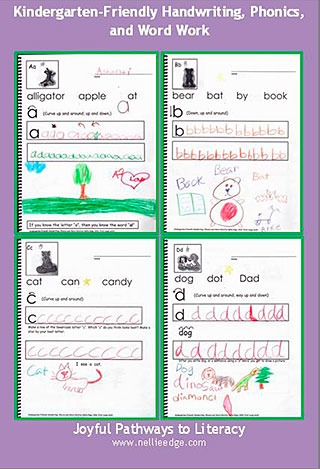 We recommend that teachers use this Kindergarten-Friendly™ Handwriting, Phonics, and Word Work program as a part of a comprehensive writing framework in tandem with authentic word work activities and engaging literacy lessons.
We introduce the expectation of good handwriting to children and parents from the first days of school with daily name writing practice. (We send "Name Ticket" practice books for families to use at home.) In addition to individual work on names, we provide whole group handwriting instruction through multisensory songs and chants with movement patterns and fingerspelling using powerful high-frequency "heart words". We begin with "I", "love", "you", "Mom", "Dad", "cat" and "dog". Our integrated literacy lessons use wipe-off boards as teaching tools and independent writing centers to practice handwriting skills in an authentic context. (We write messages and books!) Our purpose is always to incorporate handwriting into authentic writing experiences—and not isolated drill. Whole group beginning lessons focus on teaching basic handwriting motions, directional language, awareness of shapes, and seeing like an artist. Instruction transitions into small group, differentiated lessons using the children's individual a-z writing and drawing books. Every teacher chooses the timing and instructional framework that works best for their unique group of individual learners; some teachers wait to use the actual a-z writing and drawing book as a whole class review as late as January, giving special attention to the less experienced writers.
Receive Our Weekly Focus Kindergarten Blog
High-Impact Strategies to Inspire Your Practice. Free Downloads!