Playing with Phonics Instructional Videos
The "Silent E" Man Song
How do kindergarten teachers make phonics learning fun and memorable? Diane Bonica shares her delightful "Silent E" Man song complete with the "Silent E" doll and manipulative phonics cards.  What a totally engaging way to help children understand the power of the silent "e". Once again, Diane teaches to the heart of childhood with music and imagination to increase children's reading and writing achievement. Emotional engagement is the key to all powerful teaching.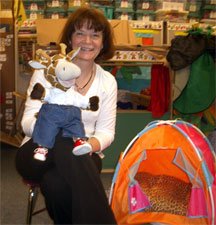 Welcome to Kindergarten Puppet Magic: Meet Rulee Video
Every class deserves to have a wonderful puppet friend who can help them reflect on discipline and management issues.  Meet Rulee, Diane Bonica's special helping giraffe, who has a permanent habitat in a tent next to the meeting area in her classroom. Rulee loves to listen to books and his job is to help keep the children safe. Check out this video clip of Rulee in action and consider how responsive children are to imaginative puppet characters.
Rulee changes outfits with the themes and seasons.
Children love to write notes to Rulee: They treat him like an honored kindergarten friend.
One child each day is responsible for bringing Rulee to the circle area and returning him to his home.
Download article Welcome to Kindergarten Puppet Magic for more information about Rulee.
We Can Write Nonsense Word
This authentic classroom video clip takes viewers inside master kindergarten teacher Diane Bonica's all-day kindergarten. See how Diane Bonica brings her love of music and commitment to honoring childhood to everything she does, including playful ways to teach NONSENSE words.  Here the children are using white boards as they listen and write sounds.  Notice how engaged they all are and how responsive Diane is to their input.  It is no surprise that these children not only score high on NONSENSE words, but love real reading and writing.
Receive Our Weekly Focus Kindergarten Blog
High-Impact Strategies to Inspire Your Practice. Free Downloads!