Here's a 22-page TpT FREEBIE to Help You Celebrate Learning
Download badges, certificates, and Hip Hip Hooray Class Book
4 printable "heart word" badges
Pink, purple, yellow, and green printable certificates
Brain-friendly practices for teaching sight words
"All About Heart Word Songs with QR Codes"
"How Kindergarten Handwriting Reinforces Heart Words"
Blog: Build Circles of Kindergarten Writing Mastery
Students and Parents Appreciate Crystal-Clear Learning Targets!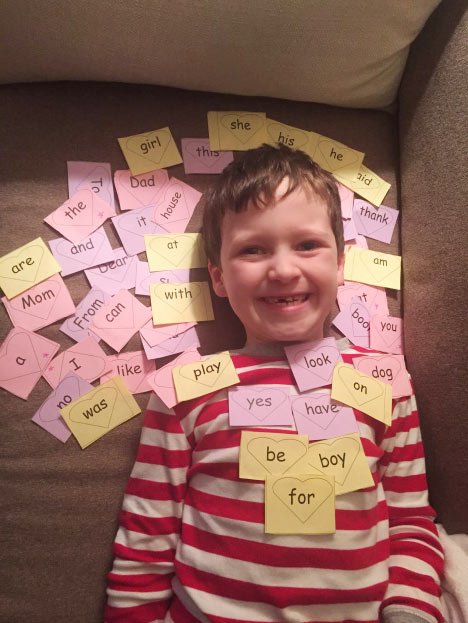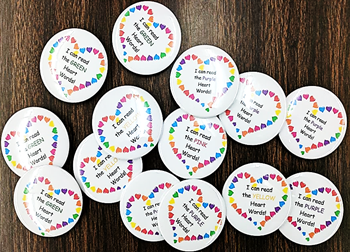 All photos used with permission from parents and teachers
Students love the challenge of practicing each new color-coded set of "heart words" at home! (Photo from Celeste Starr's kindergarten family)
Thank you to Suzanne Feblowitz for sharing on my Facebook page how she celebrates: She said, Nellie! I made these buttons for my Heart Words, and the students are more inspired to learn the words because they get a button after learning each set of heart words. Now they want to collect them all! It has been amazing!
Support Family Literacy All Year Long!
Have You Discovered Our Heart Word Songs with QR Codes and "Write and Read Skinny Books?"
Did You Know? Nellie Edge Kindergarten Sight Word Program (a.k.a. "Heart Words") is a Best Practices model developed in diverse Northwest kindergartens.
This is multisensory learning strategy with proven success:
Provides crystal-clear learning targets
Differentiates instruction
Involves Parents as Partners with easy actionable at-home practice
Provides an art-rich TAG Learning Model for ALL students
Integrates handwriting and sight word work with engaging writing experiences
The Sight Word BUNDLE (below) includes the first 6 Sight Word products
Receive Our Weekly Focus Kindergarten Blog
High-Impact Strategies to Inspire Your Practice. Free Downloads!