Developing Friendship, Responsibility, Self-Regulation, and Collaboration Skills
"Settling-in" time is that transition from home to school when children are saying good-bye to their Mom or Dad, returning their School-to-Home book bags, and taking care of important community life. They are greeting their teacher with important news, fingerspelling and doing name writing practice, watering their vegetable sprouts, checking on the turtle, making birthday cards, greeting their friends, responding to name graph questions, and feeling a part of a unique community of learners and friends. This is a disciplined and structured time for social learning and building life skills: speaking, listening, friendship, and collaboration.
For Katie Nelson, settling-in time is for warm greetings, sharing important news, and finishing morning work jobs
There is a personal welcome for each child, a time to "get a hug if you need one," share important family news, and gently ease into kindergarten life. The prolific writer on the right shares: "I wrote two more books last night!"
Once you get the community right, the levels of learning soar. –Ralph Peterson
Just 25 minutes sets the tone for a productive day.
There is time to share important news: "Look! I lost a tooth!"

Pick up your Name Ticket model, and do your best name writing.

At 9:00 the buzzer sounds. It's time to stop and listen to announcements and then finish up the morning work, clean up, and gather at the carpet by about 9:10 for the traditional opening-the-day songs.
We can choose to spoon-feed our children…
or teach them to be self-regulated, motivated learners.
Good time management means more time for choosing activities.
Once children have finished their morning settling-in "responsibilities" they are free to choose from activities on the tables or easel painting.
Children help each other in kindergarten. Teacher always says, "Ask a friend…" Children learn to give high-fives and say, "Good game! Let's play again…"

Kindergartners can always read with a buddy or continue working on a writing project.
Kindergartners learn how to be book lovers: The class library is always open!
These boys know they can always choose a favorite book from the class library and help each other read the pictures and words. They have learned how to put books away.
Having just one iPad creates challenges and opportunities. Children are responsible for checking off their names and sharing this learning tool!
As the year progresses, students become even more independent and self-directed in taking care of meaningful community life.
One girl brings back her Nellie Edge Read & Sing Book from the Reading-at-Home Book Club envelope. She reads each book to two different adults and gets their initials before selecting another book.
These boys are watering sprouts for the McKinley community/school vegetable garden.
Quick writing recall of letters builds the reading and writing brain.
Notice, by January many students have moved from name writing work at the table to using dry erase boards on the floor.
First and last name writing and "a to z brain exercises" for fluency are completed every morning.
Children build speed and quick visual recall of the ABCs, supporting the reading and writing process.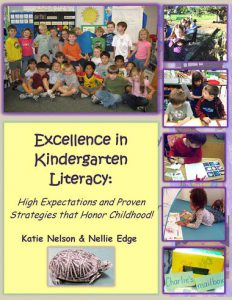 Katie Nelson
Katie Nelson is the coauthor of the book Excellence in Kindergarten Literacy: High Expectations and Proven Strategies that Honor Childhood!* Her work is often featured in Nellie Edge Live and Online Seminars. Katie is no longer teaching full-time in kindergarten. She serves as a guest and mentor teacher and is available for consulting in schools. Her special focus is The Comprehensive Kindergarten Workshop Model, and Celebrate Language and Accelerate Literacy. Contact Katie at nelsonkatieallstar@gmail.com.
* Excellence in Kindergarten Literacy: High Expectations and Proven Strategies that Honor Childhood! by Katie Nelson and Nellie Edge ©2015 will be reprinted in 2017.
Nellie Edge Online Seminars
Grow Your Kindergarten Writers
Build Stamina for the Writing Workshop
• ABC Phonics
• Kindergarten Handwriting
• Authentic Sight Word Work
Nellie Edge teaches you essential skills designed from 30 years of experience in step-by-step videos:
Seminar #1: Multisensory ABC and Phonics Immersion
Seminar #2: Kindergarten-Friendly Handwriting Matters!
Seminar #3: Authentic Sight Word Work
WITH EACH SEMINAR YOU'll RECEIVE:
Unlimited Access to Online Video Tutorials
Companion Teacher's Guide
Coordinating Classroom Resources - ready to use!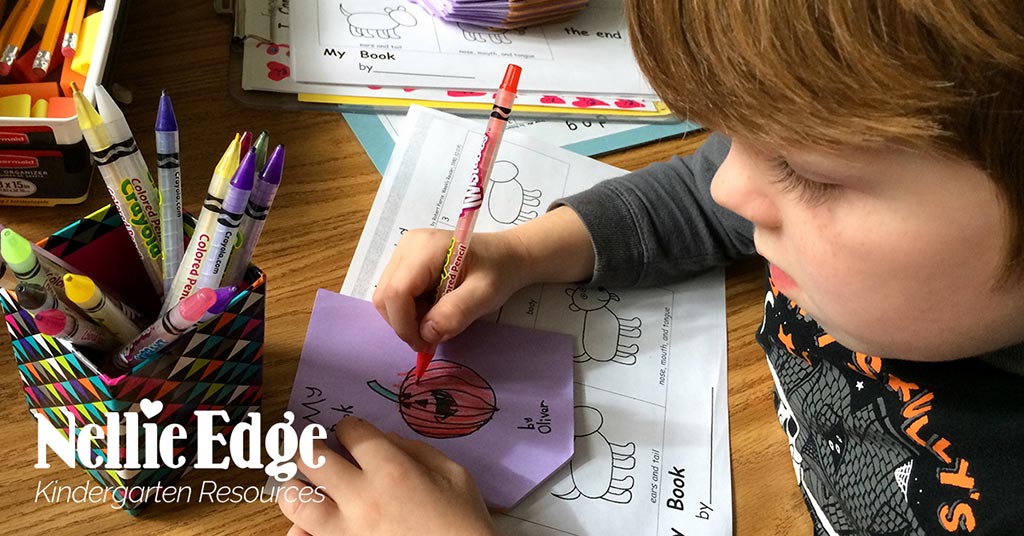 Receive Our Weekly Focus Kindergarten Blog
High-Impact Strategies to Inspire Your Practice. Free Downloads!