2. Provide illustration study and guided drawing lessons early in the year. Teach students to outline in black and carefully fill in the drawing with color. (See What Makes a Quality Illustration)
6. Give students choice and ownership of their writing pieces. Publish kindergartners' writing in simple and delightful ways so children see themselves as young authors and illustrators all year long.

Writers don't improve their craft unless they have a real purpose, a real audience, and a real investment in their writing. -Mem Fox
Want to take your writing program to a higher level of excellence?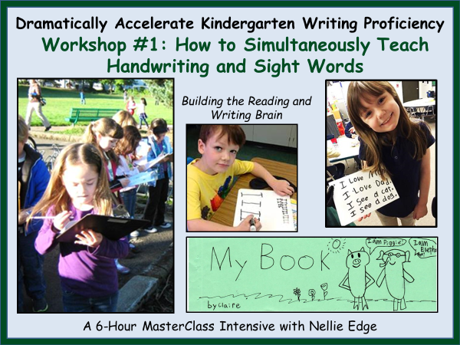 Join Nellie Edge 




April 18, 2020 in Salem, OR


Simultaneously Teach Handwriting and Sight Words.
Free Writing Templates to Support Your Writing Workshop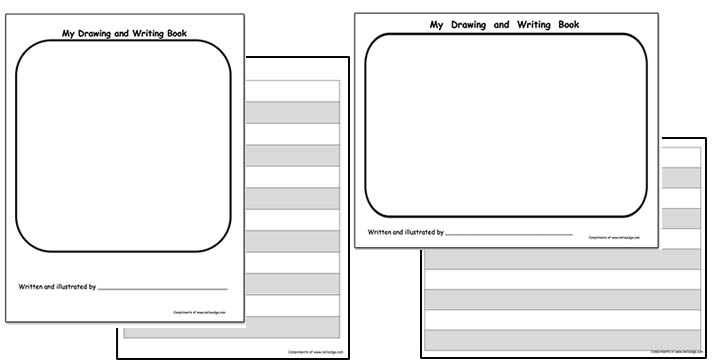 Consider starting the year with "My Drawing and Writing Book" templates in horizontal format. Print on 80# paper so pens will not bleed through.
---
Children learn "you get to write in the white!" Teacher provides underwriting in the gray or in continuous text at the bottom of the paper (depending on their teaching focus) ONLY until the child's writing is proficient. Note: Kid writing paper automatically teaches children to write within every other line.
---
Download horizontal and vertical Kid Writing paper templates from Nellie Edge Freebies page.

---
Enjoy the growing collection of Nellie Edge Kindergarten Resources and Save 50% off for the first 48 hours a product is listed.
Simple click this link to be notified of new products.
Receive Our Weekly Focus Kindergarten Blog
High-Impact Strategies to Inspire Your Practice. Free Downloads!