Now Available! Scroll Down for FREE Samples

Hooray! We finally added the final pages to our handwriting program.
No time for isolated handwriting lessons? Want a program that builds stamina and fluency for writing workshop? This research-based handwriting model is NOT mindlessly tracing over one letter! You will ACTIVELY ENGAGE your students as they practice letters within real words and anchor sentences beginning with "I love you." Time-efficient! Brain-friendly! Inexpensive! Scroll down for sample pages. Save 50% November 1st-4th on all Nellie Edge Handwriting Resources on our TPT Store.
I started with "30 Essential Handwriting Lessons," but then I realized you needed more ESSENTIAL resources! So I added 15 bonus pages...and then 15 more...and then 11 more! Yes, 30 lessons and 41 pages of great handwriting resources!
Created BY master kindergarten teachers FOR kindergarten teachers over 10 years of action-research that took place in actual classrooms. These essential, integrated lessons and handwriting-to-read pages are taught using high-frequency "heart words."
See handwriting videos from Nellie Edge:  
What are the 30 Essential Handwriting Lessons?
1. Teach pencil grip and build strong finger muscles with playful exercises: fingerspell a,b,c,d; duck talk with thumb and pointer; touch thumb to each finger; squeeze and release fist.
2. I Always Start My Letters at the Top
3. I Chant (Top to bottom, left to right)
4. I can draw lines: art lesson
5. O Dance (Curve up and around letters: c, o, a, d, g, q, f, s) plus practice page
6. L-o-v-e Spells Love song (Learn 4 basic handwriting movement patterns)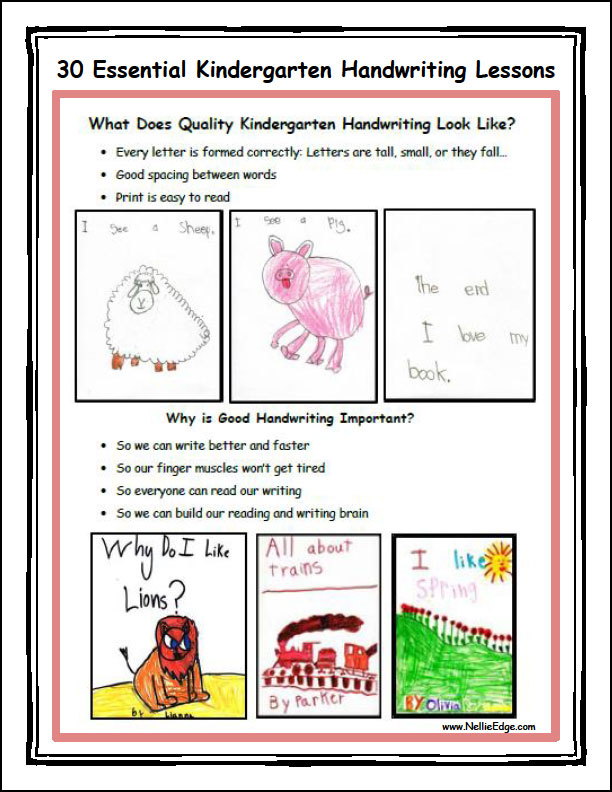 7. Draw a Twinkling Star! (lift-the-pen movement patterns)
8. Draw a Van Gogh-like Star! (continuous path of motion)
9. How to Draw a 5-point Star
10. Some Letters Are Tall/Small/Fall
11. I remember "d" and "b" (A Reading Recovery® lesson with streamers)
12. How to draw and write dog (white board, then paper)
13. How to draw and write cat (white board, then paper)
14. The Spelling Chant and T-h-e e-n-d: The-end! Chant
15. How to Write "y" and "you!" (learn two different language cues)
16. M-o-m Spells Mom and I love… sentences
17. Celebrate mastery of name writing: Use this Crown Pattern
18. What Does Quality Handwriting Look Like? (Anchor chart)
19. Capital Letters: Lift the Pen Movement Pattern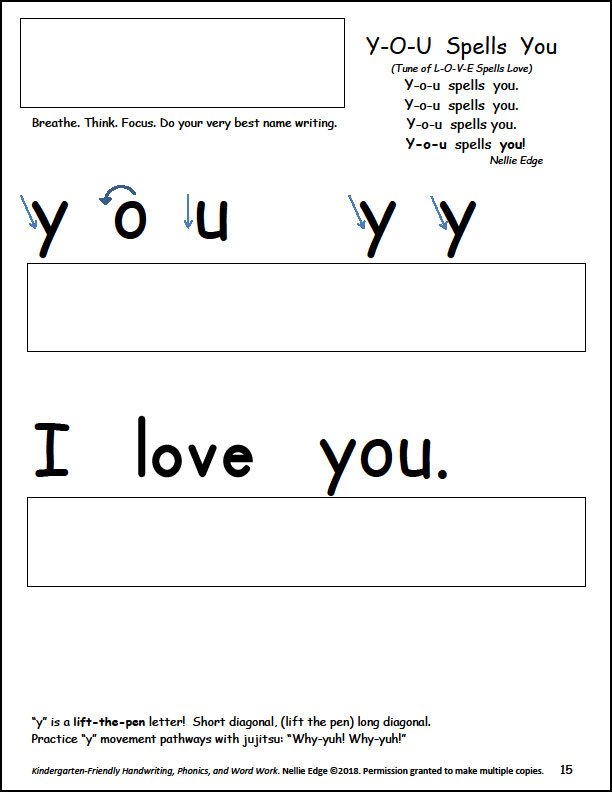 20. Capital Letters: Continuous Motion Handwriting Pattern
21. This is my house: h-o-u-s-e lesson, plus drawing page
22. There's a King of "ing": i-n-g
23. "Make a Book" Sentences: I see the … My Book, by (Also with Skinny Books)
24. I am a Master of Pink Heart Words: Sing, Sign, Spell, and Read! (Use CD every day for spelling lessons. Make copies of the CD for your families: permission granted!)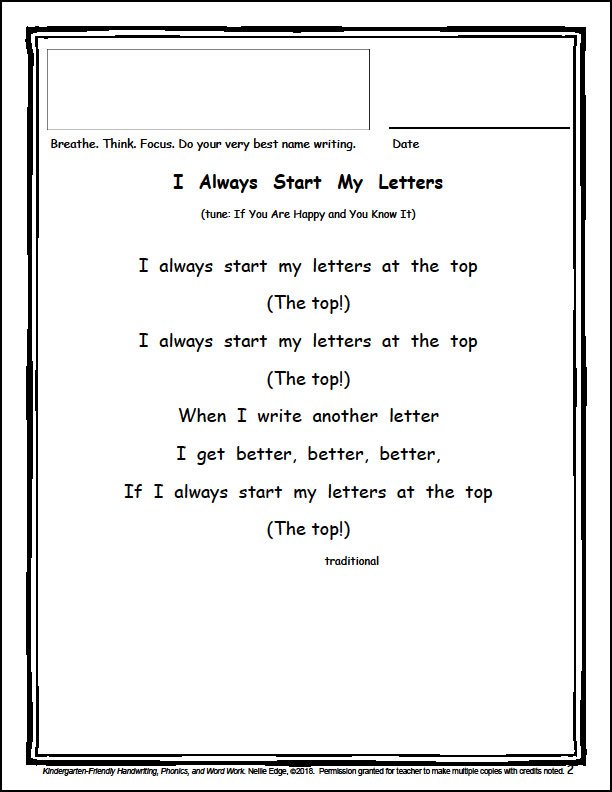 25. Fingerspell Everything: Expect Students to ALL become masters. Make an "I am a Fingerspelling Expert!" book. Celebrate mastery. (Book cover incl.)
26. Take the a, b, c, d Challenge: Fingerspell and write each letter fluently.
27. I Can Write CVC Words lessons with white boards/paper (especially words that begin with p, f, b, and r: less commonly used consonants).
28. I Can Write: r, n, m, and h
29. I Can Write All of the Capital Letters
30. Brain Exercises for Fluency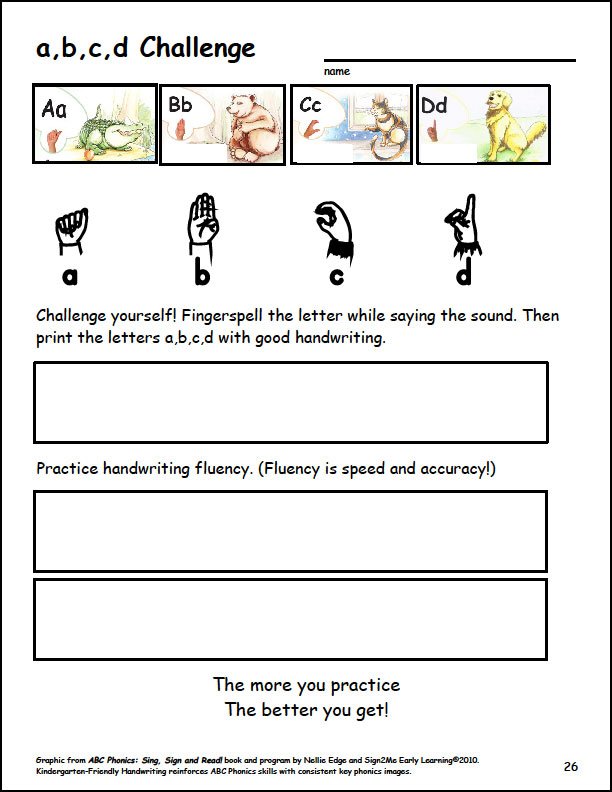 November is not too late to begin essential handwriting instruction.
If you have studied handwriting with Nellie Edge, you will know how to use these 30 engaging lessons. If you want to understand this authentic, integrated approach to handwriting, you may consider purchasing the Teacher's Guide, MasterClass Intensive, or Handwriting Bundle.
Kindergarten-Friendly Handwriting lessons are consistent with the principles of visual learning research and a writing-to-read approach to kindergarten literacy. See how this looks in REAL CLASSROOMS!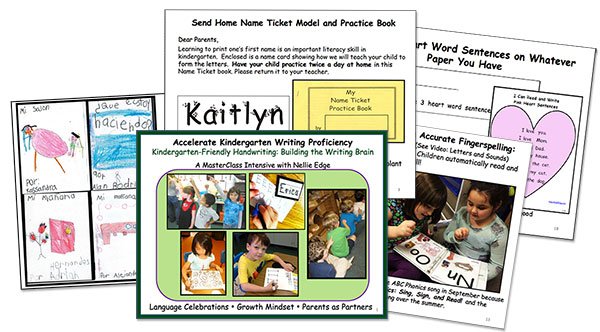 FREE Nellie Edge TPT resources for your handwriting instruction
Additional Nellie Edge TPT Resources to support your handwriting program
Take a MasterClass in Kindergarten Writing Strategies 
3 Nellie Edge Online Seminars NOW $99
Nellie Edge teaches you essential skills designed from 30 years of experience in step-by-step videos:
Seminar #1: Multisensory ABC and Phonics Immersion
Seminar #2: Kindergarten-Friendly Handwriting Matters!
Seminar #3: Authentic Sight Word Work
WITH EACH SEMINAR YOU'll RECEIVE:
Unlimited Access to Online Video Tutorials
Companion Teacher's Guide
Coordinating Classroom Resources - ready to use!
To receive all 3 for $99, use code at checkout: winter99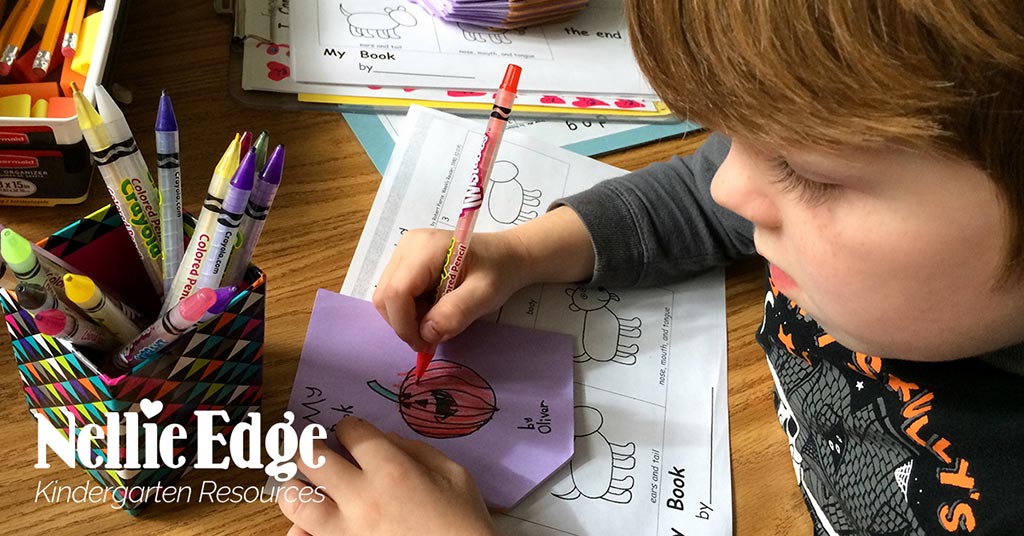 Receive Our Weekly Focus Kindergarten Blog
High-Impact Strategies to Inspire Your Practice. Free Downloads!