Preventing reading failure and building the reading and writing brain…

1. Raise your learning expectations, fingerspell, and make learning visible.
Use multisensory teaching and the arts to accelerate literacy joyfully: Sing, sign, fingerspell, dance, draw, and delight in language learning! Share the 20 Days to 26 Letters and Sounds Challenge. Children, parents, special needs support, IAs and volunteers all need to support the same learning target.
See Weekly Focus article: 20 Days to 26 Letters and Sounds
Teach children to sing, sign, fingerspell, and read 4 new letters and sounds every 2 or 3 days.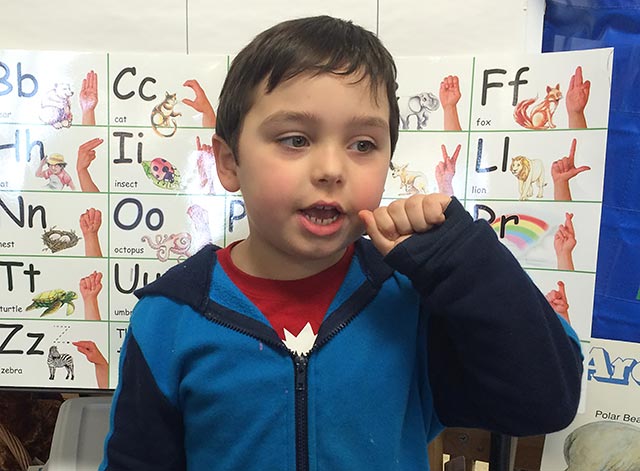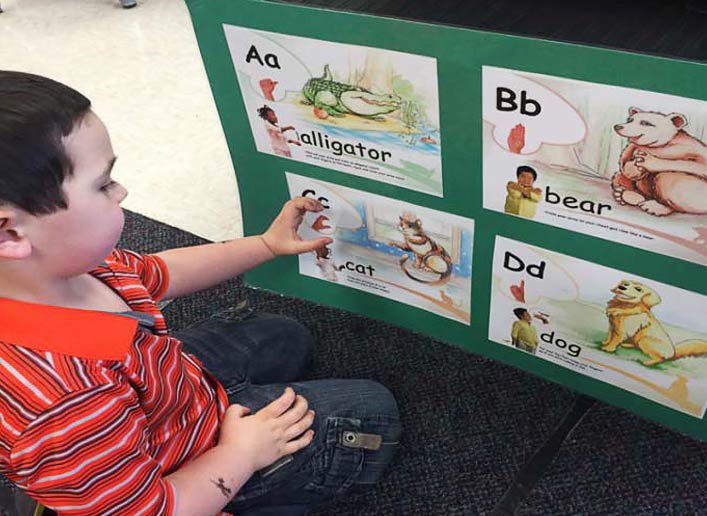 Move at a lively pace with 5 minutes of instruction and several 20-30 second fingerspelling reviews throughout the day. Use quick demonstrations of accurate fingerspelling and hold children accountable to accurately fingerspell each new letter before they transition to recess and lunch! Encourage students to study the book and language chart.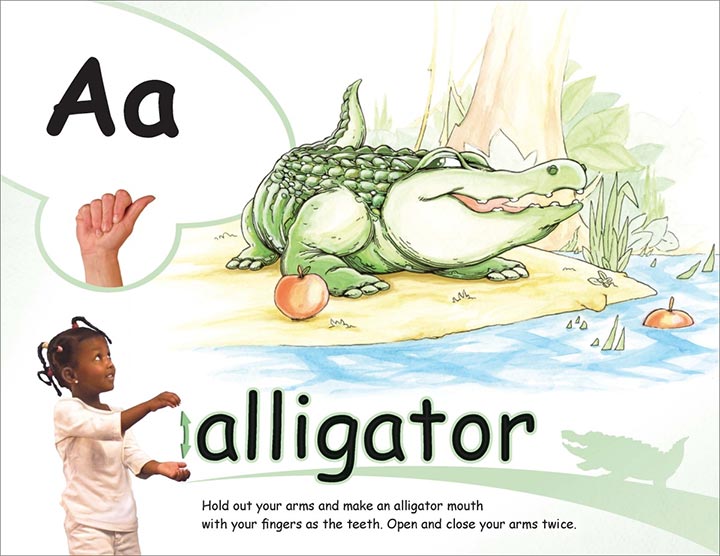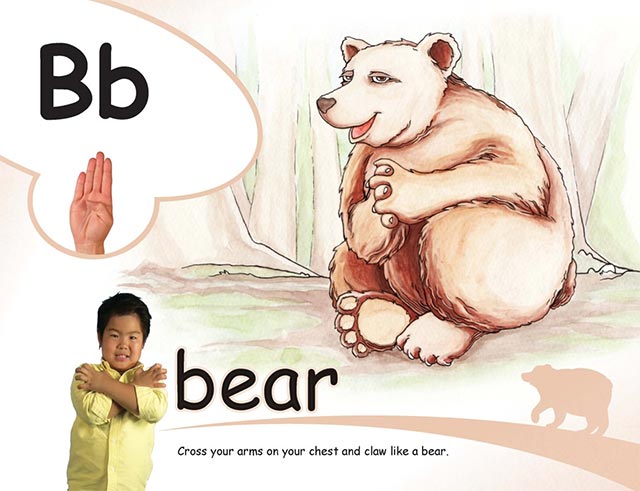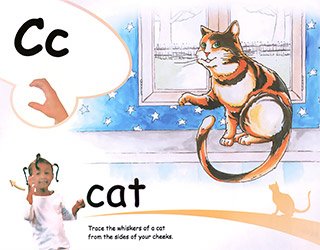 Use the ASL instruction DVD and the book ABC Phonics: Sing, Sign and Read! as the model of what mastery looks like. Expect children to be accurate in fingerspelling, signing, and clipping the consonant sounds (i.e. "d" not "duh."
2. Engage "Parents as Partners" to dramatically accelerate learning.
Share the free family ABC Phonics Chart and online ASL videos with parents at Spring Registration. Encourage summer learning: This makes a dramatic difference! (Collaborate with your local Head Start and preschool programs. Four-year olds using this program enter kindergarten with confidence and a huge "head start!")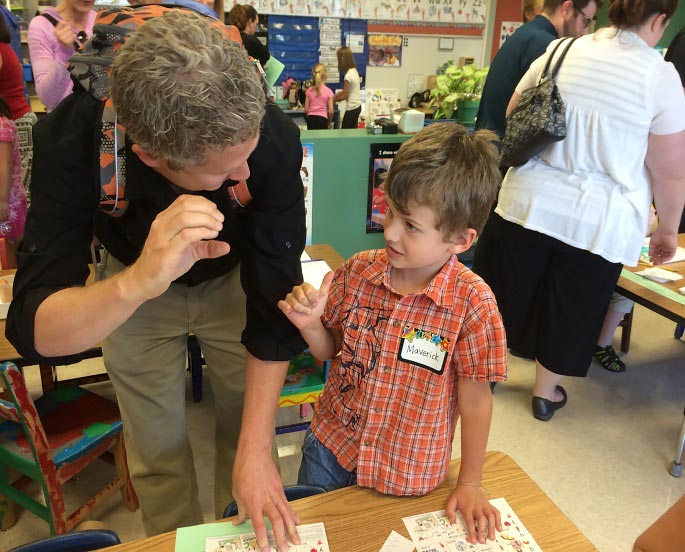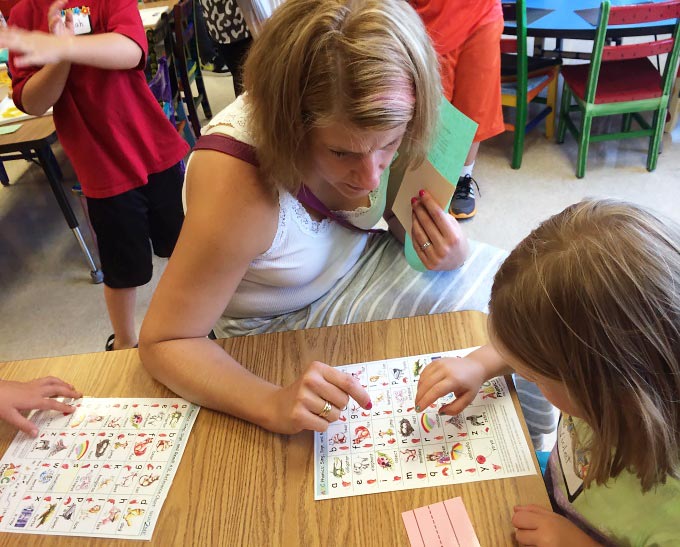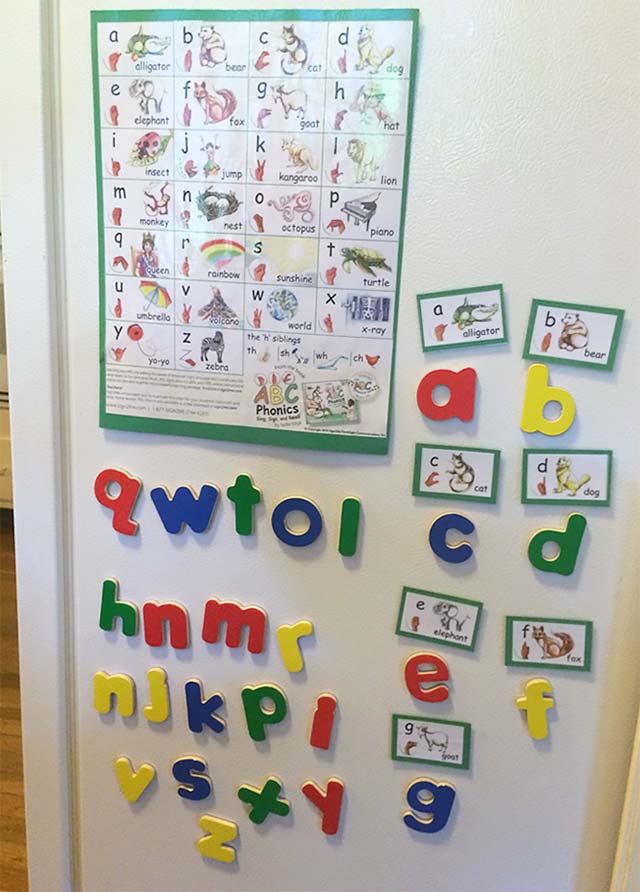 Give families an ABC Phonics Chart! Make it special: Mount it on green, laminate and add magnets. It becomes family refrigerator art.
3. Use the "Name Ticket" strategy every day to reinforce letter knowledge.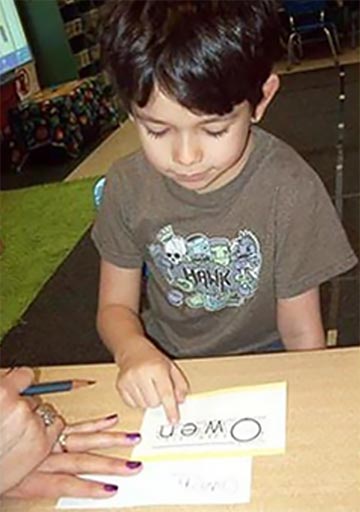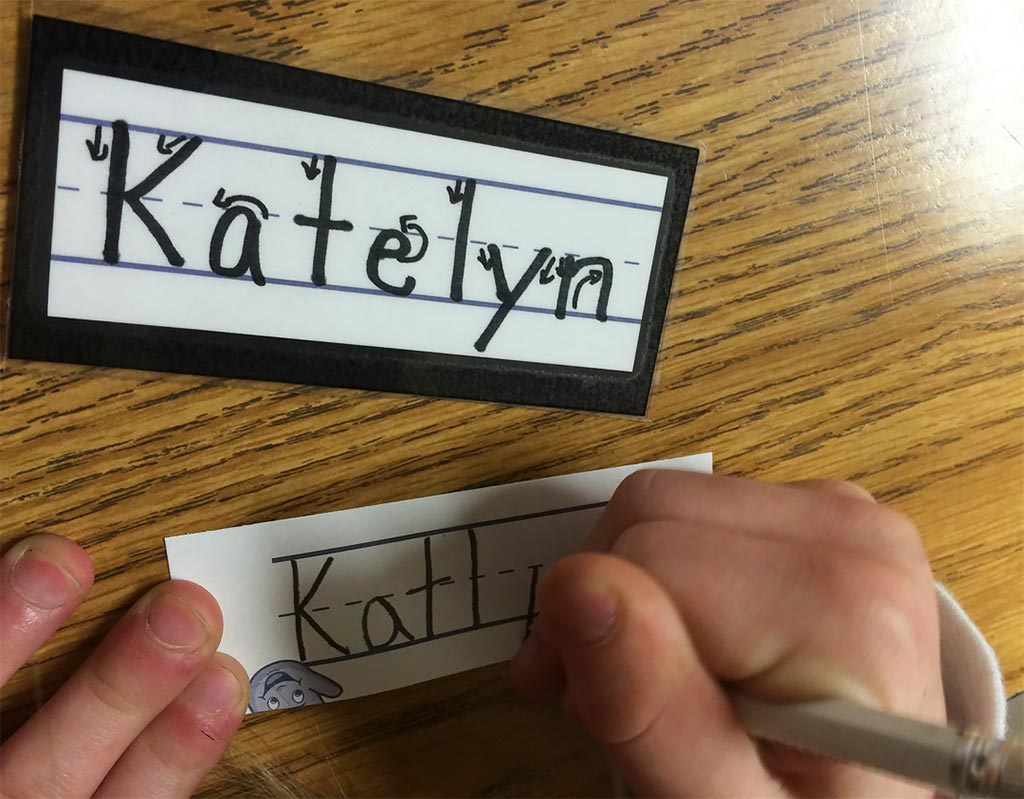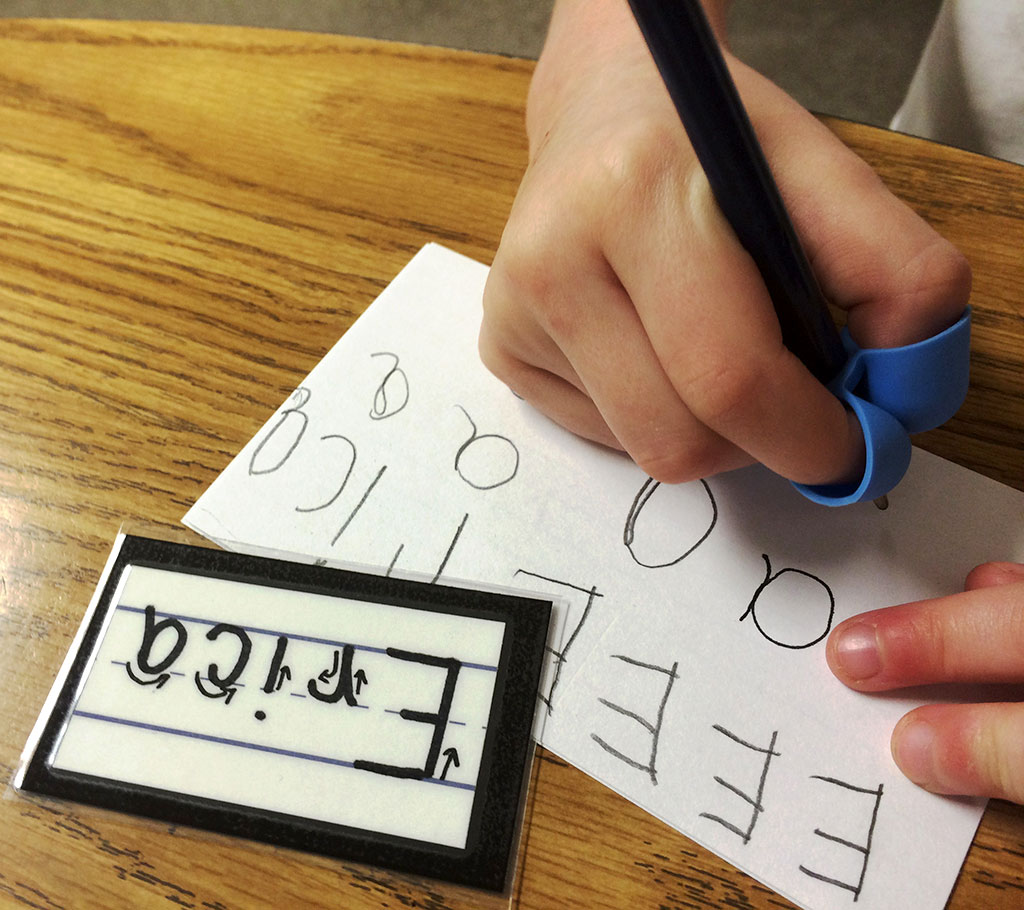 Ask each child to say the letters in his or her name while fingerspelling them. Expect daily improvement as the child practices fingerspelling and writing the letters every day at home and at school.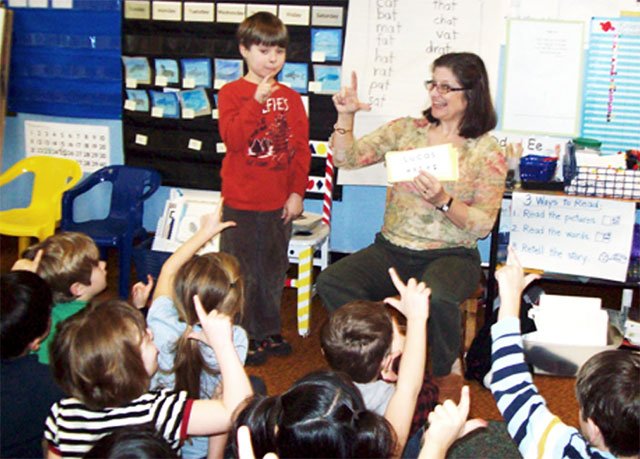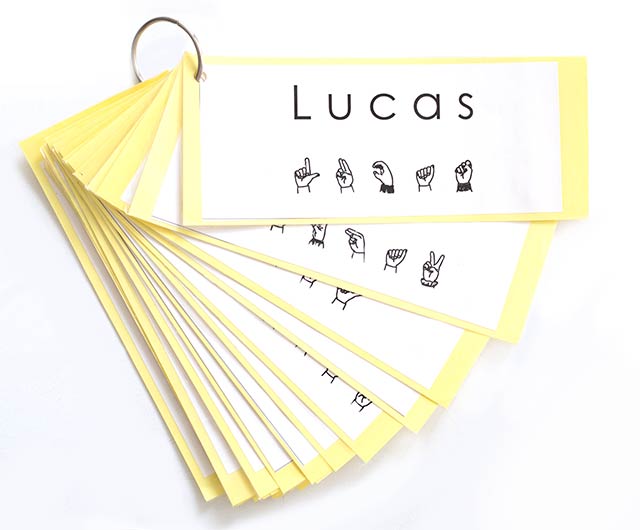 Use the "Helper of the Day" strategy to engage the class in learning the letters of each student's name. Lucas leads the class in his name chant: Give me an "L"… (Strategies are demonstrated on Nellie Edge Online Seminar #1)
4. Provide one consistent set of ABC Phonics visual symbols throughout the room.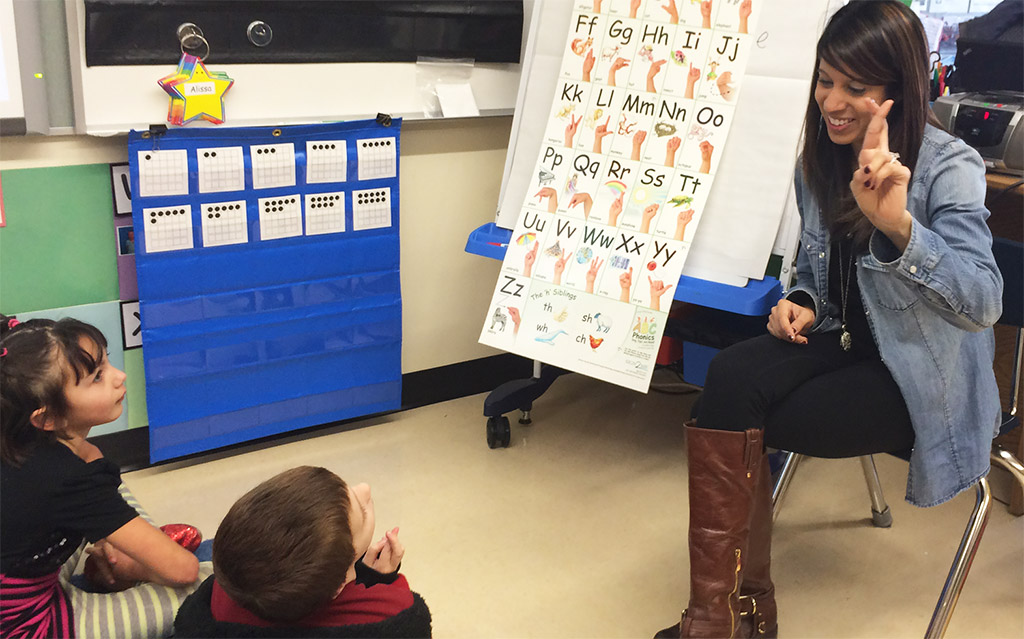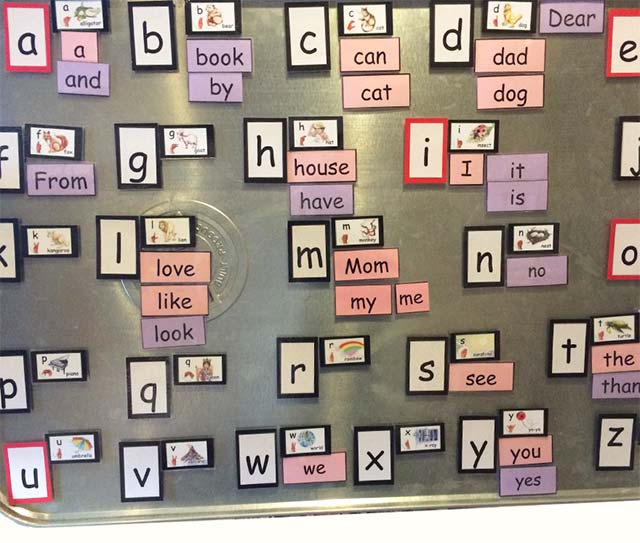 Teach children to access the environmental print. Connect ABC Word Wall Cards with the first letters of children's names and high-frequency "heart words."
5. Assess fingerspelling and letter naming progress regularly and provide student feedback.

Challenge children to be fingerspelling experts of their name.

Provide additional small group and individual support for younger, less experienced learners using the same familiar ABC Phonics program. Children who have a harder time remembering letters and sounds deserve extra support early in the year.

Let each child perform the ABC Phonics song for the class to demonstrate mastery as soon as they are ready. Children will inspire each other to practice.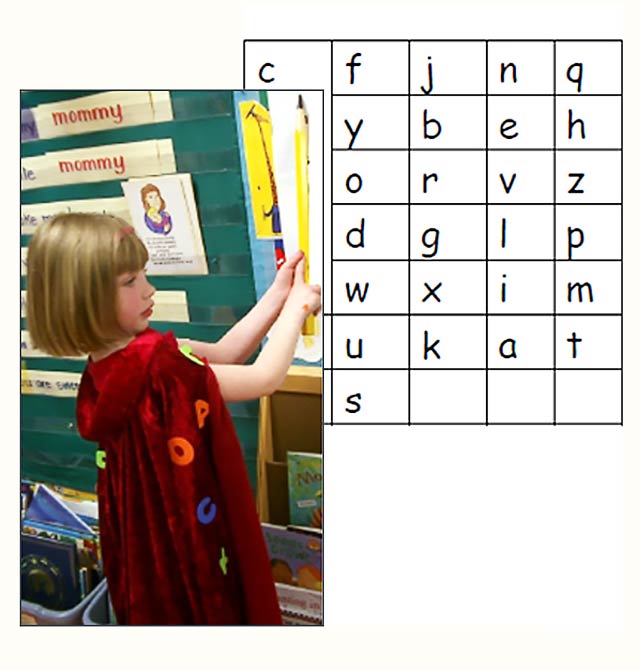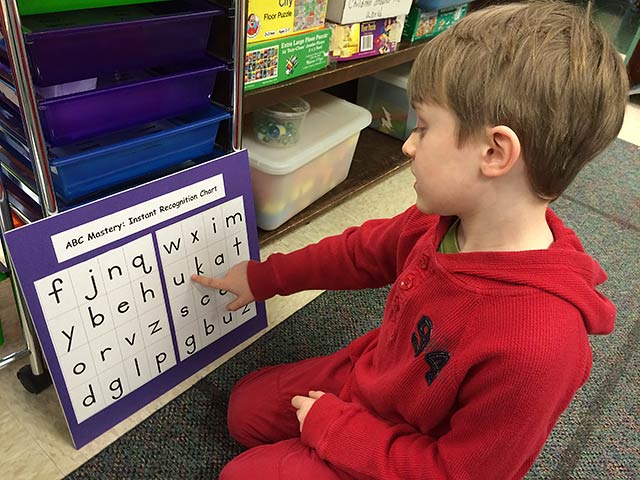 Quickly move from reliance on the key phonics images to instant letter recognition and sound mastery.
6. Celebrate individual student achievement with a class book!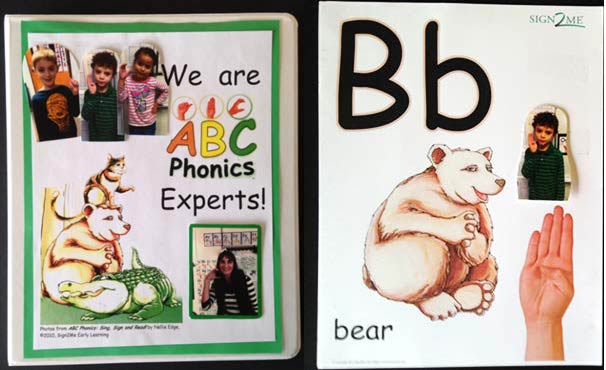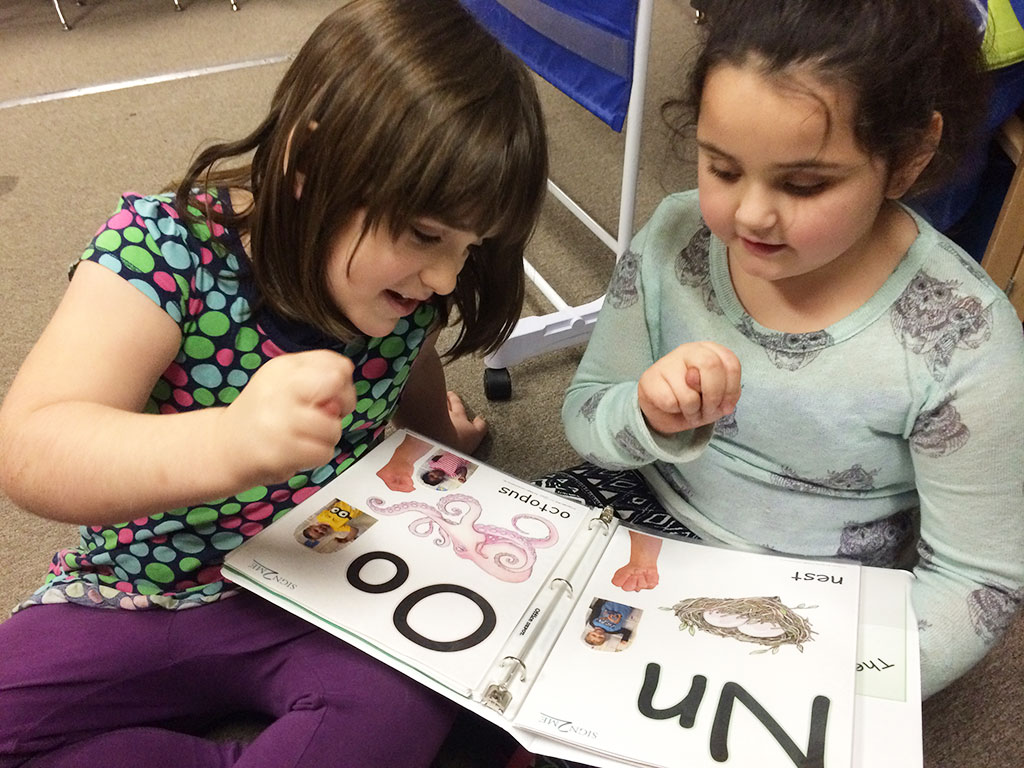 We are ABC Phonics Experts! Take photos of each child signing the initial of their name, reading the class book, or wearing a crown or badge!
7. Reinforce letter/sound knowledge through a Comprehensive Kindergarten Writing Program.
Give students writing models. Label drawings, write lists, create books, and do daily "quick writes" of high-frequency "heart word" sentences starting with "I love you …" Expect accurate handwriting of pink "heart words" and sentences which, when mastered, insure good handwriting! (See Weekly Focus: Kindergartners Write "I love you.")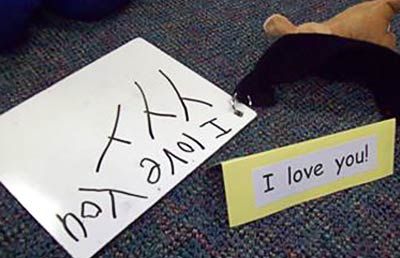 8. Create a "Growth Mindset" with carefully chosen words.
Provide specific positive feedback that acknowledges the student for hard work towards mastering ABC Phonics and fingerspelling. You worked hard to learn every letter and sound! Now you're an expert. I bet you're feeling proud of your new skills…Wow! You taught your brain how to fingerspell every letter a-z!
9. Provide ABC Phonics, fingerspelling and handwriting manipulatives for individual and small group work.
ABC Playdough Mats are a great teaching tool! FREE from Nellie Edge TpT Store.
Word Model from Sing, Sign, Spell, and Read! Program
10. Coordinate a Response-to-Intervention (RTI) strategy with your reading specialist, special education teachers, volunteers and parents.
Provide a coordinated Response-to-Intervention approach for students who are developmentally younger, less experienced, or have special needs.

Identify harder-to-accelerate students early in the year.

Have high expectations and provide more multisensory "best 

practice" strategies.
All children deserve proven pathways to accelerated literacy: A brain-friendly approach that is engaging and meaningful!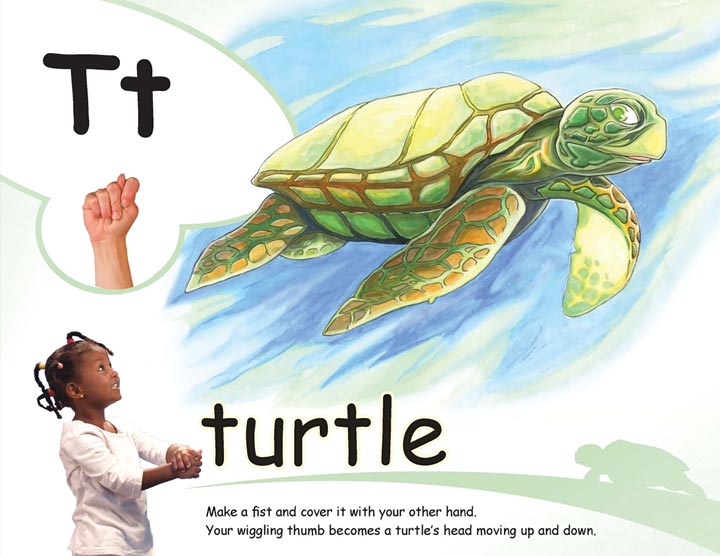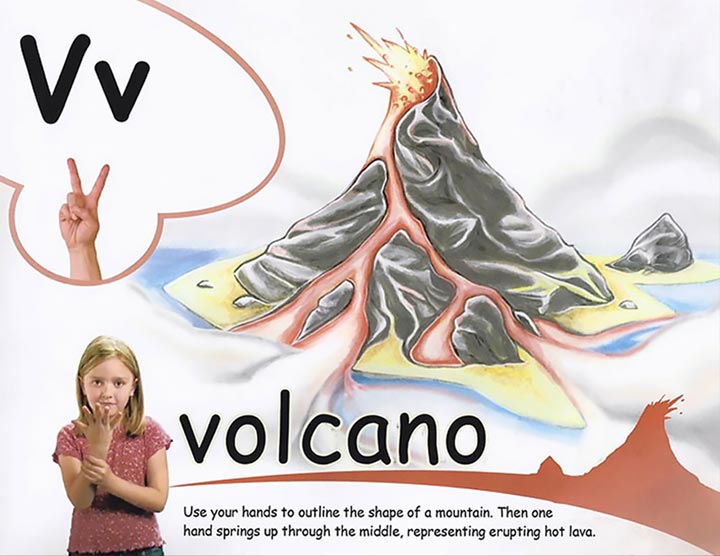 Find the following freei tems on Nellie Edge TpT Store
Nellie Edge Online Seminars
Grow Your Kindergarten Writers
Build Stamina for the Writing Workshop
• ABC Phonics
• Kindergarten Handwriting
• Authentic Sight Word Work
Nellie Edge teaches you essential skills designed from 30 years of experience in step-by-step videos:
Seminar #1: Multisensory ABC and Phonics Immersion
Seminar #2: Kindergarten-Friendly Handwriting Matters!
Seminar #3: Authentic Sight Word Work
WITH EACH SEMINAR YOU'll RECEIVE:
Unlimited Access to Online Video Tutorials
Companion Teacher's Guide
Coordinating Classroom Resources - ready to use!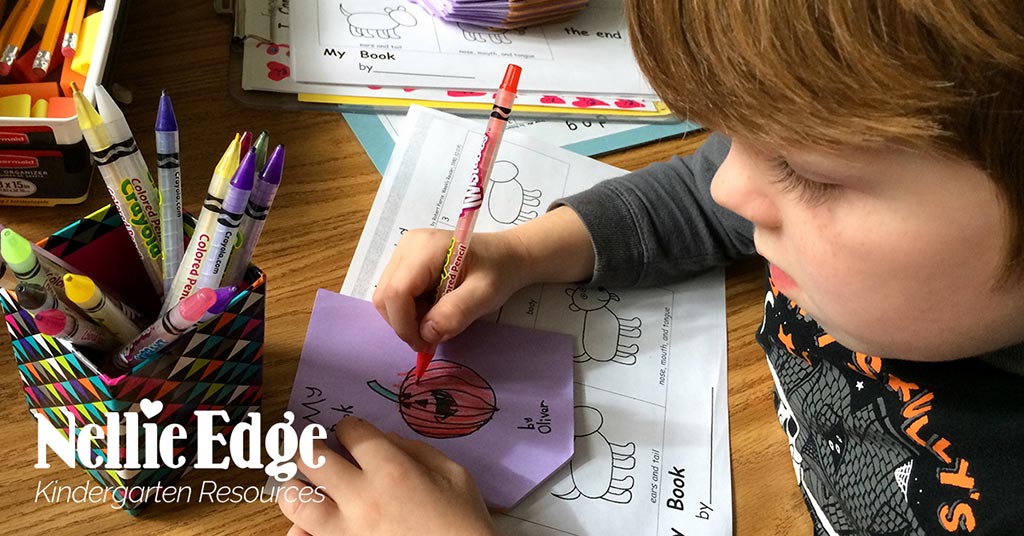 Get our weekly blog for more high-impact strategies and free resources!