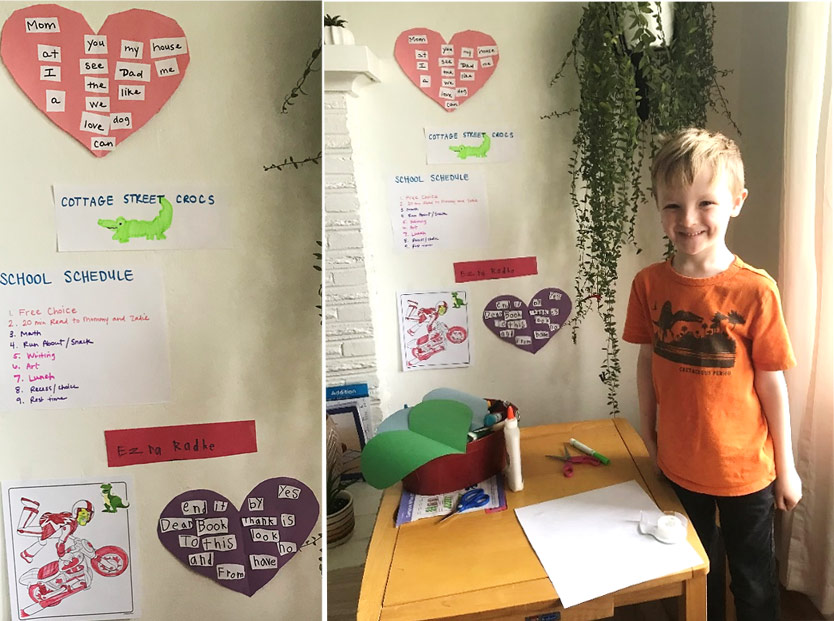 Ezra wants his at-home learning area to look just like his kindergarten writing center at school, so he made "heart word" posters for the wall. I love how the teacher's and parent's influence empowered this student to create his own learning environment and writing rituals.
Thank you, kindergarten teachers, for sharing your delightful stories and photos with me! Thanks, too, for your requests for permission to perform some of my poems and Big Books for your students. You want to make videos and audio recordings so your students can continue to sing, read and illustrate poetry for powerful distance learning! Now distance learning strategies become a natural extension of your Parents as Partners program. Your excitement, photos and stories make me SMILE!
7 Best Tips to Grow Young Writers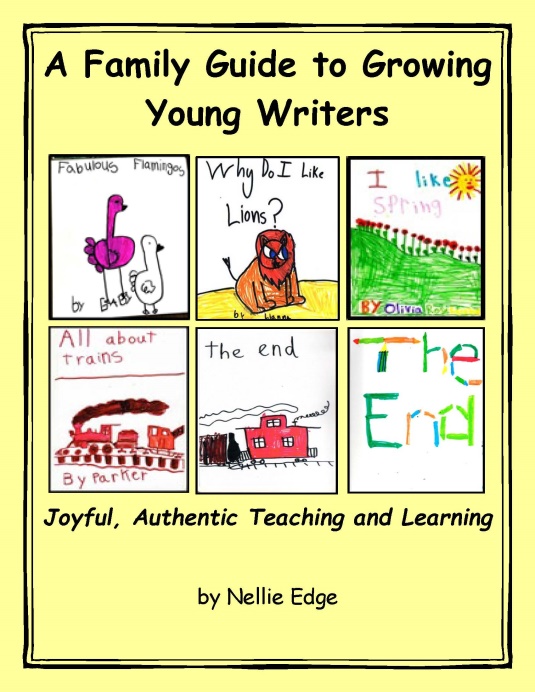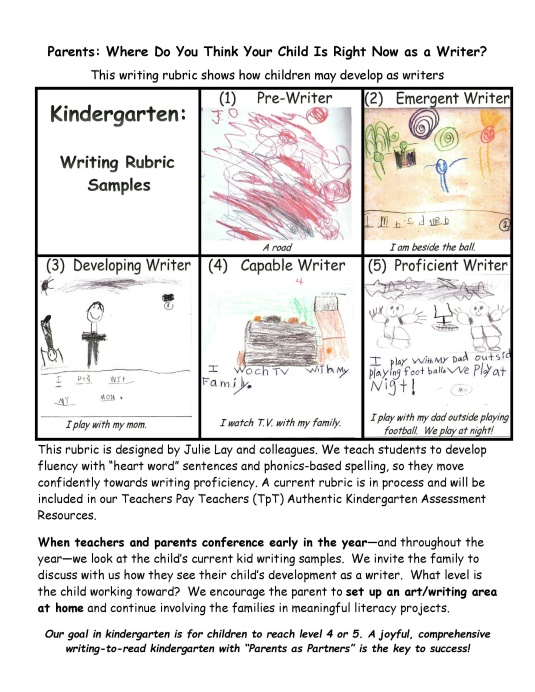 1. Share kindergarten writing samples and rubrics with parents: Where do you think your child is as a writer right now? Help parents notice and appreciate how their child will grow as a writer in kindergarten.

2. Ask Parents to be Partners in encouraging efficient pencil grip and providing name writing practice. Give families the handwriting supports they need. Children take pride in writing their first and last name with good handwriting by the second half of the year.

3. Teach "heart words" and the power sentence "I love you." early in the year. Suggest engaging ways for children to continue writing this pink "heart word" sentence until it is automatic. "I love you." is the first circle of writing mastery for young writers: some will master it in September, others may need several months of daily "heart word" sentence practice.
Our support: Optimal Learning Model with white-erase boards, "Write and Read" skinny books, and daily copying of heart word sentences until the child no longer needs a model!

4. Encourage families to set up a simple writing and drawing tote at home. Share favorite writing/drawing tools, activities and resources with parents.

5. Give families directions for how to make 3 kinds of blank books. Then send home drawing models. Students write, draw, and make books at home and at school.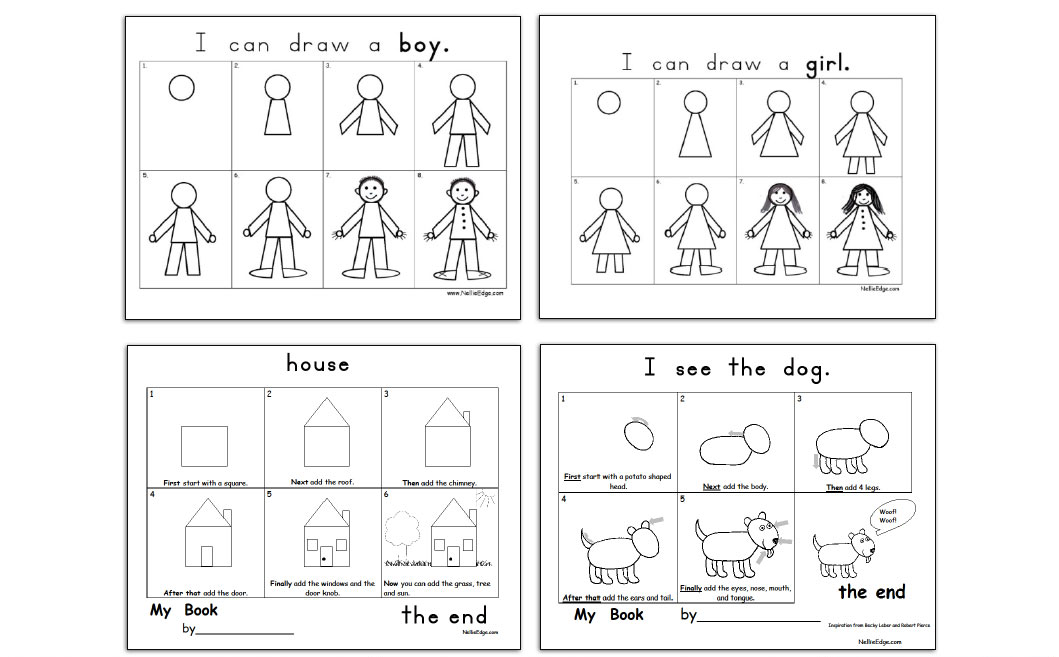 6. Provide families with writing templates and simple drawing guides for writing at home: writing messages, news stories, and science observations.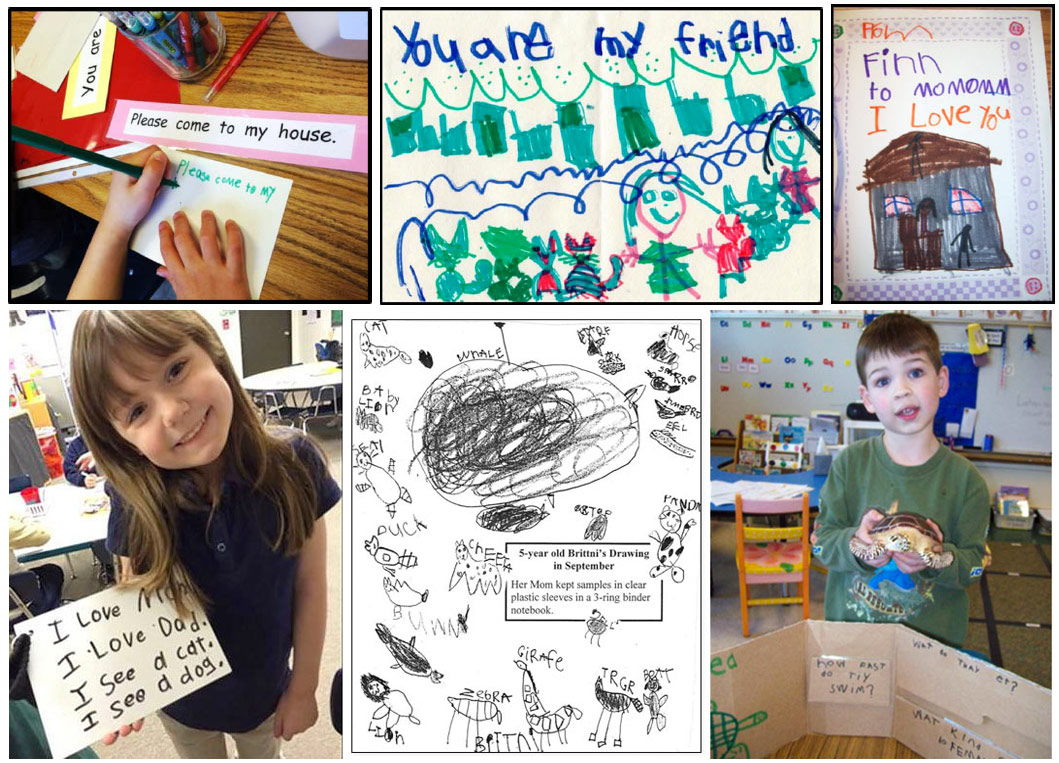 7. Support families in joyful, authentic ways to weave writing and drawing naturally into literacy play at home: Share how to talk to young writers and build a love of learning! Families love seeing their child become a writer—at home and at school.
Want to Learn More?
Peruse the Handwriting, Sight Words, and Writing tabs at NellieEdge.com
Check out A Family Guide to Growing Young Writers on TpT!
This 98-page guide is specially priced for home learning. Consider asking your local printers to bind it for ease of use and planning. Make several copies of the entire document for your preK-1 families to read. Send home parent information pages and drawing and writing guides throughout the year!
Family literacy is dear to my heart. What started out as a small set of resources for "A Family Guide to Growing Young Writers" ended up being 96 pages of some of the best TPT work we have done yet for teachers and families! Several months in the making!
Support Parents and Families in Kindergarten Writing Success All Year Long!
As teachers of the young, we have a "covenant" with parents that says "we jointly" share responsibility for teaching your child."
– Ernest Boyer
Now is a good time to study Nellie Edge Distance Learning: Make best foundational writing practices routine in your classroom.
Take a MasterClass in Kindergarten Writing Foundations
Distance Learning Special: All 3 Online Seminars $79
EACH SEMINAR INCLUDES
Step-by-Step Video Tutorials • Resources Included
University Credits Available!
All 3 for $79. Use checkout code: special79

---
Choose any one for $39. code: summer39
Receive Our Weekly Focus Kindergarten Blog
High-Impact Strategies to Inspire Your Practice. Free Downloads!