That Build Community and Enhance Literacy
Community in itself is more important to learning than any method or technique.
–Ralph Peterson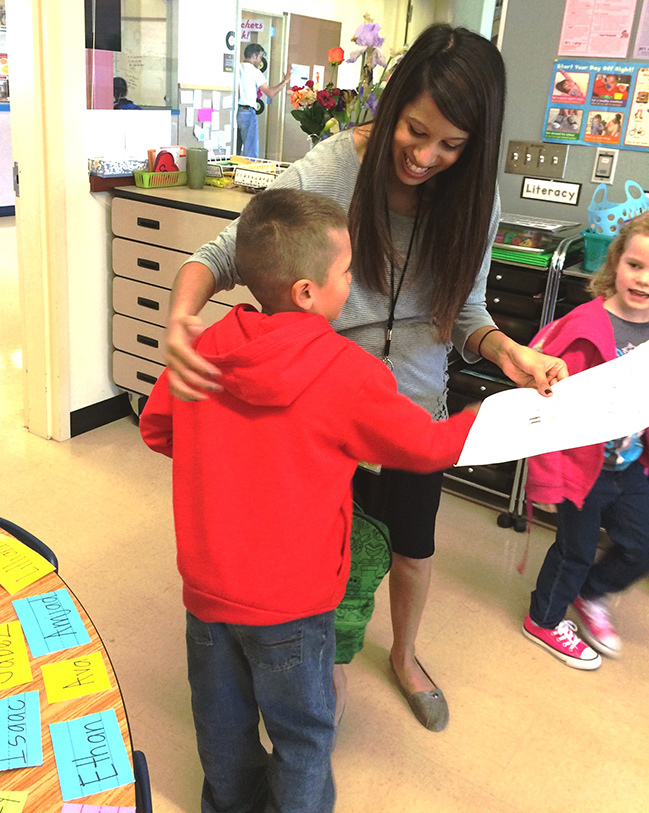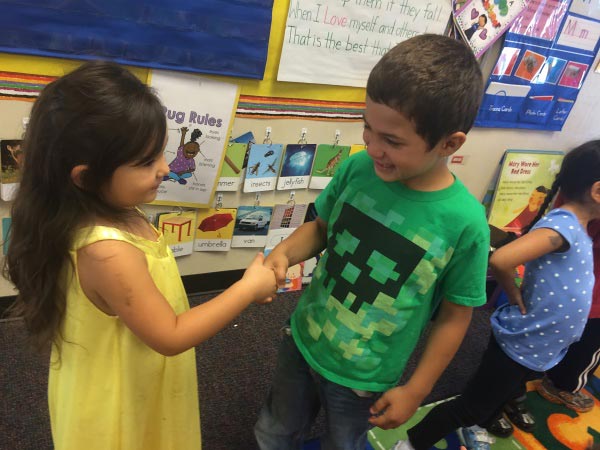 Establish a morning ritual of greeting children at the door with a smile and a handshake or hug. Children love to hear their names as the teacher models a warm welcome. Teach children to shake hands in a morning greeting with their new kindergarten friends.
There is nothing sweeter to a child than the sound of his or her own name.

2. Morning Jobs and Settling-In-Time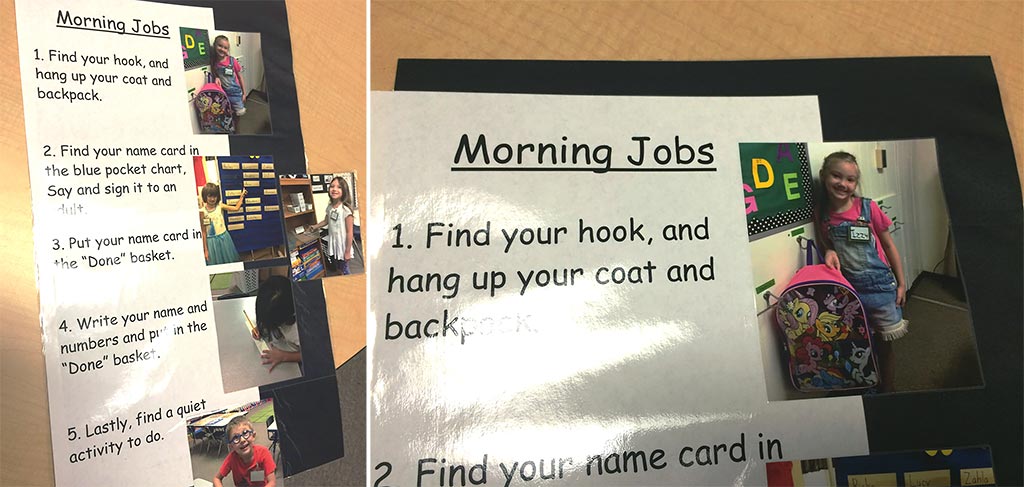 Post photos of children performing morning jobs.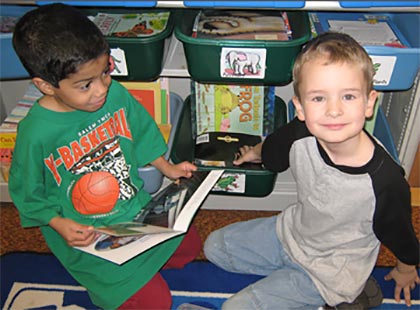 We are book lovers! After we finish our morning jobs, we get to choose a book!
Develop consistent morning jobs and routines for children to do during settling-in-time. Anchor charts with photos help children remember what their responsibilities are.
3. Create a joyful sense of belonging.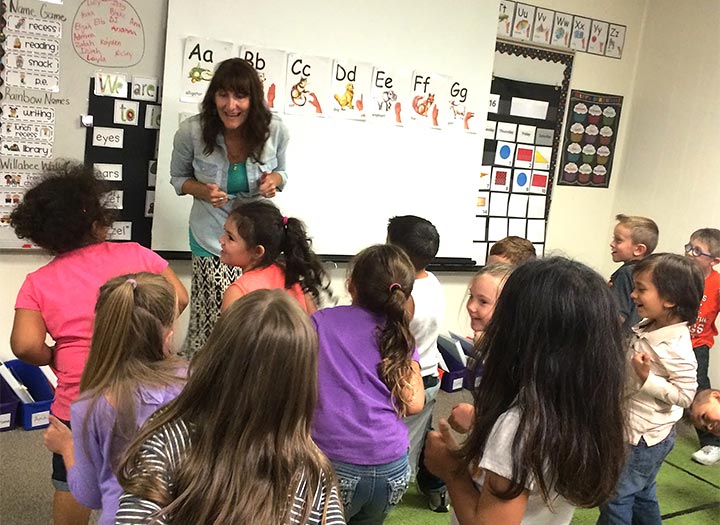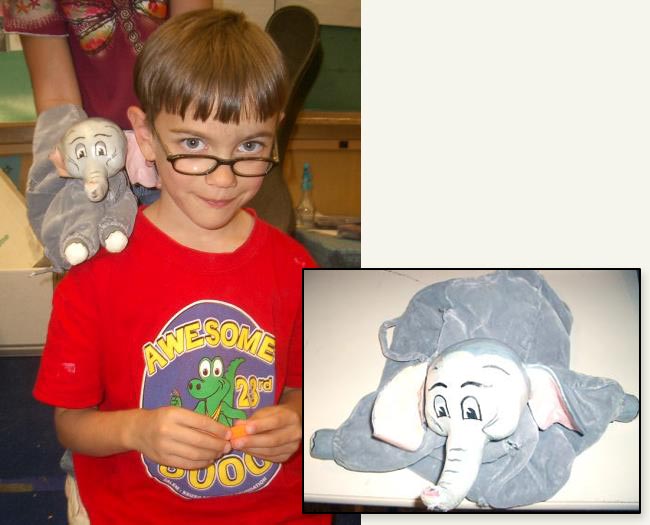 Willabee Wallabee Wavid
An elephant sat on David
Come together in the morning to sing and dance and play name-game activities that acknowledge each individual child! Create a joyful sense of belonging.
4. Sing Spanish and English Greeting Songs:
Hola Mis Amigos
Sing greeting songs in Spanish, English, and American Sign Language (ASL). Learn "Hola Mis Amigos/Hello My Friends." This short greeting song introduces familiar cultural phrases in Spanish and English; ASL provides the bridge of comprehension between languages. Make the words of these well-loved class songs a part of the child's Poetry "I Can Read" Anthology Notebook.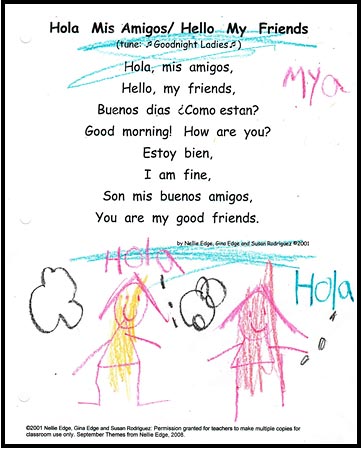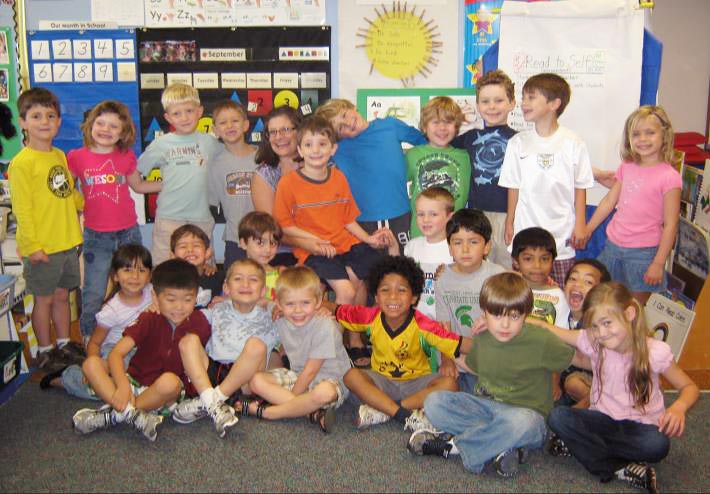 Early in the year, have a class photo taken and decide on a class name: "The Kinder Stars," "The Busy Bees," "The Signing Kindergarten"…Let this be your welcoming sign for the children and families to see.
6. Establish Your Storytelling Traditions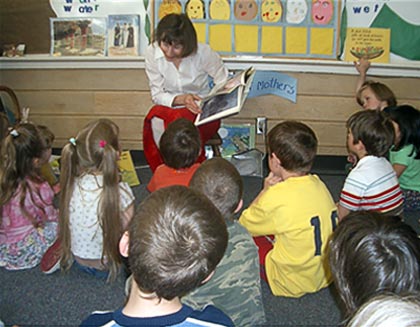 Only read books that you love – the best literature with the most beautiful art… Look for ways for the children to be interactive with the happenings of the story. –Joanie Cutler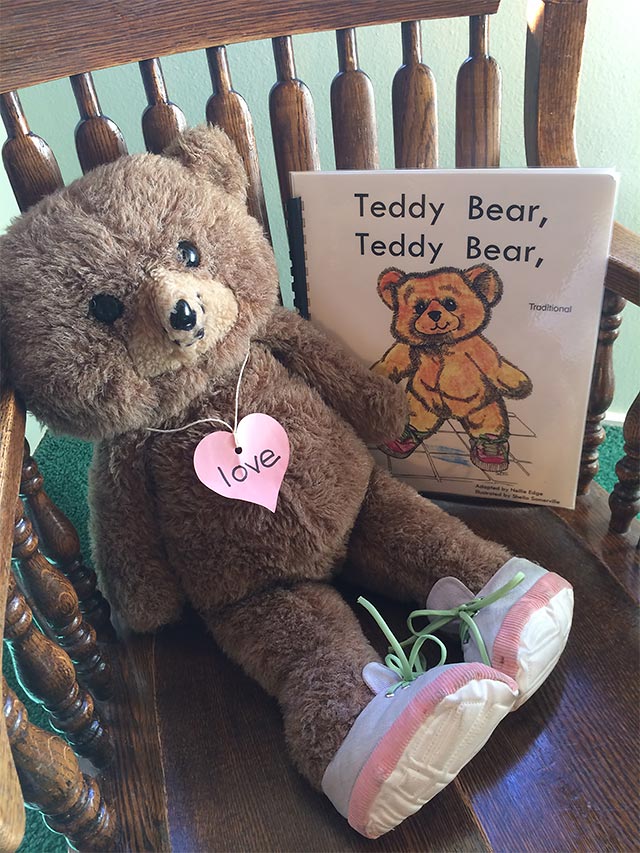 Establish your storytelling traditions – a special place for teacher to sit, a storytelling teddy bear, classical music for a restful slowing down in preparation for the story.
7. Bring Your Life Into the Classroom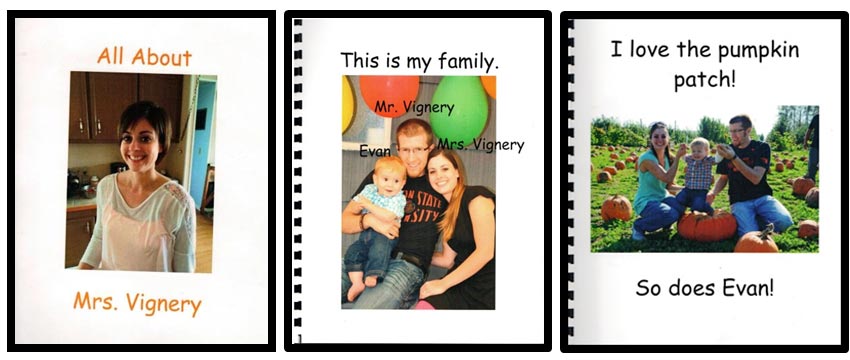 Bring your life into the classroom with a photo book All About Teacher. Children are fascinated to learn that their teacher has a life beyond kindergarten.
8. Bring the Lives of Your Children into the Classroom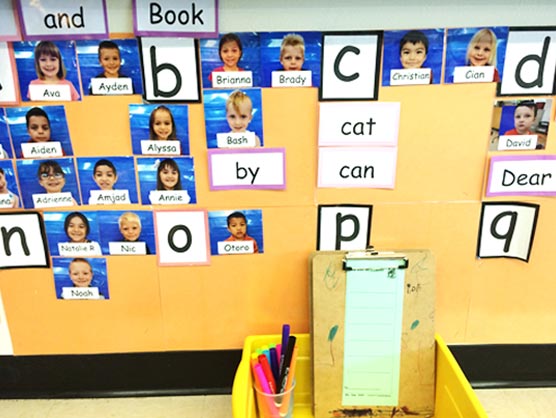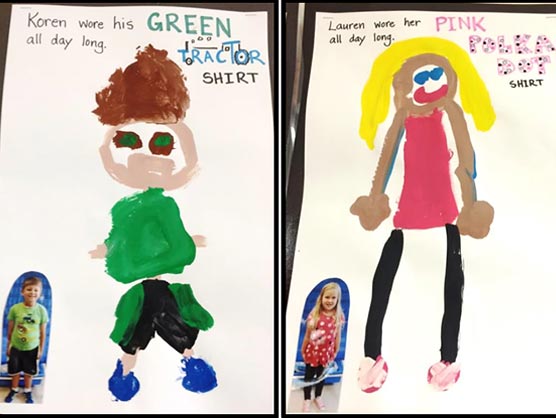 Adorn the walls of the classroom with the lives of your children – with pictures they have drawn and photos of the children engaged in authentic learning.
9. Introduce Literacy Traditions: Chant "Reading is Fun!"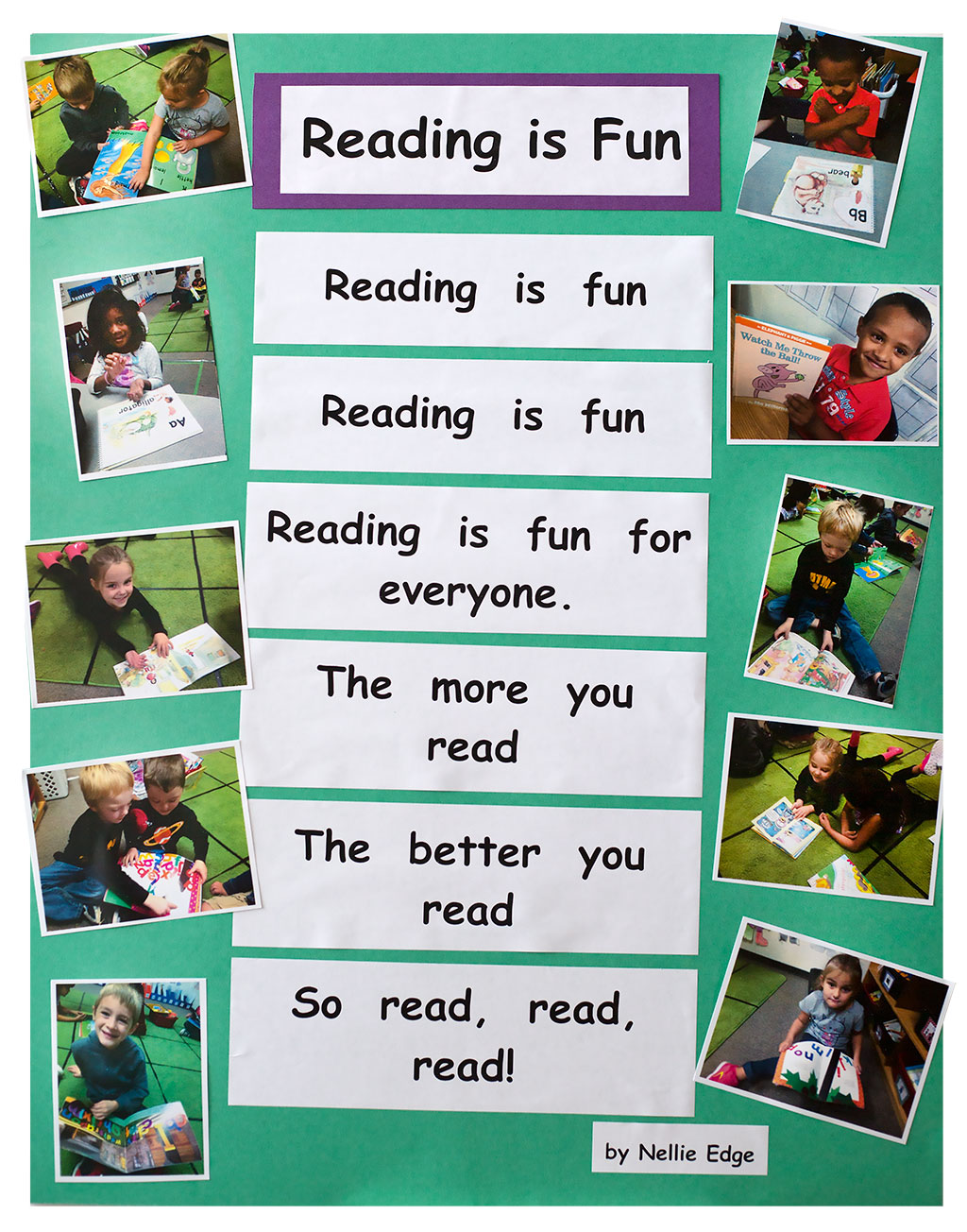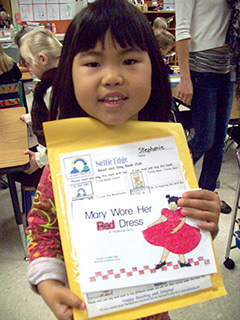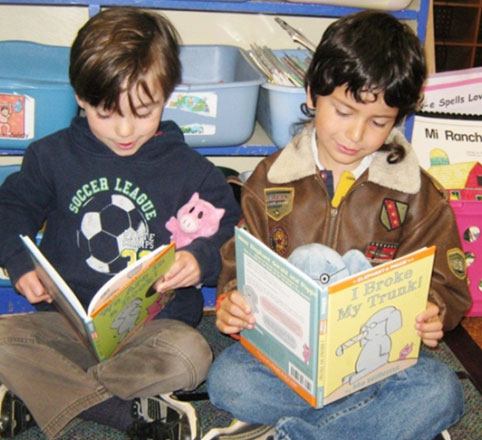 Introduce literacy traditions with high expectations for excellence: 
"I am a Book Lover!" club and Reading is Fun chant, Family Read & Sing Traditions, and The Elephant and Piggie Book Club.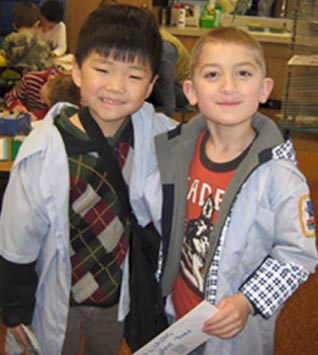 Children write messages to friends. Mail carriers deliver them.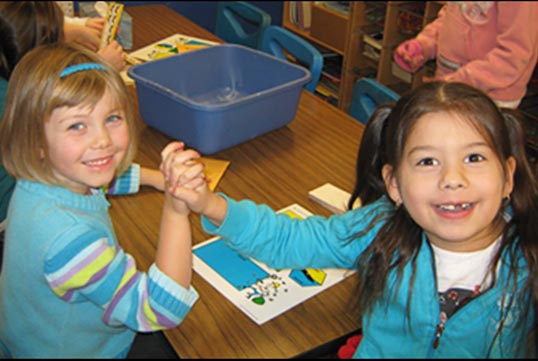 A "kindergarten kindness" ritual: always shake hands and say "Good job!" after playing a game!
10. Let "Kindergarten Kindness" be a year-long theme.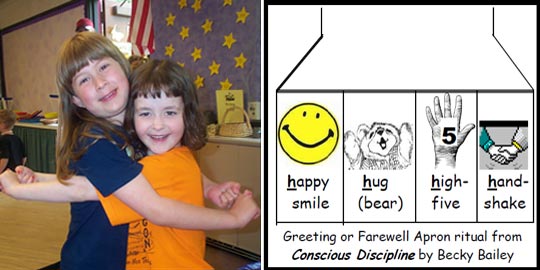 Stand at the door and let the children choose an "h"—a handshake, hug, or high-five! This special end-of-day ritual says, "Teacher cares about me."
Create consistent end-of-the-day rituals that bring closure and send the children out the door with smiles. Sing or say the names of the children one more time. Adapt the Nellie Edge Read and Sing Book™ Goodnight Irene, and watch their faces light up as their names are woven into a song. (Marissa, goodbye; Ricardo, good-bye; good-bye, Allen; good-bye, Hamza. I'll see you in my dreams.)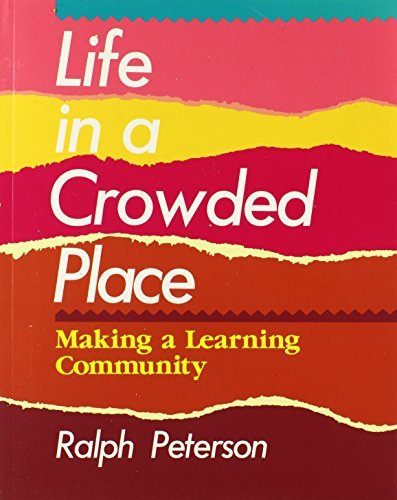 When teachers use a touch of ceremony to make the day complete, the working rhythms of the day are slowed; loose ends are tied. Students are brought together to end on a harmonious note…Regardless of how ceremony is incorporated, the intent is to establish a feeling of completeness before the students return to the everyday world beyond the classroom walls.
(Life in a Crowded Place by Ralph Peterson. 1992)
We are responsible for the memories of childhood and we're in charge of celebrations!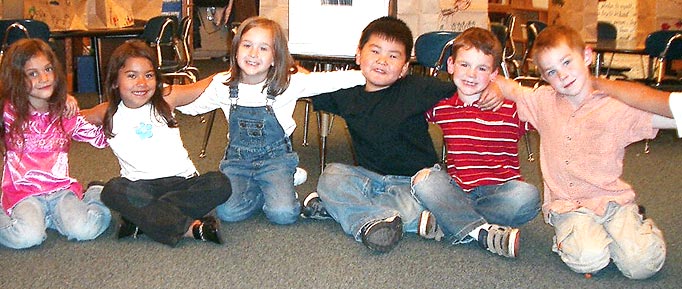 We'll laugh and sing, work and play, again tomorrow!
Receive Our Weekly Focus Kindergarten Blog
High-Impact Strategies to Inspire Your Practice. Free Downloads!