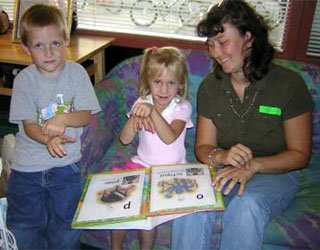 Every morning, a few parents come in and read to a small group of children in our quiet library area.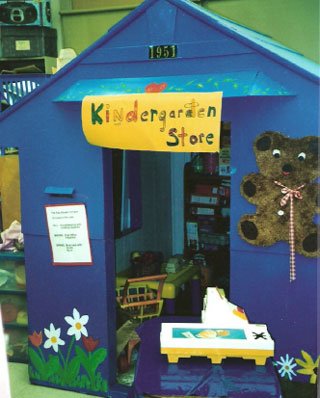 On my Kindergarten Wish List, I said we needed dress-up clothes. You should see the awesome old hats and jackets and dresses we received.
A kindergarten father built our playhouse. I just gave him the measurements. The kids love it.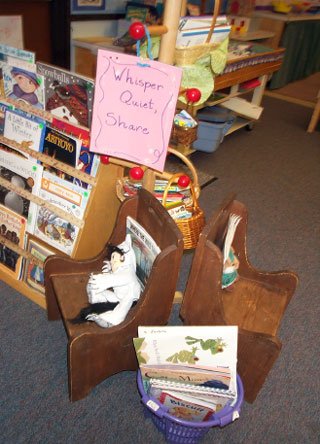 Our parents donate film so I can document the children's work and send home photo essays of special projects.
My kindergarten parents change the props in our drama/literacy play center each month. One month it was a post office, the next, a pizza restaurant.
After studying about the Reggio Emilia Schools, I sent a letter to parents asking them to help me work on the kindergarten environment over the summer. Several parents joined me with paint brushes and tools. They helped paint the kindergarten walls and the bathroom, built display shelves and brought in plants and art.
We couldn't do our field trips and nature walks without our wonderful parent volunteers.
I received lab jackets and old x-rays from one parent. We turned our dramatic play center into a hospital. Now the children are fascinated with their bones.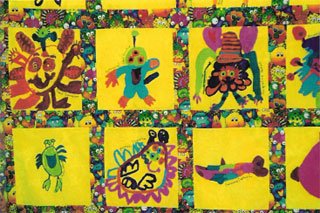 Every year a parent volunteers to sew Laura Flocker's class quilt together. It is kept in the classroom for three years then gifted back to the quilting parent.
One grandparent comes in weekly to listen to children read. The children all love her. She has become our class Grandma.
I always have one or two parents who keep my art center stocked with recycled supplies for collage and construction projects.
This year, one parent volunteered to put together all of my year-end memory books using scrapbooking techniques. They were awesome!
One parent collects all the money for Scholastic Books, and takes care of the monthly book order. It saves me so much time.
Our kindergarteners are such amazing writers. That would not be possible without parents who help with our "Kid Writing" Workshop.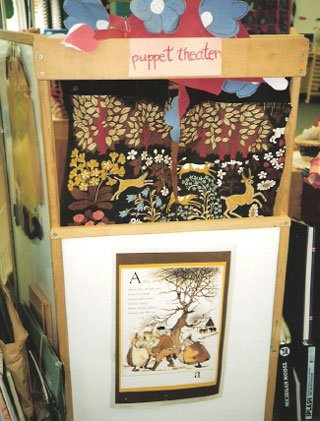 I told our kindergarten parents that I needed a puppet theater. A few weeks later, there it was.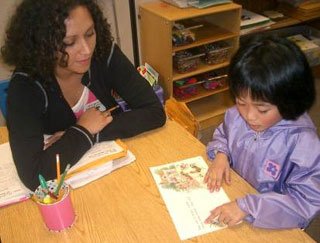 Two parent volunteers come in daily to do "guided reading." Every child gets one-on-one coaching in reading every day.
Parents Create Changing Literacy Props for The Dramatic Play Center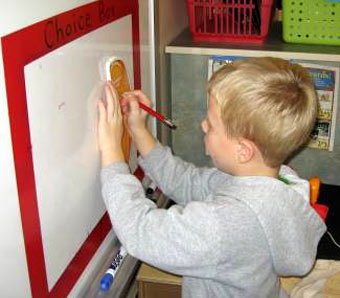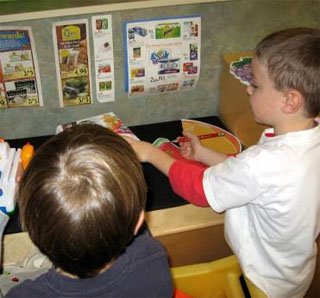 Jacque Verrall's kindergarten parents take turns changing the literacy play props monthly in the dramatic play center. Here children are creating grocery lists from grocery advertisements and food labels.
Jacque Verrall writes about her "Dramatic Play Center in November"...
"Mine was a grocery store, the parents who organize this, had every child bring a small can or boxed grocery item, with the caveat that at the end, someone would take all the grocery items to the food bank (I really liked this idea). The parents brought two cash registers, fake credit cards, checks (they loved writing the checks! And I was surprised how knowledgeable they were about checks!), paper bags (small), grocery carts, etc. They have had a great time with it all.
Next week it will change to a space station. The other kindergarten teacher and I encourage our parents to trade set-ups, thereby getting double use of them."
There is always a parent who loves to provide art experiences for the children. I do my planning with her and then let her set up and supervise the new art activities.
One parent helped us build birdhouses for the trees outside our classroom. We will be ready for our spring study of the uniqueness of birds.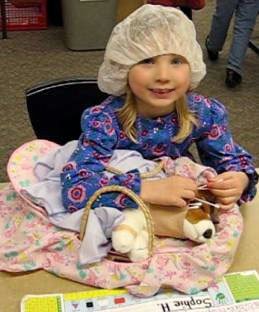 This girl is taking her little
dog to the Veterinarian Clinic.
---
Excerpt from Parents as Partners in Kindergarten and Early Literacy: Multiplying Our Teaching Effectiveness,
by Nellie Edge.
Celebrate Language Related Blog Articles
Nellie Edge Online Seminars
Grow Your Kindergarten Writers
Build Stamina for the Writing Workshop
• ABC Phonics
• Kindergarten Handwriting
• Authentic Sight Word Work
Nellie Edge teaches you essential skills designed from 30 years of experience in step-by-step videos:
Seminar #1: Multisensory ABC and Phonics Immersion
Seminar #2: Kindergarten-Friendly Handwriting Matters!
Seminar #3: Authentic Sight Word Work
WITH EACH SEMINAR YOU'll RECEIVE:
Unlimited Access to Online Video Tutorials
Companion Teacher's Guide
Coordinating Classroom Resources - ready to use!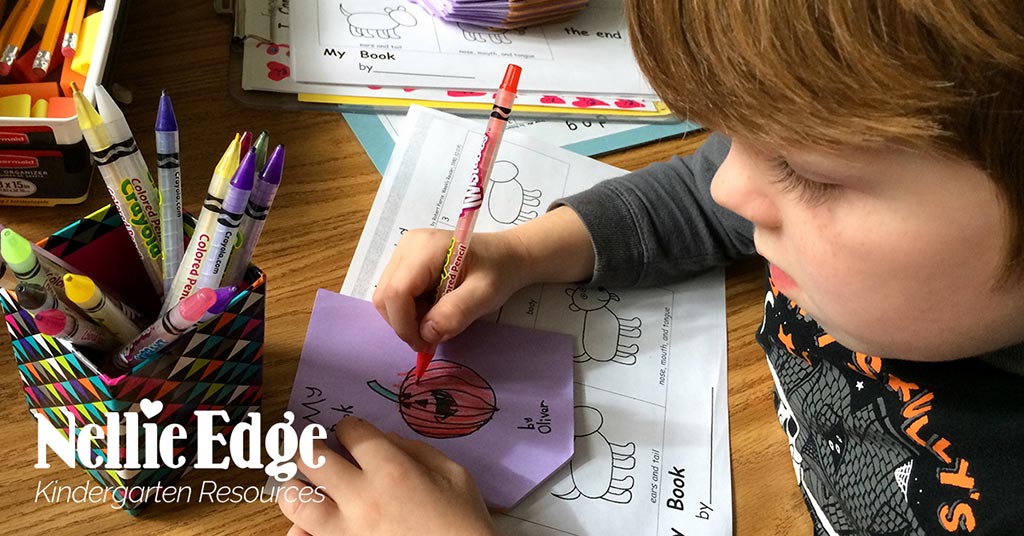 Receive Our Weekly Focus Kindergarten Blog
High-Impact Strategies to Inspire Your Practice. Free Downloads!