Build a Friendly Classroom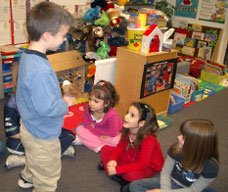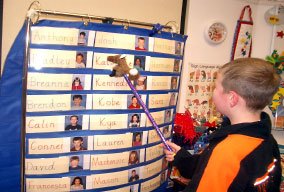 Encouraging children to quickly recall the names of every student in the classroom helps build a friendly classroom environment where every child feels a sense of belonging. It also develops social intelligence and communications skills. You will find that many of your more socially mature students automatically learn names, easily establish eye contact, smile and confidently say, "Good morning, Marissa." These children may become "name experts" right away. Other children will benefit from additional name learning practice.
How to encourage the less socially confident child?
Read and reread class-made books featuring the names and lives of your students.
Send home a Parents as Partners letter with school photos and names attached: encourage
parents to review the names with their child nightly.
Let the child practice one-on-one with a "name expert," using the Name/Picture Chart.
Celeste Starr playfully introduced this activity with her Forgetful and Friendly Fox puppet who wanted to learn all of the children's names. First she modeled going around in a circle and quickly naming each child (it was okay to sometimes forget). Then children were invited to help the fox learn the names of each of their classmates. Her students were so confident, the activity moved to another level — saying, "Hi Joshua" or, "Good morning, David." Children were praised for looking at the speaker and smiling. When the child who was least well known to his classmates took a turn, we suggested that each child respond to his greeting with, "Hi, Nathan" to help bring him closer into the circle of friends. Celeste encouraged children to fingerspell the first letter of their name if the person greeting them needed help remembering it.
With practice, children may enjoy quickly taking "The Kindergarten Friends Challenge" and officially become a "kindergarten name expert."
A special thank you to teacher Dan Gurney for the original idea, which we have adapted.
Receive Our Weekly Focus Kindergarten Blog
High-Impact Strategies to Inspire Your Practice. Free Downloads!