Children love to memorize, recite and perform language from their Poetry Notebooks (a.k.a. I Can Read Anthologies).  Consider including the memorable language of the weather as you celebrate language with your children.
Teach children familiar songs, poems and rhymes about the weather early on in the year.  Every day during circle time or calendar time invite one child to be the weather person or "meteorologist".  That child (or a pair of children) gets to go outside and bring back current weather information.  Kindergarten teacher Mrs. Kraus created this joyful literacy ritual using weather- related rhymes from our Poetry Anthologies.  First, the entire class chants "What is the Weather?" (with strong rhythmic emphasis on What and To!).  The weather person then recites "Whether the weather be fine…" and some appropriate "wondrous words" about weather from a poem, rhyme or song.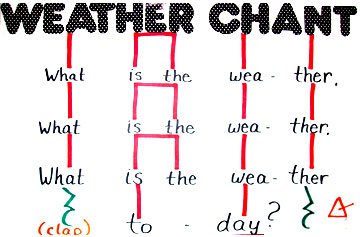 Whether the weather be fine
Or whether the weather be not,
Whether the weather be cold
Or whether the weather be hot,
We'll weather the weather
Whatever the weather,
Whether we like it or not.
~Traditional
---
Suggestions for some "wondrous words" about weather:
Wind:
Who Has Seen the Wind? (by Christina Rossetti)
On Stormy Days…(Brooms by Dorothy Aldis)
Sun:
You Are My Sunshine…
The Earth is Like a Butterfly… (Easter by Joyce Kilmer)
Cloudy:
White Sheep, White Sheep on a Blue Hill…(by Christina Rossetti)
Rain:
Rain on the House Top…
The Earth is Wet… (by Karla Kuskin)
Snow:
Snow is Falling… (Snow by Nellie Edge)
---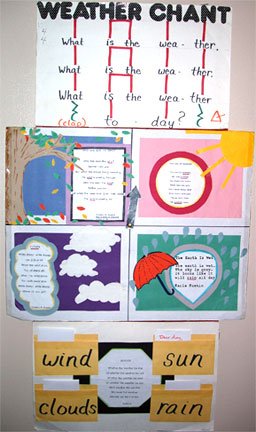 The weather person receives a personal thank-you note from the teacher, printed on a folded 8 ½ x 5 ½ sheet of white paper.  On the inside is a printed copy of Whatever the Weather and the poem or song that reflects the current day's weather.  Sets of these are made up in advance by reducing copies of Nellie Edge poetry anthologies and printing them side-by-side.  The personalized hand-written note on the front of the thank-you card might read:
Dear Andrew,
Thank you for being the
weather person today.
You recited the poems with rhythm and expression!
Love,
Mrs. Karst
After one of our California Kindergarten Institutes, I received this beautiful 3' x 5' weather chart in the mail from Mrs. Karst.  The sections are duck taped together on the back and manila envelope pockets contain sets of each weather thank you card.  A spinner attached with a brad is placed in the center of the chart so that the weather person can point the arrow to the appropriate poem and related picture.
Notice the weather word, such as "wind" in Who Has Seen the Wind?, is underlined in red and that Mrs. Karst was professional in crediting the authors of the poems.
Get our weekly blog for more high-impact strategies and free resources!